In the age before the internet, consumers could only venture to physical shops in order to make their purchases, but after the boom of Web 2.0, everything was available online.
Not only was it so much more convenient, it made shopping much more accessible because by that time, smartphones were on the rise and now everyone with a smartphone could potentially purchase things without leaving their homes.
This culture of consumerism and convenience was only further perpetuated by the rise of social media, in fact, social media has become a crucial sales channel for businesses of all sizes, with Instagram leading the way.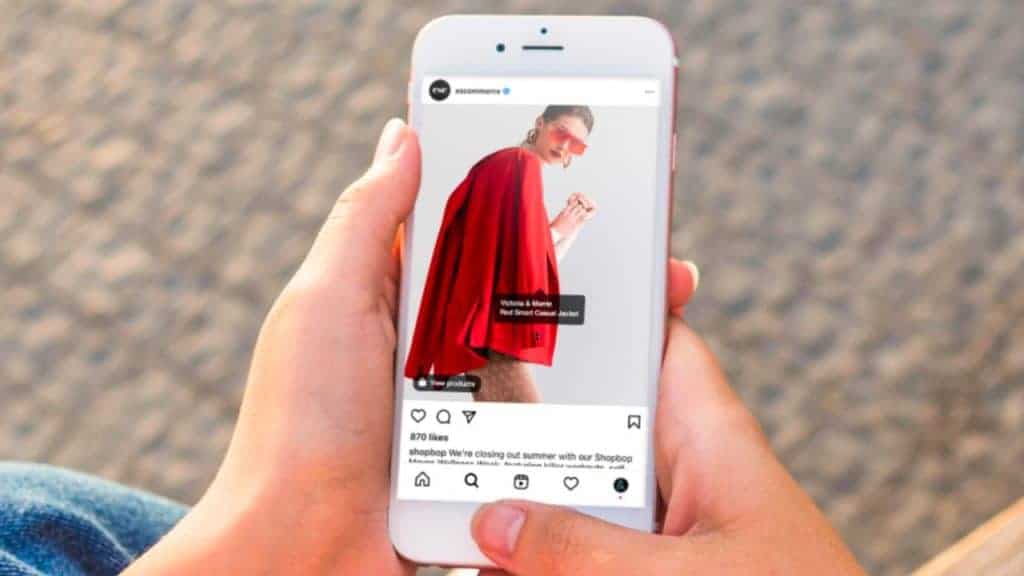 With over 1 billion monthly active users, Instagram offers businesses an enormous potential audience. However, it's not just about posting beautiful images and getting likes or attention – Instagram has evolved into a fully-fledged e-commerce platform, with shoppable posts and stories allowing businesses to turn their Instagram presence into a powerful sales channel.
Shopping directly on the Instagram platform
Shoppable posts are Instagram posts that allow users to purchase products directly from the post without leaving the app.
These posts feature a small shopping bag icon in the corner, indicating to viewers that they are able to purchase whatever is featured in the picture almost immediately – when users tap on the icon, they are taken to a product page where they can learn more about the product and make a purchase.
This has revolutionized the landscape of shopping because not only do people no longer need to visit an external website to purchase, they are only a few taps away from making a purchase which definitely increases the closing of sales because in an era of instant gratification, consumers want everything quick and easy. 
For businesses, this means that they need to utilize all these new features that social media has made available in their country.
Though it is not hard to do so, oftentimes, businesses lack the awareness to do so, which is why it is becoming increasingly important for businesses to have a social media team. 
Now, setting up shoppable posts requires a few steps, but it's relatively straightforward. Businesses must first connect their Instagram account to their Facebook page and set up a product catalog.
Once the catalog is set up, businesses can tag their products in their posts and enable the shoppable feature. It's important to note that only physical products are eligible for shoppable posts, and businesses must comply with Instagram's commerce policies.
The benefits of shoppable posts are clear. They allow businesses to streamline the purchasing process and reduce the number of steps customers must take to make a purchase. This, in turn, can increase conversion rates and drive more sales.
Shoppable posts also provide businesses with valuable insights into their audience's purchasing behavior, which can inform their marketing strategies. 
Stories have also been utilized in Instagram's e-commerce offerings
If you think shoppable posts are revolutionary, wait till you discover Instagram's shoppable stories. Like shoppable posts, they allow businesses to tag their products and provide a direct link to purchase.
However, shoppable stories take it one step further by allowing users to swipe up on the product sticker to make a purchase. It's no secret that stories have better reach that posts do at this point due to the revamped algorithms that do not show just the latest posts.
When setting up shoppable stories, there isn't much difference from setting up shoppable posts. Businesses must have a Facebook catalog and an Instagram business account to enable the feature as they have to be linked together.
Once it is set up accordingly, businesses can add product stickers to their stories that lead viewers to check out their cart, just from one story post. It is efficient and user-friendly, leading to higher sales. 
These features provide a more immersive shopping experience for users, as they can see the product in action and learn more about it before making a purchase. Shoppable stories also have a sense of urgency, as they are only available for 24 hours, which can drive impulse purchases.
Additionally, shoppable stories allow businesses to showcase their products in a creative and engaging way, helping them stand out from their competition.
Best practices for using shoppable posts and stories
While shoppable posts and stories offer significant benefits to businesses, it's essential to use them effectively to maximize their potential. Using an Instagram marketing agency may help you further boost your sales, but there are a few key tips you can implement.
Focus on high-quality visuals
Instagram is a visual platform, and your shoppable posts and stories should be no exception. Anyone who is used to the Instagram platform should already understand that aesthetically pleasing images often get the most engagement, which is why it is important to keep up standards of your images that reflect your company's brand.
Provide detailed product information
To encourage users to make a purchase, it's important to provide as much detail as possible about your products. Include information such as size, color, material, and any other relevant details.
Use engaging captions and call-to-actions
Your captions and call-to-actions should be clear and engaging, encouraging users to click through and make a purchase, but it shouldn't be too hard sell as people tend to be put off by desperation.
Experiment with different formats
Shoppable posts and stories offer a range of formats to choose from, including carousel posts, video posts, and product stickers. Experiment with different formats to see what works best for your business.
Monitor performance
Like any marketing channel, it's essential to monitor the performance of your shoppable posts and stories. Use Instagram's built-in analytics to track your shop's metrics, or employ a marketing agency to help boost your conversion rates.
At the end of the day, using all these little tips and tricks should help garner more exposure, engagement, and drive up your businesses' total sales.