Twitter lists aren't that much of a common feature – at least to most people. Maybe you just found out about them, too? Looking to know what a Twitter list is? Or maybe someone added you to a list on Twitter you want to leave it.
That's exactly what we'll be covering here so you're pretty much at the right place. Let's get right into it.
What Does It Mean to Be Added to a List on Twitter?
To better answer this question, we need to first understand what exactly a Twitter list is. According to Twitter themselves, a list is simply a collection of specific Twitter accounts.
The collection is based on the type of content you – or any other list creator – wants to see on the timeline. It makes it so easy to access content from these accounts in one organized place without scrolling through your tweets feed or having to search for each account.
So what then does it mean to be part of a list?
It simply shows your content is interesting and whoever created that list wants to find your tweets alongside those of other specific accounts at the click of a button. That's certainly a good thing. And you can always find out the kind of lists you're on with a few clicks for both on the mobile app and web.
How to Find Out What Twitter Lists You Are On
---
Seeing the Twitter Lists You're on Desktop
Follow the steps below: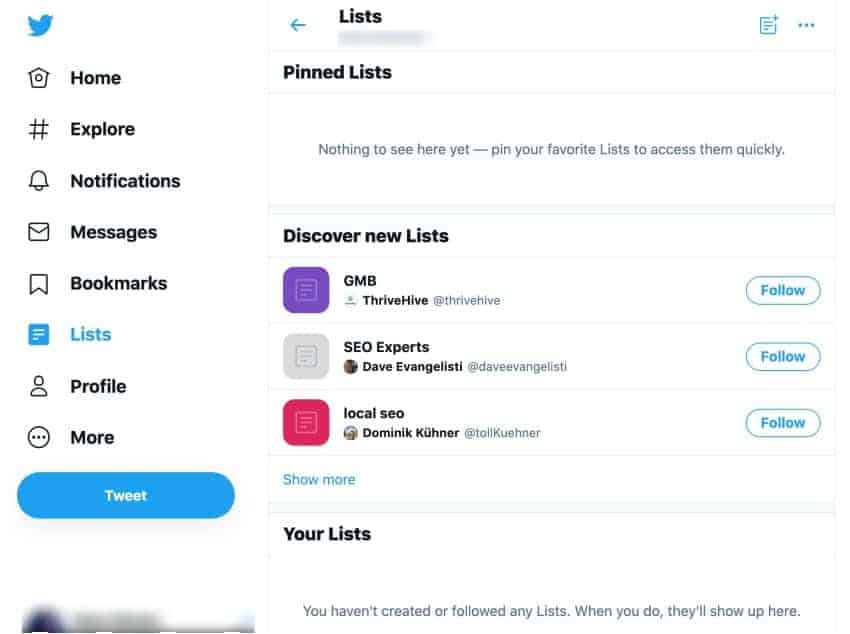 Log in to your Twitter account on your browser of choice.
Check on the menu to the left side of your screen. Click on the "Lists" option just above the "Profile". This will immediately bring you to a new page with various list options like "Pinned Lists" at the top and "Your Lists" right below it. All these will show the list you're on that you've subscribed to.
To see all the lists you're on but you haven't subscribed to, click on the three dots at the top right of the Lists page and then click "Lists you're on".
Seeing Your Twitter List Using Mobile App
Here's how to go about it:
Log into your account via the app.
Click on the menu icon on the upper left corner of your screen.
Tap on "Lists" right below the "Profile" option.
This will bring up the Lists page. You can now see all the different lists you're part of but this will be limited to those you've subscribed to/following.
To see all the lists including those that you haven't subscribed to, click the three dots at the top right of your screen and tap on the "Lists you're on" option that comes up.
Removing Yourself From a Twitter List
---
After following the above steps, you might find out that you're part of lists that just don't appeal to you. In that case, follow the steps below to get off a Twitter list.
Head over the Lists page to access the Twitter lists you're part of.
Click on the specific list you want to remove yourself from.
At the top right of your screen, click the three dots.
Select the option to block the Twitter account that created the list. That'll effectively remove you from the list.
FAQs about Twitter Lists
---
Does Twitter notify when someone adds you to a list?
That'll depend on whether the said list is private or public. Twitter only notifies you if you're added to a public list.
Does Twitter notify a user when someone is removed from one of that user's lists?
No. The user will find out on their own that you've been removed from their list if they check the accounts on it. If it's large enough, they might never notice.
What does it mean to be added to a list on Twitter?
Being added to a Twitter list means another user has a special interest in your content. That user doesn't have to scroll through the endless Twitter feed to see your content. He/she can readily view your content by heading over to the Lists page.
Do I have to ask a Twitter user to remove me from a list?
You don't have to. You can simply follow the steps above and be done with it.
Also Read: How to Remove Followers on twitter without blocking
Conclusion
That's it – you might find yourself being added on several Twitter lists. But you don't have to be part of them if you don't want to. Opening up the lists page and blocking the creator of that list works fine in removing yourself from a Twitter list.