Not every user wants to create a Twitter account to use it. Many use Twitter to view some tweets and are curious about how to View Twitter Without Account. Therefore, this article will describe how you can view Twitter pictures, likes or read tweets without login or making an account.
Due to twitter's growing popularity, people feel the need to scroll it to update themselves with the latest gossip. Currently, everyone from small brands, news professionals, and famous celebrities to influencers is there on Twitter. People can follow their favorite Twitter accounts.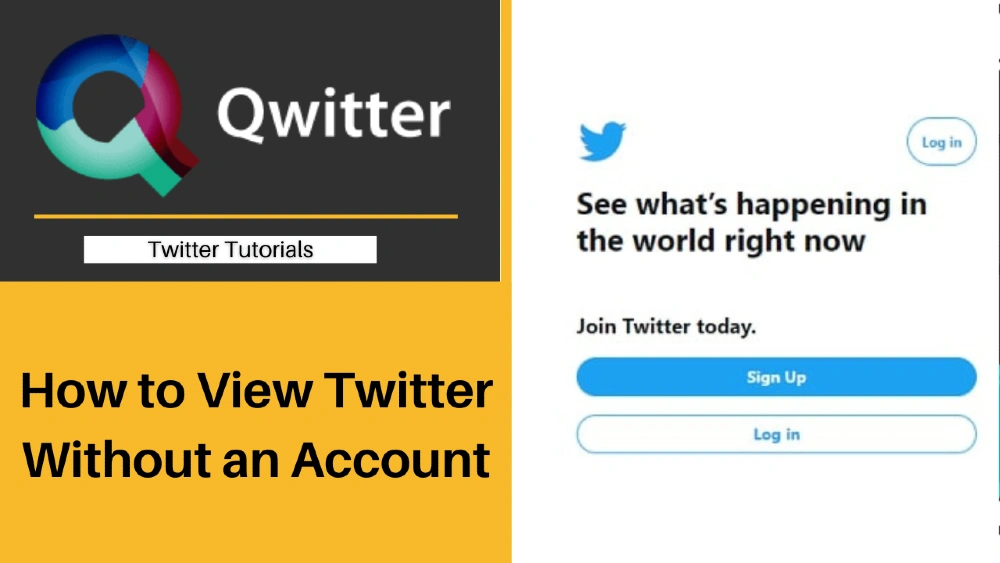 Can You View Twitter Without Account or Login?
---
You can view Twitter without login or account but only with limited functions. The moment you open an official Twitter homepage on its website on google chrome or another browser, The company asks you to sign up for a new account.
Many sections and features of the Twitter account won't work until you have an account. The same restrictions apply even if you open Twitter in a mobile browser. We will discuss some ways you can use to view some sections and content.
Here are some features and functions you won't be able to use-
Create your timeline of tweets.
Post tweets.
Follow accounts.
Engage with other tweets through liking, replying, commenting, and retweeting.
Create your Twitter threads.
Create Twitter moments.
Go live.
Host Twitter Spaces.
Update personalized settings.
Follow topics of your interest.
Create advertisements.
The entire home page looks different for users without an account. The profile picture is missing from the left side, including notifications sections, bookmarks, messages, and more.
Can you use the Twitter app without an account?
---
No, you cannot use the Twitter app without an account. Once you install and open the app on android and iPhones, Twitter redirects you towards signup for a new account. Until you create a new one, you cannot access Twitter.
It's better to access and browse Twitter through browsers on computers and mobiles. This way, you have the chance to access the features we are going to discuss next.
Browse Twitter's Explore Page Without an Account or Login
---
The first trick is not to open Twitter's homepage. Enter this link- https://twitter.com/explore on the desktop browser. When you open this link, you end up on twitter's explore page. Here, you will not encounter the sign-in/up option.
Here, you will explore different trends that you can filter out using categories such as trending, news, sports, entertainment, and covid-19. You can also view twitter media videos or pictures without account.
Each tab shows the trending topics from different fields.Click on anyone to find more related tweets. If your purpose is to use Twitter to get hands-on trending topics, this is the best way.
Try Third-Party Sites for Trending Twitter News Without an Account
Some third-party sites offer more helpful information about trending topics. You won't need an account to access them. They provide more content than a Twitter homepage does. Let's find out more about these sites.
It helps you track and explore Twitter's latest trending topics and popular hashtags for the whole day. You can access the trending gossip for local and global locations. You can filter information for your country. The default page view is set for worldwide news.
The Timeline view page helps you watch the history of trending posts. You can filter this information for each hour from the 24 hours. You can view how the popularity of a topic changes every hour. When you click the link, you can view its details on Twitter.
They have more applications such as T24 videos, Twitter video downloader, and #newprofilepic. T24 videos provide Twitter's popular videos for the last 24 hours. Video download allows downloading any Twitter video on your device.
It helps you find hot trending content, trends history, and famous long-term hashtags. Here, you can find the top hashtags and trending content from the last 24 hours. The app has a date filter at the top to find topics from previous dates.
On the right, you will explore the most tweeted hashtags for the last 24 hours. Below this, discover the longest trending hashtags on Twitter. Browse through the visible list and click on anyone to view details.
Search Twitter Without LogIn
---
If you are searching for specific tweets from a particular topic or account, Use the Twitter search bar from the explore page. You can access this without an account.
To make your search specific, enter keywords, hashtags, and usernames. In the search results, you will see posts and accounts posting tweets about that particular topic entered.
By default, you will view the tweets in the Top tab in the results. To filter the results, you can switch to other tabs such as Latest, people, videos, and photos. The latest section will show the recently posted tweets.
Click on any and reach another Twitter page. People tab will display accounts matching your word. The photos tab shows tweets containing images only. Using the Videos tab, you can view tweets containing only videos.
Try Advanced Search on Twitter
Using an Advanced search on Twitter doesn't need an account. It's no doubt that this feature is more effective in refining the search process for a user. It functions only in the web version of Twitter.
To access it, click on the search bar by entering any word. Against the search option, click on three dots. Select Advanced search from the three options.
Word Section
Enter all words you know are inside the tweet you are searching for in the "All of these words" section.
You can search by "hashtags," too.
Find tweets posted in a particular language.
Accounts Section
You can search for any content belonging to particular accounts.
Filters Section
Further, Search for specific tweets with or without links.
Engagement Section
You can search for a particular tweet containing a minimum of 280 retweets, replies, or likes.
Dates Section
Select a date range "from" and "to."
Read Tweets From a Particular User Without an Account
---
You can read posts from a particular user without an account by visiting their profile page. You can browse the Twitter search bar to find specific accounts.
Enter the "username" and get results. It's easy to find a particular account through a google search. Many times, people choose different usernames from their real ones.
It becomes hard to find them on Twitter. Google will show all the top results related to that account on Twitter.
Use the Advanced search option to locate the account in less time. You can't read tweets from private accounts. You will have to send them the following request for their permission; For that, you need an account.
Follow Twitter Lists for Many Accounts in One
---
By following Twitter lists, you get access to more tweets from many accounts in one place. You save your time from searching particular accounts. Many people make lists that all users can access.
These lists must be in public mode. You won't be able to follow the lists set on "Private Mode." You need an account to find more specific lists.
For example- if an influencer has created a public list of "list of influencers." You will find it easily through his profile page or search results. You can follow this list to view all the influencer accounts added.
What you can't do without a Twitter account?
---
We have previously shared that you will face restrictions in accessing some of Twitter's most valuable features. Here are some activities that you can't do without an account.
1. Can't like, Comment, and Retweet
Engaging with the Twitter community grows an account's reach and raises people's interest in their profile page. When you explore Twitter and see any exciting tweet that persuades you to engage with it, you won't be able to like, comment and retweet it.
When you tap to engage with that specific tweet, Twitter directs you to a page for creating a new account.
2. Can't follow anyone
Don't expect to follow your favorite accounts without your own Twitter handle. You will see the "follow button" option below all accounts. The only way to see your favorite accounts is by the method we have discussed above.
When you tap on it, you will be directed to the page to either make a new Twitter account or sign in to the existing one.
3. Can't create lists
Twitter lists allow users to make a list of accounts based on any category they like. Through lists, you can view content based on your interest. It saves you time to access the search bar multiple times.
Twitter allows us to keep the list private or public. Unfortunately, non-registered users won't be able to create lists.
Enjoy Twitter, Even Without login
---
Our best advice is to create a Twitter account if you want to gain maximum benefit from using it. In the end, Twitter utilizes a user's activity to personalize his experience and show content of his interest.
Still. If you still don't want to have an account, use our above tips and techniques to browse Twitter at best.