Twitter lets you post updates (called tweets) of up to 280 characters. But what if you want to tweet something that's more than 280 characters? That's where scheduling comes in. Scheduling tweets means writing your tweets ahead of time and then having Twitter automatically send them at the desired time.
Twitter allows its user to schedule their tweets so that they automatically get tweeted at the scheduled time. This helps you to maintain regularity in your account and helps you to make your account and tweets reachable to more and more people.
In this blog post, we'll show you how to schedule tweets on Twitter.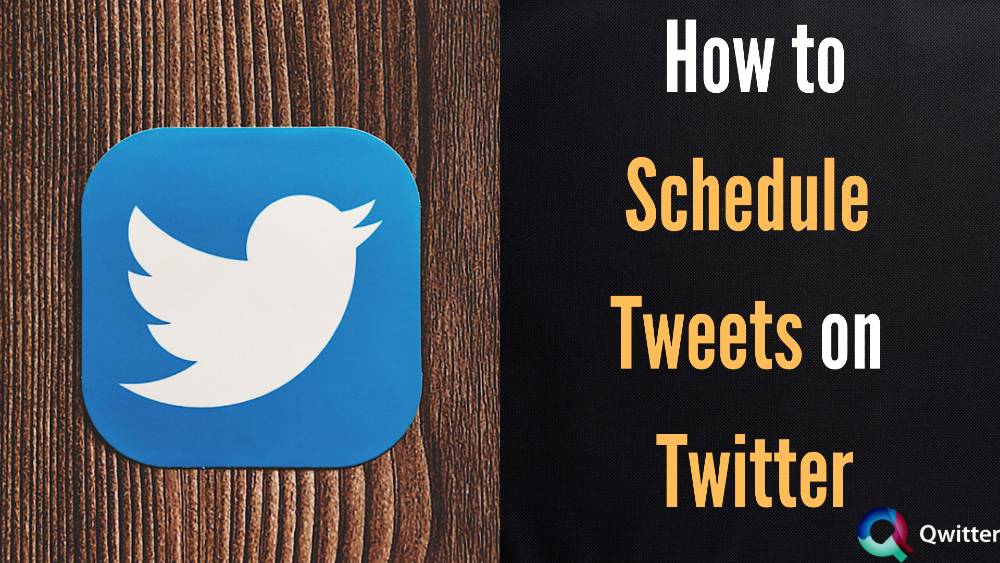 Why Should You Schedule Tweets?
---
Scheduling your tweets may help you in various ways. There are various reasons you should schedule your tweets for:
It helps to maintain consistency in your account so that you can give new content to your followers every day.
It also helps you to post your content in different countries by their respective time zones.
It helps you to post content at a time when the users are the most active so that the tweet is seen by most of the users.
It also prevents you from neglecting twitter as posting daily is time-consuming and you may consider other important work to do rather than posting.
It also helps you to save time as you can schedule your tweets for the next 5 days.
How to Schedule Tweets on the Twitter website
---
You can schedule your tweets from websites and apps. To schedule your tweets from the Twitter website, follow the steps mentioned below.
STEP 1– Open Twitter and login into your account using your credentials
STEP 2– From the left side menu, click on the tweet button to create a tweet using text, images, gifs, and emojis.
STEP 3– Now click on the calendar icon appearing below the tweet and set the date and time when you want your tweet to be published. When done, click on the Schedule button to successfully schedule your tweets.
How to Schedule a Tweet on a mobile app [Android, iPhone]
---
Many users use Twitter on their mobile phones. To schedule a tweet on the Twitter mobile application just follow the steps mentioned below.
STEP 1– Open the Twitter app on your mobile phone (Android or iOS) and log in using your credentials.
STEP 2– Create your tweet using text, images, gifs, or emojis. Then, click on the calendar icon to schedule the tweet.
STEP 3– Now, select the date and time at which you want your tweet to be published. Tap Schedule button to complete scheduling your tweet.
How to Schedule Tweets on Hootsuite
---
You can schedule your tweets using Hootsuite also. It is a social media dashboard that helps you to enhance your social media.
To schedule your tweets using Hootsuite follow the steps given below.
STEP 1– Click the top Composer icon on the left-hand menu once you've logged into your Hootsuite account and Select Post.
STEP 2– You may have many Twitter accounts linked to Hootsuite, select the one to which you want to post.
STEP 3– Create your tweet including any hashtags, media, or websites. Then, click on the grey Schedule for Later option, select the time you want to post, and click on the Schedule button.
How to Schedule Tweets in Tweetdeck
---
You can manage your multiple accounts using Tweetdeck and schedule your tweets for each one of them.
To schedule a tweet using Tweetdeck just follow the given steps.
STEP 1– Sign in to your Tweetdeck account using your credentials and click on Tweet. Make sure that the account to which you want to post is selected.
STEP 2– Create a tweet using text, images, gifs, and emojis.
STEP 3– Click on the scheduled tweet and select the date and time on which you want your tweet to be posted.
STEP 4– Click Schedule to successfully schedule your tweet.
5 Tips for Scheduling Tweets
---
1. Location matters
When you are posting your content in different countries, one of the major problems that you face is the timezone problem. When you post your content, it is possible that in some countries not all users are active at that time.
So, one of the main things to keep in mind while scheduling your tweets is the different time zones. It may be a major game-changer for your account health.
Scheduling your tweets considering the different time zones of different countries can contribute greatly to your account.
2. Know your audience
Considering your audiences is a great way to make your account grow faster. If you know when most of your followers are the most active, then you can schedule your tweets to go online at that hour so that most of your followers can see them and it gets reacted to them.
If you know who your audience is and when they're most likely to be online, you can use that knowledge to make well-informed scheduling decisions, such as posting your content when they're most likely to see it and engage with it.
3. Pay attention to Twitter analytics
A well-defined plan governs social media marketing. Data analysis enables you to plan the ideal marketing approach while also keeping track of your efforts regularly.
Twitter Analytics enables you to determine what is and is not functioning.
Extracting data from Twitter analytics regularly comes in handy, not only because they save time but also because they give in-depth data that you may need to know.
Twitter gives you a good idea about your audience's activity with your tweets.
4. Pick the best time to tweet
Twitter is an excellent venue for reaching a larger audience. To stand out from the crowd, post your tweets when your followers are most engaged on Twitter. Based on the audience and industry, each business has its appropriate posting hours.
Tweeting at the right moments — or when your target audience is online — will boost engagement. You should schedule your tweets by the time when you would get the most engagement. This will help you to make your tweet visible to most of your followers.
Read this article to What is the best time to post on Twitter.
5. Know when to pause your Tweets
Keeping an eye on your scheduled tweets is an important factor. It is important to monitor your audience and followers as well.
There are times when the content becomes ineligible to post after some time and if you don't keep this in an account, your account health may be affected.
Also, sometimes the content that you have scheduled may have already become old and may not be suitable to post now. So this is an important factor that you must keep in mind.
Best Free Tools to Schedule Tweets
---
1. Hootsuite
Hootsuite is a social media dashboard that helps you to enhance your social media. Hootsuite is a browser-based app that you can use on your phone or computer, but you must be online to use it.
Hootsuite lets you manage several social network accounts, including Twitter, LinkedIn, Google Plus, and Instagram. You may use Hootsuite to schedule posts both automatically and manually.
Hootsuite offers a free version as well as a paid version with a 30-day free trial and a monthly subscription of £9.99+.
Hootsuite's free version allows for three social network accounts and two RSS feeds, while the Pro (paid) version allows for an infinite number of feeds and accounts.
We recommend Hootsuite Pro if you want extra capabilities like bulk scheduling and allowing associate members to schedule articles.
2. Social Oomph
SocialOomph.com is a website that offers social media users both free and paid productivity enhancement services. TweetLater.com was their previous name, and they focused on efficiency solutions for Twitter.com users.
In 2009, it expanded its audience to include members of other social networking sites and rebranded as SocialOomph.com to reflect the new focus.
Since 2008, they've been offering scheduled social media posting services. They were one of the earliest users of the Twitter API.
They Create social and blog posts from RSS feed entries automatically, with keyword filtering as an option. It allows you to control the timing of your posts in the time zone of your choice for maximum impact.
Spend less time worrying about when to post and more time creating great content.
3. TweetDeck
TweetDeck is a Twitter account management tool. After a few years, it added support for Facebook, LinkedIn, and FourSquare, among other social networks.
All other networks' support was disabled when Twitter acquired this software and merged it into the Twitter interface.
It's now merely a Tweet scheduler, but it's very popular among Twitter users. A set of customizable columns make up TweetDeck.
They can be configured to show your timeline, mentions, messages, Twitter lists, trending topics, search results, favorites, hashtags, or all tweets by or to a particular person.
The program takes advantage of Twitter's URL shortening, which allows any link to fit into the 280-character restriction of a Tweet by using only 23 characters.
You can manage many Twitter accounts simultaneously if you use TweetDeck. It allows you to schedule tweets or post them automatically.
4. Twittimer
Twittimer is a Twitter, LinkedIn, and Facebook scheduling tool. Simply sign in with your Twitter account, choose your time zone, and start scheduling your tweets. Compose a tweet, choose a posting date and time, then send it to numerous Twitter accounts at the same time.
You can attach up to four images or one video to a single tweet. Keep in mind that Twitter prohibits Tweet schedulers from sharing the same Tweet on several accounts, which could lead to your account being suspended.
You can see your tweets in the archive for 60 days after they've been submitted, making it simple to retweet them at any time.
5. Buffer
Buffer is a simple and easy-to-use platform that allows you to publish material on social media channels. A Buffer account is simple to set up and use.
The tool's main advantage is its simplicity. For data analysis and report creation, Buffer has a lot of options.
It even makes strategic advice for broadening your social reach and engagement. It also works with the most up-to-date social features, such as Instagram Stories.
Buffer's most notable features are that it contains apps for publishing and analyzing the material.
Buffer also allows you to organize your social media efforts visually. It includes in-depth information on how to measure social media engagement.
Conclusion
---
Now that you have seen the importance of scheduling your tweet, you have a proper grasp on how to make your account grow using the scheduled Tweet feature. You would be able to post content at regular intervals of time without making a fuss about it.
Also, you would be able to reach a greater number of your followers, even in different timezones. You can use the scheduling tools to make your task even easier. Now, your account will be able to reach more people if you use the scheduled Tweet feature.