When browsing social media platforms like Twitter, there's a lot of chance that you've felt the need to look for the posts that you've viewed previously. Viewing your history on social media platforms is a great way to look for posts that have interested you during previous browsing sessions.
In this article, we will glance over several ways using which you can search your Twitter history. First off, we will start with the essential search history functions that are natively available on the platform.
Later we have also delved into the more advanced ways in which you can search your previously viewed posts on Twitter.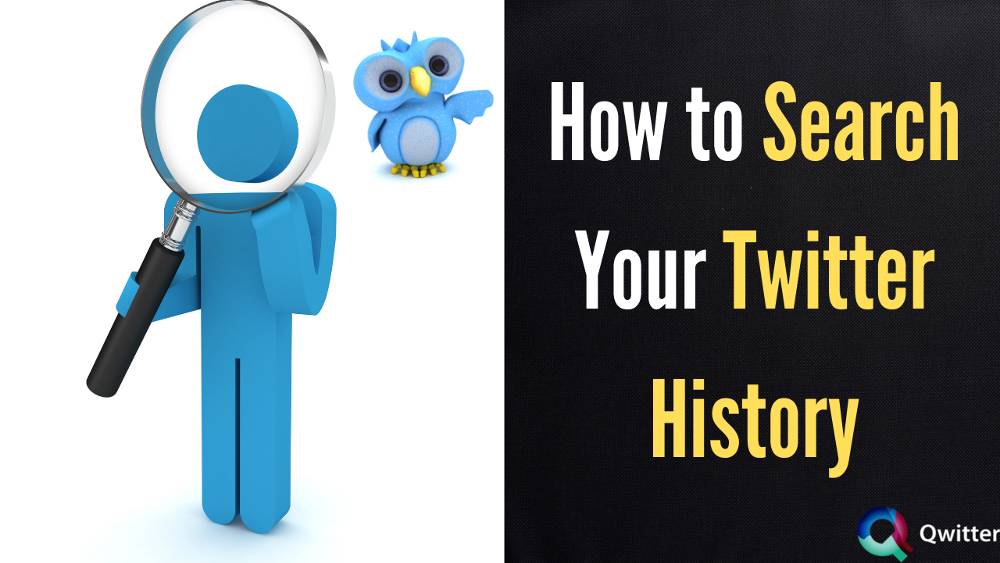 How to Search Your Twitter History
---
Every post that you browse on Twitter gets stored in a database and can be searched quickly using the native features on the platform. This feature allows users to keep up with their older posts, and browse through every post that has been uploaded to Twitter.
Also, searching on Twitter is a great way to dive into a brand's history. Without further ado, let's take a look at how you can use the various ways of searching your Twitter history. 
Using Standard Twitter History Search
The standard Twitter search allows users to easily go through all of the posts on the platform. To use this feature, follow the steps listed below:
Open the Twitter app or the webpage and select the search icon (Explore tab) on the left navigation bar.
From the top portion of the explore tab, search for your query by entering it in the text bar.
You'll be presented with neat and categorized results, according to their prevalence. By default, the top tweets related to your search query are shown.
Check Twitter History with ADVANCED SEARCH FUNCTION
Twitter also provides advanced search operators to keep up with the older trends in order to improve upon new campaigns. You can get started with Twitter's advanced search by using this link. There are three sections for different search criteria that you can specify. 
Words: Here you can input the specific words and phrases that you want to search on Twitter. 
Accounts: In this section, you can input the accounts that have posted the tweet or have been mentioned in the post that you want to search.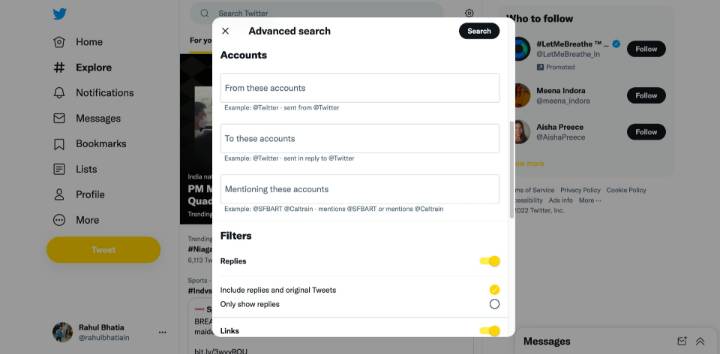 Dates: You can specify the exact date period during which the post was uploaded to narrow down the search factors.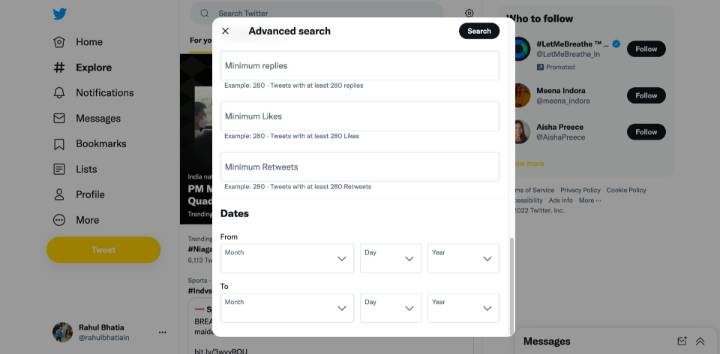 Search Twitter History with 3rd party tool like Sprout Social
There are also great 3rd party tools like Sprout Social that can help you to keep track of your Twitter history. You can even search for previous conversations on this platform. This makes it easy for small and large brands alike to keep track of issues related to customer care.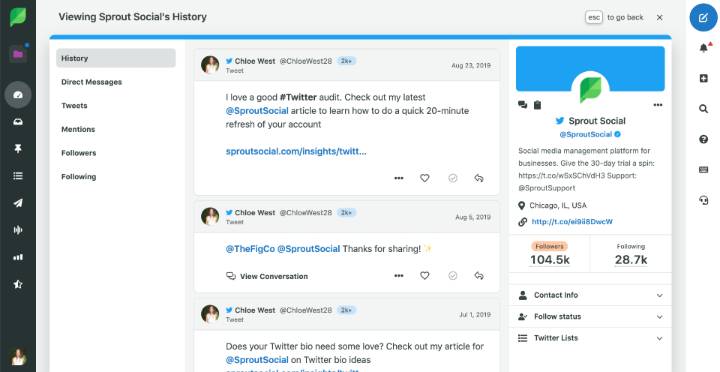 To view your Twitter search history from Sprout Social, you can just click on the search icon from the left navigation bar on the dashboard, and select the "People Search" option to get a detailed analysis of your past Twitter interactions.
You can easily access all of your histories for DMs and replies on Twitter using this feature of Sprout Social. The tweets that you have made earlier while mentioning some other account on Twitter can also be accessed from here.
Why you should search your Twitter history
---
Now that you have a clear idea of how you can search your Twitter history, let's take a look at why you should do the same. There are quite a lot of uses for checking your previous activity on the platform. Let's glance over some of them.
1. Reshare past content
In case you want to reshare older content from your posts a few years back, checking your Twitter history is a great idea. You can easily find a list of all previous tweets that you have created on the platform.
This can also be used to generate new content when you run out of ideas for new posts. Brands can also reshare their past content to get their audience acquainted with their previous works.
2. See what your audience likes
Looking through your older posts can also help you to check the engagement levels on them. This can further help you to determine what kind of posts your audience likes, and update your strategies for the content you create.
3. Analyze how your content strategy has evolved
Using your Twitter search history to get an idea of how your content has evolved since you started posting is a great way to improve your overall marketing strategies.
You can take ideas for older tweets that have great engagement, and use them for newer campaigns to have more impact. 
This can also help you to find out older posts that have poor engagement with most customers or are controversial in general. Removing them can have a positive impact on your brand's image. Think of searching and going through your older tweets as a method of social media audit.
4. Find out what past marketers have done
Checking the Twitter search history is essential in case you're taking over a new account. It is always a great idea to check your Twitter history to get an idea of how it was managed by past marketers.
Analyzing past marketers' works can help you to build better strategies and improve upon past mistakes. Hence, searching for past marketers' works on Twitter is a great use of this feature on the social media platform.
5. Build on old tweets with new content
Replying to your old tweets is a great way to breathe a new life into them. By building new content based on your past campaigns, you can easily keep your customers interested in your older lineups.
Also, another great way to keep your older posts relevant is to comment on them with updated details, if any. 
Building on older tweets can help you to answer several questions that users may have had about them. This can make your newer campaigns much more successful. Keeping your older products relevant is a great idea for every marketer.
6. Keep tabs on customer service conversations
Keeping a track of your older customer interactions is always a good idea to improve your products and services. The convenient Twitter search history feature lets you easily search between all past posts on the platform, and lets you analyze the changes that need to be made. This can also help marketers to improve on the marketing and customer care side.
Another way to keep up with customers' queries is to check your older DMs and replies to past posts. This lets marketers analyze the trends and inconsistencies in your older lineups and use this information to improve upon your services on Twitter.
7. Recognize customer loyalty.
Searching among your older Tweets can also help you to recognize the lasting customers and the accounts that engage with your account regularly. This method helps you to offer different valuable services to these customers and retain them on a long-term basis.
This also helps you to begin campaigns to find influencers that can improve the quality of your posts on Twitter.
8. Audit your Twitter account.
Auditing your Tweets is a way of clearing out older tweets that have lost their relevance over time. This can be quite important to keep your brand updated with the latest industry standards and modify content based on your competitors' preferences.
Running a Twitter audit is also essential when there have been rebrandings, product lineup changes, and other confusing changes that may affect the customer experience. Overall, going through your Twitter post history is a great way to audit your social media presence.
Does twitter save search history?
---
Twitter natively saves your search history to its databases securely, so they can be accessed later for a multitude of purposes. As discussed above, the search history that Twitter saves can be accessed quite easily, and also cleared from their database if necessary.
Your search data on Twitter is also saved in order to build up a profile on you, that can be used by the platform to provide you with relevant content. In case you ever want to remove this section from the social media platform.
Also Read: How to Clear Twitter Search History 
Start searching your Twitter history
---
Checking your Twitter history is a great way to keep your marketing strategies up to date. Also, it can help you to perform a wide variety of tasks that can make your profile stand out on the platform.
We hope the process of checking your Twitter search history listed in this article has helped your profile become more relevant in the long run. Start searching your Twitter history, and follow the several marketing strategies mentioned to bring your social media marketing game to new heights.