Instagram offers its users features to make audio and video calls. With time, you may feel like deleting your call history for many reasons. One can be to hide your call log information from any specific person. If you don't know exactly how to delete call history, worry not, as we have a detailed solution for your problem.
Read our article till the end on How to delete Instagram call history permanently. We have researched practical and tested three methods to remove the call history with a few steps. If you are an android or iPhone user, all the methods work for both devices.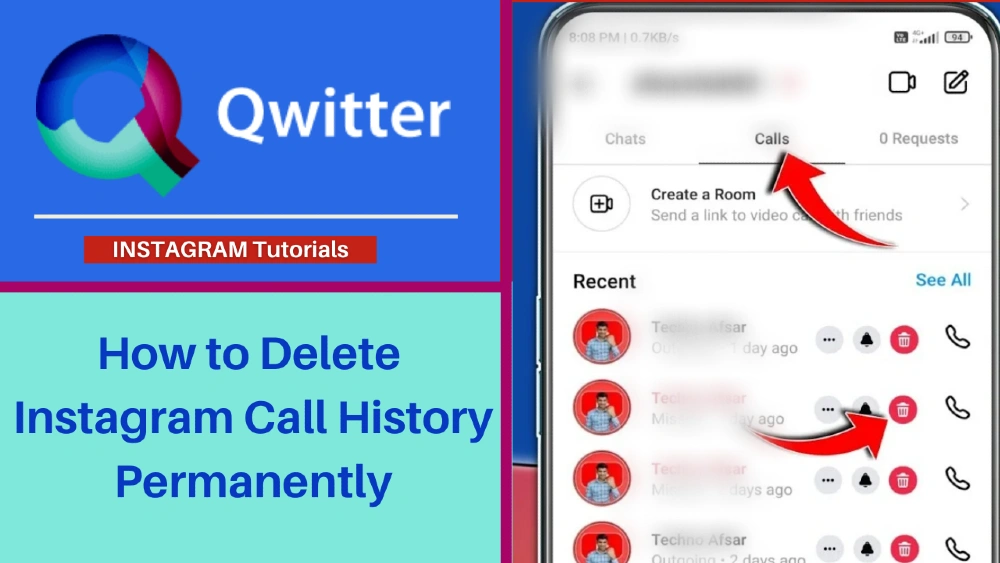 Can You See Call History on Instagram
---
Yes, You can see all the calls history inside the new "calls" section recently added by Instagram. Your Instagram app must be updated with the latest version to access this new feature. The calls section appears in the messages section next to the "Chats" Tab.
This section will display all your video call and voice call history. If you can't see this new feature inside your Instagram account, go to the play store and update your app.
How to Delete Instagram Call History Permanently Inside Your Chat
---
We will discuss three methods to delete the call logs. In the first method, To delete Instagram call history, you must wipe away your entire chat with a particular person.
That means all your Instagram messages or chat history will get permanently deleted. There is no option to delete a particular call log from the Instagram chat.
Therefore, If you want that someone doesn't see your Instagram calls for a particular chat, You can use this method. Before implementing this method, remember you will lose your entire chat.
Steps to delete Instagram video and voice calls history permanently inside your chat.
Open The Instagram app and Login into your account.
To open the messages section, tap on the "messenger" icon in the top right corner.
Select the particular chat whose call history you want to delete.
Long press over that chat inbox.
A pop-up options box will appear.
Select the "Delete" option.
All your text messages will vanish in seconds.
How to Delete Instagram Call History in Private or Public Account
---
You can select a particular log history in the calls section to delete calls. This option is now available for public and private accounts. You can choose this method if you don't want to delete your whole chat.
Steps to delete Instagram call history in the private or public account.
Open your Instagram account.
Tap on the "messenger" icon on the top right corner of your screen.
You will view all the direct messages your followers or random users receive.
In the messages section, you will view three sections – Chats, Calls, and requests.
Swipe right and Tap on the "calls" option.
After you open it, it displays all your call histories done in the past.
Scroll down.
Choose the call log you want to get rid of.
Long press on it.
A pop up options list will appear.
Tap on the "delete" option.
You can repeat the same steps to delete another call history. Once deleted, you can't restore the call logs.
We suggest a completely different method where you won't have to delete any call log. This method functions most reasonably when you want to hide your call history from someone only for some time.
Public accounts users can switch to "Professional Account" when someone searches their call history. Here are the steps to implement this method.
Open your Instagram Profile page.
Tap on the "three horizontal lines" icon or menu on the top-right side.
Select the "Settings" option.
Tap on the "Account" option.
Scroll down to the end.
You will see the option "Switch to Professional account."
Tap on it.
Close the app and reopen it after some seconds.
Open the Instagram Messages tab.
The "calls" section won't appear.
You can switch to the regular account following the same steps.
Delete Instagram Call History Using Vanish Mode
---
This method functions on a similar approach to the first method. Vanish mode is a great feature that Instagram has added recently. Many of you may not be aware that it exists. Using this, you are only one click away from vanishing your entire Instagram call history.
Suppose you make a video or voice call to another follower, and they respond to it either by picking or ending.
When you enable vanish mode, if the receiver reads your call message, it will disappear automatically from your and another user's chat history. Like this, even the text messages vanish along with all the calls.
When this feature is enabled, the messages "Video call started" & "Video call ended" will automatically disappear.
Steps to delete Instagram call history using vanish mode.
Open your Instagram account.
Tap on the "messenger" icon at the top right side.
Open the chatbox of a particular Instagram user.
Tap on the chat header or the name of the Instagram user at the top of the inbox.
You will see different options. Scroll down.
Stop on the "vanish mode" option.
Turn on this mode.
From now on, all your seen messages will vanish after closing the chat page.
Wrap Up
---
The advantage of using the first and third methods is that you will simultaneously eliminate all the video and voice calls. You will save time. But you will lose meaningful and quality chats with your close friend, family member, or colleague.
The second option best suits you when you are in no mood to remove all your messages. Remove your desired call log with one click. It's your decision to choose any method.