Twitter is one of the famous social media platform, and like every other social media platform, it also has its share of rumors attached to it. And one of these is that Twitter behaves differently in different situations. And this creates a persona that Twitter is a Private entity and can do what they believe is right.
And that brings us to the question is Twitter really a Private Company?
But anyone who may wonder if Twitter is a public or a private company, considering that Twitter is a vast platform where millions of users are tweeting every day.
In this article, we have explained everything from what category a company does fall in a private company and how twitter classifies to be a Public or Private Company.
Some may believe that these companies may have an agreement with the government, or maybe they are acting on their own accord. Let's see if Twitter is a private company or not.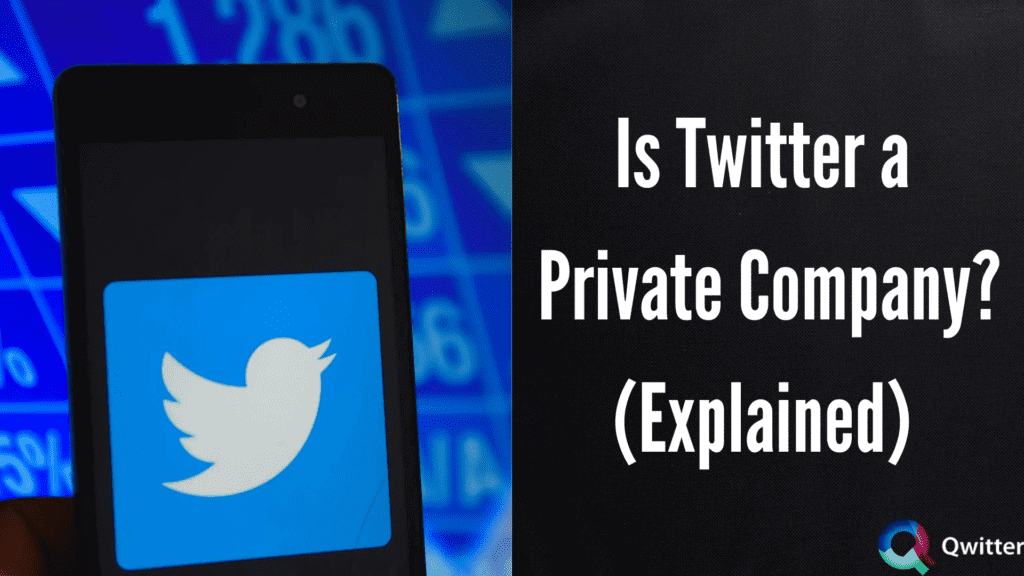 Is Twitter Pubic or a Private Owned Company?
---
Twitter started as an American-owned private company, is now a Public. Twitter put up an initial public offering. This means that anyone who has enough money can invest in Twitter's stocks, and its stocks are listed on NASDAQ, which entitles it to certain rights and protections.
Now that Twitter is a public company, it follows the guidelines laid by the government. Institutional investors control 75 percent of Twitter's shares at the moment.
What's The Difference Between A Private Company And A Public Traded Company?
---
The significant difference between a private company and a public traded company is whether it trades in the stock market or not. No one can purchase Stocks of a private company.
Although, this is not the case in public companies. The stocks of public companies are available for people to buy. Here are the differences you need to know between a public and a private company.
Public company
The essential characteristic of a public company is that it has made a public offering. This means that they report their earnings and finances to the securities and exchange commission or the SEC.
The benefit of doing so is that public companies participate in the public stock trade. This has its own merits to the public company. The first is that it allows public companies to take out bonds from investors in the public field.
Now, they don't have to give up any company shares in exchange for repaying those bonds, which are essentially interest-bearing loans. This ensures that individuals in charge retain a controlling stake in the business.
They also have the funds they require to expand or undertake other projects. Public companies can sell stock in addition to bonds. This is also referred to as equity. This is advantageous when a company wishes to avoid paying back bonds and interest.
When we talk about stocks, they're simply selling small shares of the corporation in exchange for money when they sell stocks. They can utilize that money to expand their business and make additional investments.
The disadvantage is that they will have to relinquish some of their controlling interest in the process. They'll still have a large controlling stake in the company, but if they have to continue selling stock, they may find themselves among the stockholders with less authority in the company.
Private company
A private company is different from a public company. The first and foremost characteristic is that a private company doesn't participate in the stock market, which means they don't have to report their earnings and finances to the SEC.
Instead of the stock market, they rely on private funding to complete their needs. Instead of the stock market, private companies usually entail holding fundraisers, relying on investors, or reinvesting profits back into the company.
However, certain private companies are permitted to trade on the stock exchange.
A private company can only sell a modest number of shares on the stock market under a few circumstances. It can trade a few shares of stock in its company each year under SEC Regulation D.
This enables private companies to obtain additional financing to continue investing in the business.
The SEC does not require a company to publish its finances since the number of shares it can sell is limited. It may decide to join the stock market to attract investors. These investors can then opt to invest in the company privately.
Public Companies And Constitutional Freedoms
---
The influence and impact of public companies on constitutional freedoms is a contentious issue. Twitter is routinely criticized as a social media lighthouse for banning users or deleting messages.
Occasionally, it will add a cautionary message to particular tweets to encourage readers to double-check the facts.
Some contend that this is an infringement on the right to free speech. Others argue that it is Twitter's job to warn people about false information and sensationalism. The most crucial problem is that most Twitter users are unaware that the company is publicly listed.
They believe it is personal and, as a result, are attempting to censor people with the assistance of a government agency.
Twitter is not a regulatory authority or a political platform for a single political party. Because it is a publicly traded company, it has the power to remove content that it does not agree with or deems is damaging.
Some of these decisions may be influenced by a person's morals, but they are driven mainly by Twitter's desire to avoid liability.
Because Twitter is self-governing, If the company allows these kinds of posts to be made and violence occurs, the court may hold the company liable. The victims of the crime may sue Twitter because Twitter did nothing to stop it.
A lawsuit against a company, whether private or public, can be brought. Even if it is found not guilty in court, the legal battle will almost probably be expensive. It also tarnishes the company's image.
In a world where new social media platforms are popping up every day, Twitter does not want to lose its hold on the industry. It strives to stay on the cutting edge of the industry.
Because Twitter is a publicly traded company, it has the authority to ban or remove certain people or tweets. It isn't inherently an affront to an individual's right to freedom of speech or religion because the company has the authority to remove content from its website.
Despite being publicly traded company, Twitter is not required to respond to its shareholders. The company's owners maintain sufficient control over it to run it as they see fit. While Twitter seeks to maximize shareholder value, it may also make decisions based on its own moral compass.
Who Owns The Most Twitter Stock?
---
Now that you know that Twitter is a public company and that it trades its stock, a question may spark in your head. Who owns most of the Twitter stocks, and who takes decisions for Twitter as the one holding most of its stock.
Here are the top holders of Twitter stocks.
---
Morgan Stanley Investment Management
Morgan Stanley is a multinational investment bank. It also provides a variety of financial services, such as investing, wealth management, and other related options.
The company started in 1935 during the great depression, but it still saw incredible success in its first year. It had a 24% market share which was $1.1 billion. Public offerings and private placements made the 24% market share.
The company also had several mergers, and it even sold some of the aspects of the company. One of the major mergers was with Dean Witter Discover & Co. The company's investment management division is in charge of purchasing stock for its investors. With 8.70 percent of Twitter shares, the company now has 69 lakh+ shares.
The Vanguard Group, Inc.
This is a one-of-a-kind investment management organization. Unlike other investment management firms, the Vanguard Group is owned by its funds. The stockholders then own the funds.
As a result, The Vanguard Group is owned by its shareholders rather than other investors or fund managers. Therefore, It can charge very cheap maintenance and other fees. In 1975, The Vanguard Group's expenditure ratio was 0.89 percent.
In 2021, that figure will have dropped to 0.09 percent. As a result, The Vanguard Group is one of the most cost-effective investing organizations. It also assures that there are no conflicts of interest within the organization.
With $7.50 trillion in assets under administration, the Vanguard Company is the second-largest asset manager. It is only second to BlackRock, Inc., which manages $9.01 trillion in assets. Vanguard is also the largest mutual fund issuer on the planet.
It is the second-largest issuer of exchange-traded funds (ETFs). Because it holds the second-largest number of shares in Twitter, The Vanguard Company's stockholders enjoy the second-largest amount of control over the company.
The Vanguard Group, Inc. holds 8.35% of Twitter shares, bringing its total number of shares to 66,795,058.
BlackRock Fund Advisors
BlackRock Fund Advisors is another company with a large stake in Twitter. This is another multibillion-dollar investment management company. It began as a risk management and fixed income asset management company.
It is currently the largest asset manager in the world. In particular, the organization invests in the social, environmental, and corporate governance areas. It's also the first corporation to be granted permission to operate in China by the Chinese government.
The majority of the company's investments are made through its clients' 401(k) plans. Twitter is owned by BlackRock Fund Advisors, which owns 4.49 percent of the Twitter company. As a result, they have the third-largest number of shares. Their total number of shares is now 35,899,287.
Jack Dorsey
Twitter's CEO, Jack Dorsey, holds a considerable amount of the company's stock. His overall shareholdings amount to 2.30 percent. This equates to a total of 18.04 million Twitter shares. As a result, he is the eighth person to have the most shares of Twitter.
The History Of Twitter
---
Twitter was launched in 2006. Some people who were responsible for the creation and rise of Twitter are:
Jack Dorsey
Biz Stone
Evan Williams
Noah Glass
Twitter grew to have more than 100 million users after six years of its launch. On a daily basis, these users posted 340 million tweets. Twitter allows only a limited number of characters to write in a tweet. It was like a short burst of information, and this is exactly what Dorsey wanted. He named the company Twitter because it means short bursts of information.
Although Twitter was made to be a social media platform, Dorsey has seen it as more like an information network where employees may post a status about themselves.
As it has now become a place where information is shared, people can share any information from a recipe to raise awareness. Twitter has evolved since its beginning and will continue to evolve.
Is Twitter protected by the first amendment?
---
The US Constitution's First Amendment prohibits the government, not private entities, from suppressing free speech. But this is not the case in Twitter; Twitter can filter content. Under the First Amendment, it has no obligation to preserve your right to free expression. Hence anything that twitter thinks is not right for the platform will be suspended or even removed.
Conclusion – Is Twitter a Private Company
---
Twitter is a publicly traded company where investors can buy and sell Twitter's stock in the stock market. However, courts have designated Twitter itself as an american owned private company, which makes the issue of censorship and freedom of speech on the platform even more confusing.
Although Twitter was started as a means for employees to share updates about them, it has evolved from being that and has reached another level.