Removing inactive Twitter accounts is essential if your goal is to have a presence on Twitter- the social media platform. Unfollowing Inactive Twitter accounts is necessary. Following a person who hasn't posted a tweet isn't very interesting.
In this particular Blog Post, we tend to answer the various problems of unfollowing inactive users that an active user can face for an effective Twitter presence.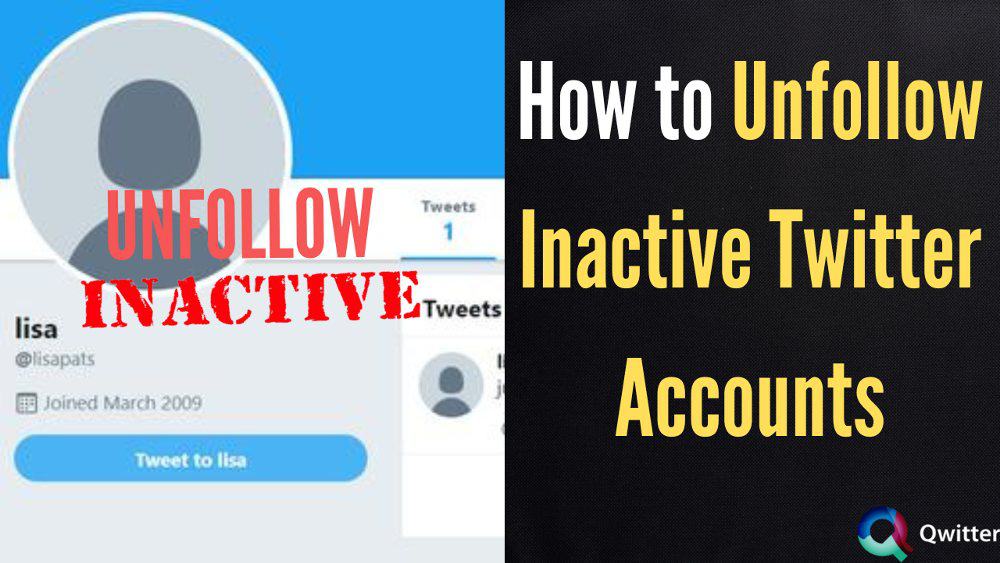 Is There a Way to Unfollow Inactive Accounts on Twitter?
---
We can unfollow inactive Twitter users or inactive followers in several ways. Be it manually or with applications, there are several free tools for removing inactive users from the Twitter community.
Best Tools to Find and Unfollow Inactive Twitter Accounts or Followers
---
When it comes to removing inactive Twitter users, there are many tools and apps. There are several applications and methods listed down that can help in the tedious task of removing inactive Twitter accounts.
Here are precisely a few mentioned ways:
Manually Remove Followers on Twitter
The very first resort is manually removing inactive accounts. In the short run, this might look simple, but in the long run, if you do not know the usernames, it becomes all the more difficult.
The platform of Twitter is interesting in that it makes it simple to see who is following you, but not the other way around.
Let us assume you know the inactive usernames. The simple ways to follow would be:
Go to your Twitter Profile; look for Search Twitter at the top of your screen.
Type in the usernames you want to unfollow
A page containing their profile pops up as soon as you click on one of these.
Tap on the Following tab, present in the right-hand corner.
Click on the pop-up to confirm the unfollowing.
Voila! The task is done and dusted.
But, What if you don't know the Usernames, or if there are tons of inactive users to remove?
This is where third-party apps come in; let us have a quick look at them
Unfollow on Twitter with UnTweeps
Untweeps is very handy when removing a Twitter account in Bulk. It offers free services, for three sessions, with a limit of 2500 accounts, while with premium, you will get unlimited access. It also helps to find inactive Twitter followers, fake Twitter accounts, and Twitter users. The steps to follow:
Go to Untweeps, and Sign In using Twitter to get the twitter access
Next, in the Dropdown menu, select days the inactive users have not posted
Then, tap on List Stale Accounts
Tick the box, confirming the account you want to unfollow(This needs to be done manually for each account).
Scroll down, and click Unfollow selected Tweeps, to remove.
The entire process takes a bit of time, so patience is better. When done, the current number of followers and removed would be shown, and the same would be updated on Twitter.
ManageFlitter
ManageFillter is inactive at present. However, being one of the important twitter tools, it has been a practical application in removing multiple Twitter accounts, fake Twitter followers, and inactive Twitter followers. The only downside is it could remove 100 users Almost.
To use, Find ManageFlitter, and link it to your Twitter account. At the top, click on Manage > Unfollow and select quiet from the left sidebar to see the users who have not tweeted for long. Next, you can batch select accounts and unfollow them easily.
FollowerAudit
FollowerAudit is an automated website that tells you the exact amount of fake/inactive following you have, The only condition required is- a public Twitter account. You can sign in using your Twitter id and then add your username in Search Tab to get the names and the count.
CircleBoom
CircleBoom provides the most flexible way to remove inactive accounts. Due to its user-friendly UI, it becomes simple to work on. It gives a lot in its free version and more if you go for the paid version.
Click on the webpage, and Sign in using your Twitter id.
Authorize when prompted to do so.
Go to the circleboom dashboard.
Click the Inactive Friends box on the top left side of the screen.
A list displaying the inactive users is shown.
Now, you can unfollow, and refine your search, by adding more filters.
Using Twitter Lists Instead of Following Accounts
---
Fortunately, there's a quick and easy method to categorize your Twitter feed into specific categories so you can always stay updated on the most crucial discussions in your industry: Twitter lists.
Twitter List is a fantastic way to engage with your followers directly. It is effective in organizing your Twitter feed with relevant information.
Most importantly, it helps in Targeting- specific users.
How to set it? There, we got you covered!
Go to your profile, and drop down to select the List.
Click Create a List, and add a description and name to it.
Add followers, from your following list, by simply adding them to the List.
How Do I Mass Unfollow Non-followers on Twitter?
---
Twitter does not directly give an option to do this. The first thing is to check the non-followers manually, but it is TIME-CONSUMING. This is where apps come to the rescue. Applications like CircleBloom and CrowdFire, quickly help to do so. However, you can use extensions like Mass follow Google Chrome Extension to unfollow all accounts.
How Do I Mass Unfollow Inactive Accounts on Twitter?
---
To clean u Twitter followers For multiple Twitter accounts, several applications, like iUnfollow and CrowdFire, remove all inactive accounts at once. To clean up, you can use the mentioned applications frequently to keep and maintain the Twitter Following ratio.
Cleaning up has become all the more necessary due to a lot of spam accounts as well. It is better to use applications frequently.
FAQs
---
What is Twitter's inactive account policy?
To keep an account active, it is necessary to log in frequently. Make sure you log in at least once every six months to keep your account active. Due to persistent inactivity, accounts may be permanently deleted.
How does Twitter determine inactivity?
The inactivity is based on Logging. The less you log in, the less is your engaging activity, and the more you become an inactive account.
Twitter can help you connect with a lot of like-minded people. While connecting is a piece of cake, you can face the problem of Inactive accounts piling up and messing up your Twitter following ratio with time.
That is why cleaning up is required. With the advent of technology, this has become all the easier. There are tons of extensions, and apps, at your rescue.
However, with ever-changing technology, some sites might not be further used. Nevertheless, a routine cleanup will make your tasks more accessible and better!
Also Read: Does Twitter Delete Inactive Accounts?
Wrap Up
---
Keeping a check on inactive accounts can improve your overall profile from a third-person perspective. With more engagement, you can even connect and tweet with high-profile personalities.
With the internet today, a lot of possibilities have opened up. Twitter is a tool international connecting platform; thus, you can work and tweet with your audience on-site more effectively with fewer boundaries.
Inactive accounts can loosen your overall engagement practices.
So it is, indubitably, important to find fake accounts and apps, unfollow people- remove inactive users and fake tweets.