We all have experienced the issue when getting our desired Twitter username. A message appears on Twitter saying This username is already taken! while creating a new account. It can be very disappointing for people looking to establish a brand or business company with their desired username.
If a user finds out that a Twitter account whose username they want is no longer active on Twitter. This case fills them with hope, like How to Claim Inactive Twitter handle? In this article, you'll know about the effective tricks you can use to claim an inactive Twitter username.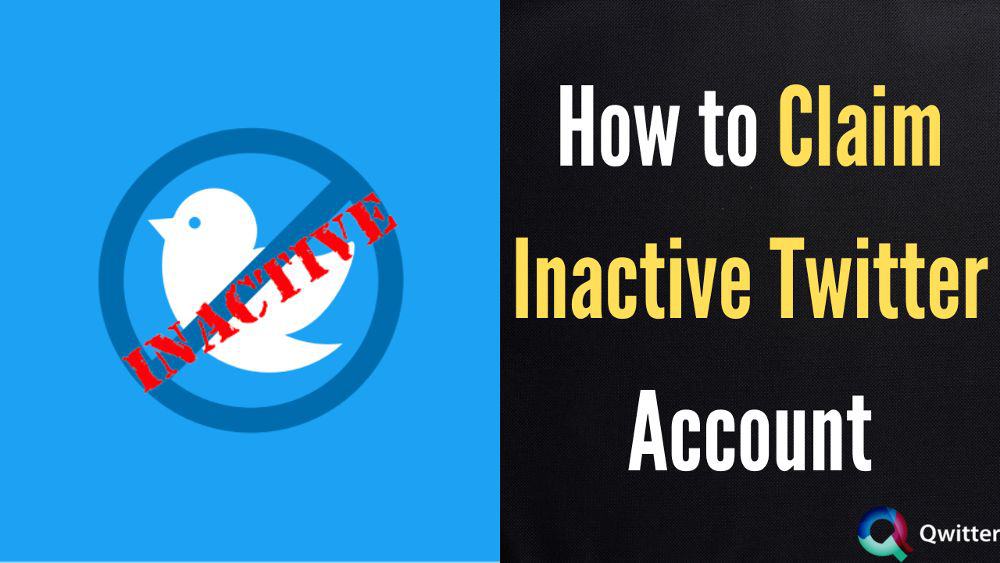 Can You Claim an Inactive Twitter Account?
---
The answer is a mixed statement containing both the terms yes and no. Unfortunately, some Twitter usernames are already taken by users who are no longer active on Twitter. As a username can be used only once at a time, Twitter does not provide the already taken username.
Steps to claim an inactive Twitter account need multiple trials, with both the probabilities of succeeding and failing. An account is considered an inactive Twitter account that has not been used for six months or more. But a user often logs in to scroll feeds without posting any tweets.
How to Claim Inactive Twitter Accounts
---
Here are some ways to claim an inactive Twitter username.
Report It To Twitter
Reporting your issue to Twitter support can help you get an inactive username. If you own any brand or business name, report it to the Twitter Help Center.
The below steps will help you to contact Twitter.
Visit the Help Center website on Twitter.
log in to your Twitter account using your information and fill up the form.
Select the option that An account is impersonating me or somebody else.
In the Please tell us more column, Select the option I am being impersonated.
You'll be redirected to a new form where you will have to enter all the required details they ask for.
Write a short description of the whole matter.
To verify your identity, upload a valid government-issued photo ID such as an Aadhar card, Passport, or driver's license.
Click on the Submit button.
After twenty-four hours, Twitter will get back to you with a response via email address. 
Contact the Twitter owner of the inactive account & Purchase the Username
---
If you can contact the inactive account owner for a Twitter name without involving Twitter, then can be the easiest way. Find the contact details of the inactive Twitter account owner from other social media platforms like Instagram, Facebook, and websites.
Send the message to the owner. Explain the whole issue to the owner in a polite and convincing manner to change their username.
If the person denies the request, try to purchase a username in exchange for a sum that's negotiable for both. But remember that Purchasing a username on a Twitter platform violates Twitter rules.
If you want to purchase, then do it outside your Twitter account. Read Twitter Policies before you make this move. Twitter can permanently suspend both accounts. You will not be able to do anything with the suspended accounts.
File a Trademark dispute on Twitter if you're a company
Twitter has mentioned in a statement that it won't release inactive usernames anymore. So, filing forms or sending an email seems a total waste of time. The better option is to file a trademark dispute against the inactive Twitter account.
For filing a trademark dispute, a person needs proof verifying the breach of another account's trademark.
Choose this option as your last resort because a trademark dispute is a legal action you take against another account for trademark violation.
Before filing this, Go through Twitter's Trademark policies. It is a trademark violation if the Twitter username matches your company name, uses your logo, or other impersonation acts.
Choose a Similar Name
So, it may sound a bit disappointing to think about this option. You have tried the above methods and still couldn't claim the inactive Twitter username. According to Twitter, If you like a username taken by an account that seems inactive.
Instead of feeling disappointing, consider choosing an available variation of the same name on Twitter.
You can choose your real name in your Twitter profile to provide more authentic information to your potential audience.
Consider Adding underscores before or after your desired Twitter username will help you get a unique username on Twitter.
For Example: if you like the username @brandrise, but it has been already claimed, consider choosing a name like @brandrise_ or @_brandrise.
Wait for a Twitter Purge
If a similar username is claimed by a suspended and deactivated account. Suspended and deactivated usernames are not available immediately to claim, so select a unique username.
If the account stays inactive for a long time, there are probable chances that Twitter may remove it from its platform automatically.
If you are willing to wait for some time, you can try for this option to work as a miracle for you. So, keep checking their inactive account to see if it gets removed. Until then, you can choose a slightly changed Twitter username.
Assess the Possibility
Here are a few indications that can help you in increasing your chances of getting the desired inactive account username:
The account was created many years ago.
There's no profile photo in the Profile.
The account has no followers or very few followers
The account Has not posted any tweets, or the tweets are very old
You exactly own the same TLD .co or .com domain.
If the inactive account whose username you wish to claim, complete this checklist. You have a strong probability to get the username.
Work on Preparing Your Account
First, complete the information on your existing account. Enter your real name, fill out your bio, upload the profile image and background cover, and add your website link and all other required information to ensure that you are actively using and working on the platform.
This can project your image as someone actively using an account instead of abandoning it. It will make your account look more authentic. There' is no exact time that can guarantee the result.
Our article has explained all the above methods to claim inactive accounts containing the same username you want. In our final words, The best advice before you claim an inactive account is to understand Twitter's guidelines. Doing this will give you a clear picture.
The success ratio to claim inactive Twitter usernames is reducing every year. So, try to add extra characters to your Twitter username to save wasting a few months.