Gaining more and more followers on major social media platforms like Twitter is the latest trend of today's internet era. One might have thousands and even millions of Twitter followers, but it all turns futile if they do not track, analyze, and then take steps to engage with their mass following.
Accounts with big following numbers often fail to identify the most crucial aspect and they just stay focused on escalating their follower numbers. They remain unaware that the trick is to keep engaging with their Twitter followers, understanding their interests, and sharing content based on those data.
This article deconstructs this phenomenon and guides you through all the Dos and Don'ts of an Effective Twitter Followers Analysis.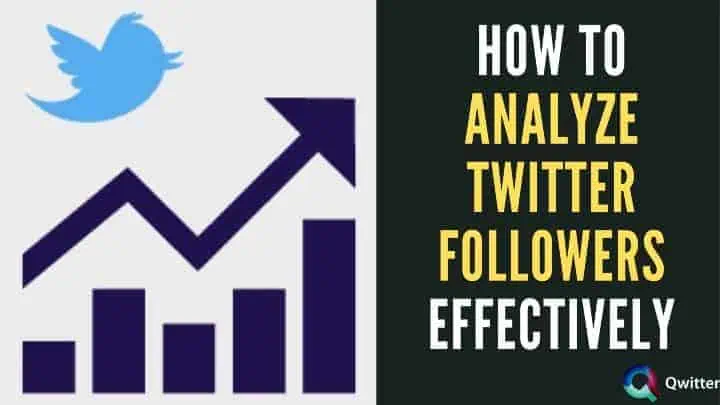 Get The Right Tools
Knowing the use of the right tools is an efficient technique to analyze Twitter followers instead of browsing through your followers' list and reviewing it manually. Such tools are capable of changing your Twitter game completely. One has several options like Twitter Analytics tool and much third-party software available in the market.
TWITTER ANALYTICS
According to Twitter, "Twitter's analytics help you understand how the content you share on Twitter grows your business."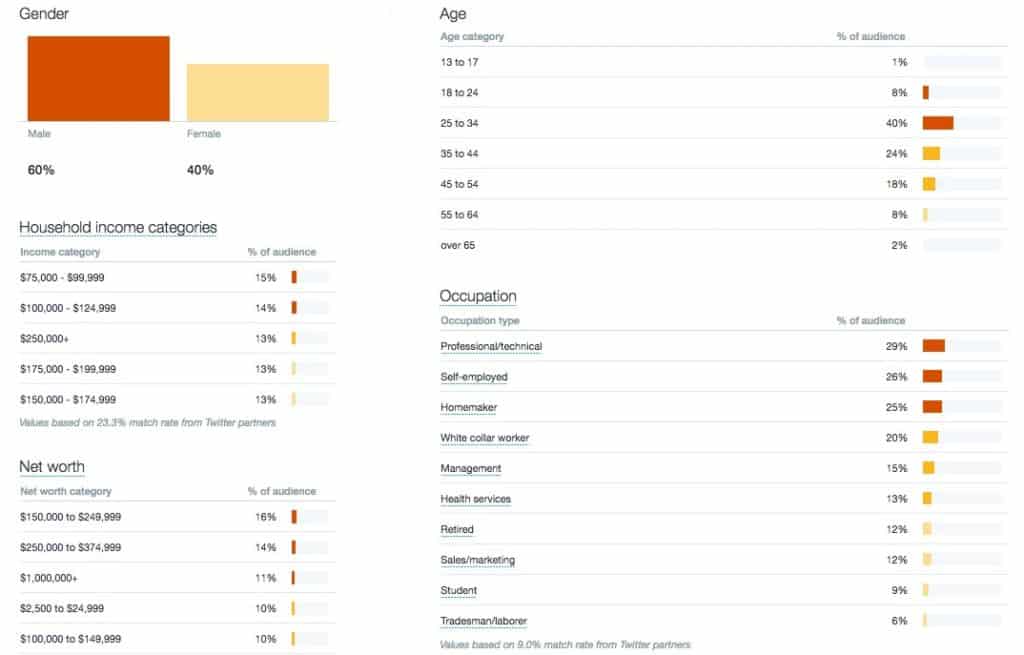 Twitter analytics is an in-built Twitter feature that gathers all the data about the audience's engagement with the content you tweet on the platform, their clicks, likes, retweets, follows and so on and breaks it down in a way that helps you boost your performance and polish your future strategies.
Anyone who cares about the performance of their tweets on their Twitter account should use this tool as the numbers these analytics provide help a variety of professionals like practitioners, managers and agencies to grow their brands.
Circleboom
Circleboom Twitter is a full-fledged third-party Twitter management tool that provides Twitter users with excellent user analytics that they would need.
Circleboom's Twitter User Analytics feature appears to fulfill the gap of native Twitter Analytics with some specific statistics not provided by Twitter Analytics, like the best time to tweet, user habits, gender demographics, language stats for friends/followers, inactive accounts, spam accounts, etc.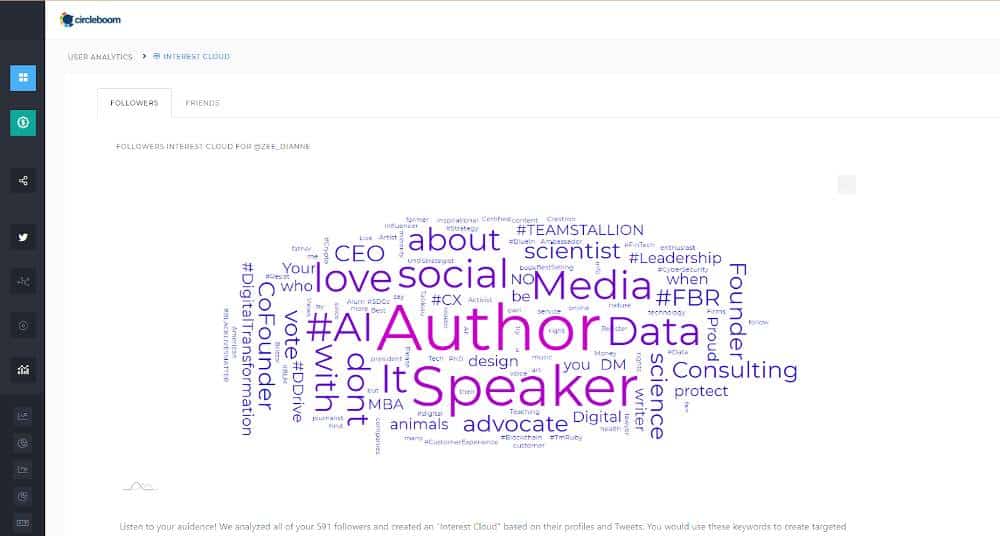 Also, you can follow how your tweets work and your follower growth through the same dashboard and export the data through PDF or various image file formats available.
SPROUTSOCIAL
Sproutsocial is a top-of-the-shelf Twitter analytic software that notifies its users with the most crucial pieces of information of their Twitter followers like engagement, conversation history, popular hashtags, audience demography, and even more.
SproutSocial is the best third-party Twitter analytics software for brands who wish to expand their social media reach.
It would measure your brand's account(s)'s follower growth, impressions, analyze trends, keywords, hashtags and competitors across custom time periods, any date range and would even present it for you in the form of interactive, graphic reports.
All these would provide you with all the necessary data for you to plan your content according to the likings of your target audience which in turn would increase your brand's outreach exponentially.
How Many Fake Twitter Followers Do You Have?
According to a recent study by Twitter, about 20 million of Twitter's users are bots or fake. Based on this, there is quite a probability of some percentage of your followers being fake. This would provide errors to your Twitter analysis reports as all the information provided on suchTwitter accounts are fake, leading to inaccuracy in the data.
Also, fake Twitter followers would lead to less engagement in your tweets so you might want to remove fake followers. So, you might have a high Twitter following but low engagement because of this, leading to no ultimate growth.
You can use tools like Twitter Audit to get an idea about the percentage of bots in your Twitter followers' list and then you can report them to get rid of them. You should work on growing your audience first.
What Do Your Followers Tweet About?
Instead of visiting every follower's Twitter account manually, you can use Twitter analytics or SproutSocial to know about the topics your followers are interested in, which hashtags and keywords they use the most of what they are tweeting about when they mention your twitter account.
These would assist in your goal to create more content that the audience resonates with and that would serve their preferences. This strategy also increases your chances of getting discovered by new users looking for similar keywords or hashtags on Twitter.
When Are Your Followers Active?
You need to what are the most active hours of your Twitter followers, and what is their last tweet date? This way you can find out what is the best time to tweet?
We all know the sheer volume of noise present in Twitter all the time. Tweeting during periods when your followers are inactive would only lead your tweets to get lost in that noise. Hence, one must analyze the time period when their followers are most active.
This increases their tweets' chances of being seen by Twitter followers and thus engages more.
While there are several time-consuming ways to do this, the best and most productive tool would be Sprout's ViralPost Feature that provides you with the best time to tweet based on when your followers engaged the most with your past tweets, when your competitors are inactive, and then schedules your future tweets accordingly.
Followers' last tweet date allows you to know the last time your Twitter followers shared a tweet which in turn separates the fake accounts as fake or bot users do not tweet.
FollowersAnalysis or FollowerAudit are such platforms that provide you with a percentage of inactive Twitter followers of your account in the form of charts for a better representation of data.
Which Influencers Are Following Me?
Influencers can be a great asset for your brand to increase network and establish an authority in the industry. Getting followed by influencers adds legitimacy and trustworthiness to your brand and it gains respect and likeliness from people.
Also, since influencers have significant numbers of Twitter followers on their social media accounts, they bring a large audience to you if engaged with them properly.
However, Twitter does not have any special feature that notifies you whenever an influencer follows you. It's up to you to spot them out amongst the masses and make use of the opportunity. You can do this in two ways.
Be Proactive: You can be proactive in finding influencers who already follow you, starting a conversation and a professional relationship with them. You can also do your research to find more influencers and get them to follow you.
Tools like Buzzsumo or Socialalert: You can use tools like Buzzsumo or Socialalert that helps you sort out if any influencers are interacting with your twitter account and then you can work your way from there.

Which Followers Engage the Most?
Apart from influencers, engaging with the general public is crucial for your brand's success. Ignoring them would only lead to your downfall as your company may receive negative feedback, lose brand advocates and potential future customers.
So, acknowledging your top engagers is of utmost importance.
You can use Sprout's Trends Reports to sort out whichTwitter users are most mentioned with your Twitter account and which ones create the most engagement with your content. You can further expand your marketing opportunities through them by creating co-marketing opportunities, get strategies for user-generated content or just flaunt your loyal supporters.
What Type of Content Resonates With Your Followers?
In order to cater to what resonates with your Twitter followers the most, you must know the types of content that you need to create by analyzing your past tweets that received the most engagement.
Note that, the metrics you should be monitoring is Engagement and not Impressions or reach which basically shows how manyTwitter users have seen your tweet and isn't advantageous to you.
You can find these analyses using Twitter analytics and then organizing the data gathered in a spreadsheet, sorted into categories like "Tweet", "Topic", "engagement Status", etc. You can also use Sprout's Post Performance Report to check this data.
Another cool feature that Sprout offers is comparing your content and engagement habits that shows the kind of media you share most, be it photos, videos, gifs, or just article links, and which ones amongst them receive the most engagement.
This would give you a better idea about the type of media you should share in the future for better stats.
What Are Your Follower Demographics?
One should know the demographics of their Twitter followers in order to check whether it matches with the demographics the brand is targeting.
For example, if your brand targets a demographic of 30-50 years old Indians but the maximum of your Twitter followers doesn't fit that category, then your marketing would go to waste as it is not even reaching the interested audiences.
Being aware of demographics also affects the marketing strategies and the sorts of content one would create for their audiences.
Account age of Twitter followers
Account age is basically how long ago the Twitter account was created. Fake or bot accounts are generally newer accounts created in order to raise the followers' list or spread fake info. Older accounts are always more genuine.
Platforms like FollowersAnalysis or FollowerAudit allow their users to get a full chart of the account age of their Twitter followers and thus eliminate the fake or bot accounts.
Follower, Following & Tweet Count of Twitter Account Followers
Metrics like Follower, Following and Tweet Count of our Twitter Followers let us know which accounts would be most beneficial for us and which ones are fake and bot accounts.
Twitter Accounts with extremely low or zero followers but immensely high followers who have either tweeted absolutely none or a vast number of tweets in a very short time are most likely to be fake or bot accounts.
On the other hand, activeTwitter users who have a considerable number of followers and following and also tweet regularly can always act as an advantage to you.
Get a list of protected followers, followers with URLs & Verified followers
Protected followers are those accounts that have chosen to share their tweets only with the accounts that follow them. Having a large portion of protected Twitter followers isn't of many benefits as their support to your brand wouldn't be showcased to the public audience.
If you have followers with a URL in their bios or Verified Twitter Followers, that is, accounts verified by Twitter and have a blue tick beside their profile picture, then that adds a sense of authenticity to your brand as those accounts are always more genuine and influential. It is a good sign and you should make more efforts to increase engagement with such followers.
Start Analyzing
Now that we have shown you the way, it's up to you to learn the best from it. Make your own path and use all these tips and tricks to come up with the best strategy to analyze Twitter followers. Your brand is evolving daily, so are you and so is the world. So, do not limit your ideas and keep imploring better, smarter, and more fun Twitter campaigns for your brand.