Twitter Blue is a monthly membership service, It's the company's first foray into the subscription business. It will undoubtedly help people who use it for commercial purposes, such as generating more leads and increasing brand recognition.
Keep reading this article to know more about Twitter Blue: Subscription price, features, how to sign up & cancel.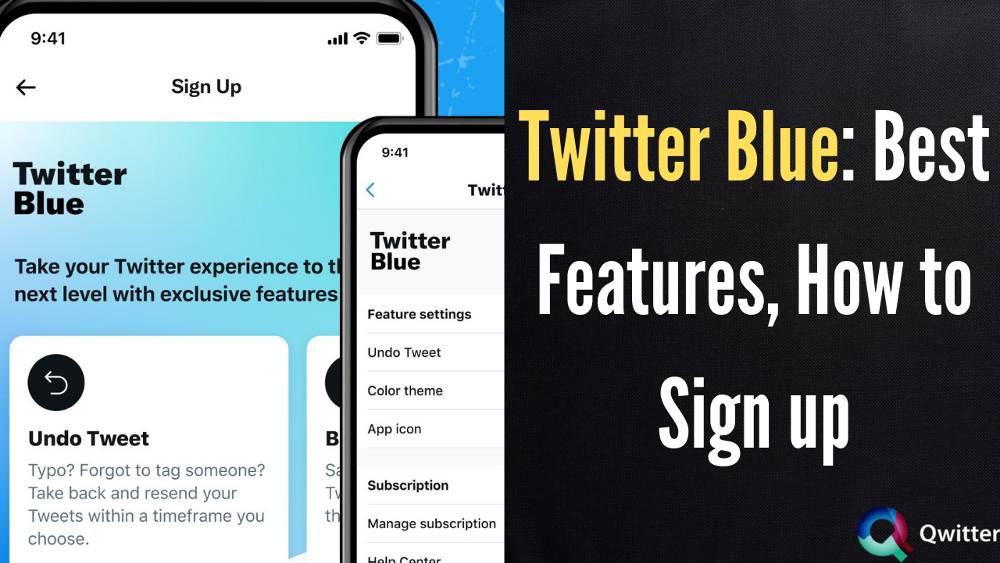 What is Twitter Blue and what does it do?
---
Twitter Blue is an optional, subscription service that allows users to use exclusive Twitter features available at a monthly fee basis. The most notable feature that was rolled out is the undo tweet feature. The features that came out with this subscription model are as listed below.
Bookmark Collections – Bookmark Collections is a feature that allows users to group all of their bookmarks into a "collection" so you can quickly find them when you need them. You can add a tweet to your bookmarks by tapping on the share icon, selecting "Add Tweet to Bookmarks," and then selecting the "Add to Folder" button. Alternatively, you can establish a Bookmark Folder from your profile and manually add Tweets to it.
Undo Tweet – If you made a typo in the tweet or you forgot to tag someone in a tweet, Twitter Blue gives them the option to reverse their Tweets before it gets posted to your feed. The feature is enabled by default, and users can customize the amount of time it takes to click "Undo" before the Tweet, Reply, or Thread appears on the timeline (up to 30 seconds). As a Twitter Blue subscriber, when you send a Tweet, it won't appear on your timeline until the Undo Tweet timeframe ends. To make changes, click "View Tweet" in the Sending Tweet notice.
Readers mode – Subscribers to Twitter Blue also gain access to Reader Mode, which makes reading multiple content and information more enjoyable. This function converts extensive Twitter conversations into easy-to-read text, allowing you to view them all at once. Simply press the "View thread in Reader" option at the bottom of each tweet in a Thread to see it in Reader mode. You can even change the font size to improve your reading experience.
Custom navigation – Now, you can easily customize the Twitter navigation as you want. You can easily change it to add a profile, monetization icon, bookmarks, or lists. Although this feature is only available for iOS users.
App icon – You can now also change your Twitter app icon for your home screen. You can choose from eight different icons and three seasonal ones (only available for iOS users).
Themes – You can also customize the themes of your Twitter app. You can choose from six theme colors: blue(original), green, red, purple, orange, and yellow. It's only available for iOS users.
Experimental features – Twitter Blue subscribers get first access to features we're testing before they're available to the rest of the world!. Lab features will evolve over time. Some features may be withdrawn or made accessible to all Twitter accounts, but others will only be available to subscribers. Keep an eye on your settings to see what's fresh.
How much does Twitter Blue cost?
---
Twitter Blue is a subscription model that works on a monthly fee basis. The monthly charges for the subscription are as below:
US = $3
AUS = $4.49
CA = $3.49
NZ = $4.49
Although these prices are not fixed, they might change in the near future. Twitter calls this an "introductory price" on its official Twitter Blue subscription page.
Is Twitter Blue worth $3 a month?
---
Yes, Twitter Blue is worth $3 a month but only in the US. The prices for other countries differ from that of the US. You can subscribe to Twitter Blue at $3 only in the US. It's a paid monthly subscription that comes with a slew of premium features
Is free Twitter going away?
---
No, You would still be able to use the free Twitter as usual. There won't be any changes in the free version of Twitter. Twitter Blue is a subscription model that works on a monthly fee basis and is totally optional for the user whether they want to subscribe to it or not.
Is my account eligible for Twitter Blue?
---
Twitter Blue is available for users using Twitter on Android, iOS, and the web. It's only available in four countries across the globe that are Australia, Canada, New Zealand, and the US. Twitter may plan to expand this plan to other countries as well. But right now it's only available to these four countries.
How to sign up for Twitter Blue
---
Signing up for Twitter Blue is an easy and quick process. You can do it from both the Twitter app for iOS and Android or from the web version. To sign-up for Twitter follow the method below.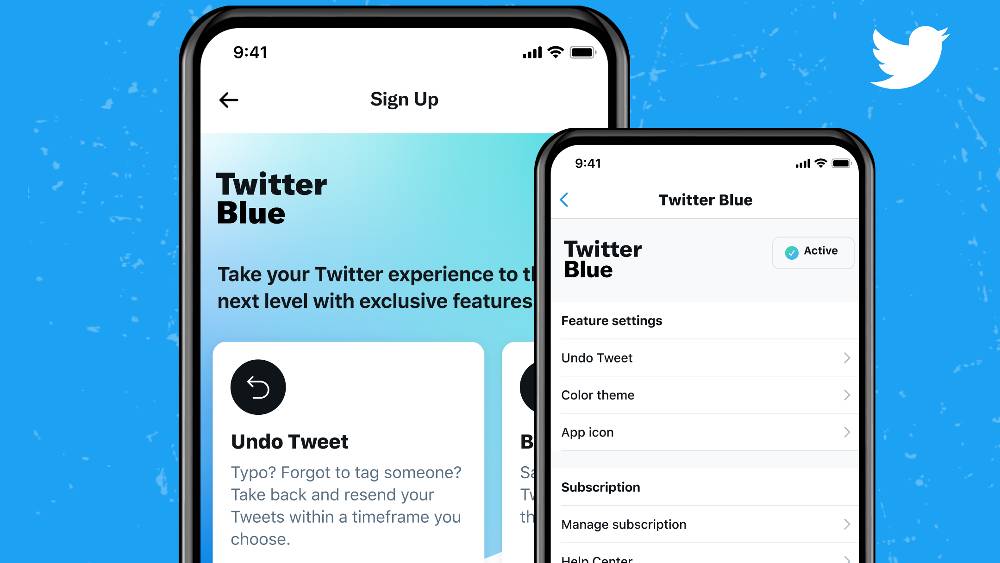 Signing up through the iOS or Android Twitter app
Step 1 – Open the Twitter app on your iOS or Android device and login into your account using your login credentials.
Step 2 – click on your profile icon which is located at the top left corner of the screen to access the profile menu.
Step 3 – Tap on Twitter Blue and click on subscribe button at the bottom of your screen.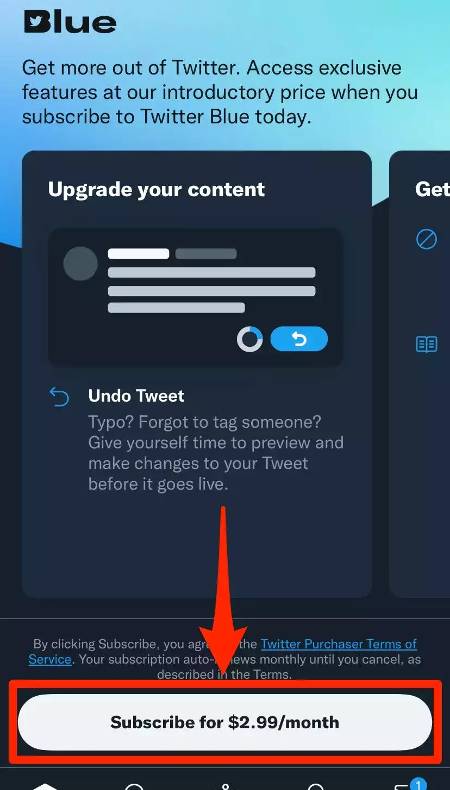 Step 4 – Pay the subscription fees using either your Apple pay for iOS or Google Play for Android.
Step 5 – Now, you have successfully signed up for Twitter Blue.
Signing up through web
Step 1 – Open Twitter on the web and login into your account using your login credentials.
Step 2 – In the profile menu which is at the left of your screen, click on more.
Step 3 – Tap on Twitter Blue and select the Subscribe button at the screen's bottom.
Step 4 – Pay the subscription fees and you would be subscribed to this service.
Now that I have Twitter Blue, how do I undo a tweet?
---
When you subscribe to Twitter Blue, Undo Tweet will get automatically turned on by default. You can enable or disable the functionality in your Twitter Blue settings. You won't see the Undo Tweet prompt if you turn it off, and your Tweet will send immediately away.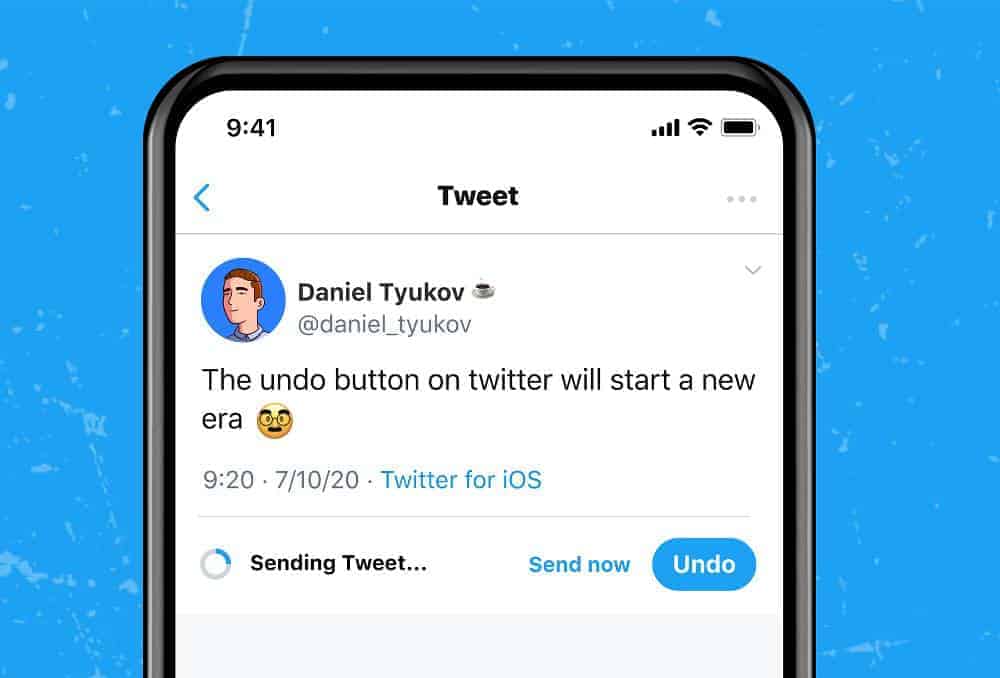 When Tweet Undo is enabled, your Tweet is fully private for the duration of the Tweet Undo period. Until the Undo Tweet period ends or you pick Send now, your followers will not see the Tweet. Although, the undo tweet feature is not available in other Twitter products or through third party apps.
How do I get pinned conversations, longer video uploads, and other experimental features?
---
To get access to the experimental features, you can use the lab feature to gain access to the features that are currently in the testing phase and are not yet released.
Twitter Blue allows you to use these lab features before they are launched. Although, you can only use two features right now. These two features are:
Pinned conversation – With this feature, now you can pin any conversation that you want to the top of your DM page.
Upload longer videos – This feature will allow you to upload videos up to 10 minutes long, although this feature is only limited to desktops right now.
How to cancel Twitter Blue subscription?
---
You can easily cancel your Twitter Blue subscription by going to your settings. You can manage your subscription from the settings. You can cancel or end your subscription there.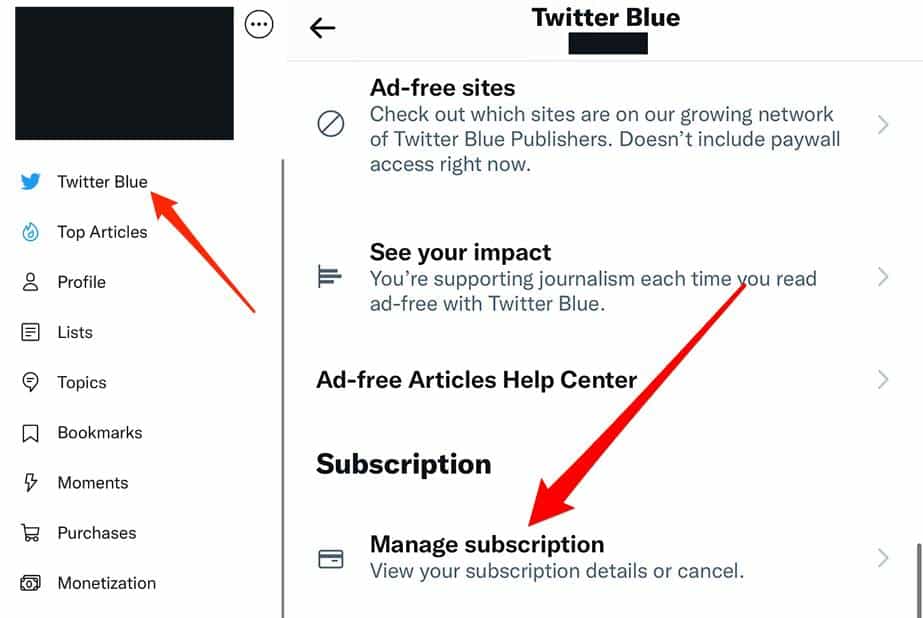 Although the Twitter Blue subscription will automatically expire at the end of your billing cycle. Do note that subscription cancellation must be done out with the platform that was used to buy the subscription.