Twitter is one of the most popular social media platforms, and with good reason. There are so many features and settings that users can customize to make their Twitter experience unique. In this blog post, we'll outline some of the lesser-known, yet powerful Hidden Twitter features that every user should be taking advantage of. Read on to level up your Twitter game!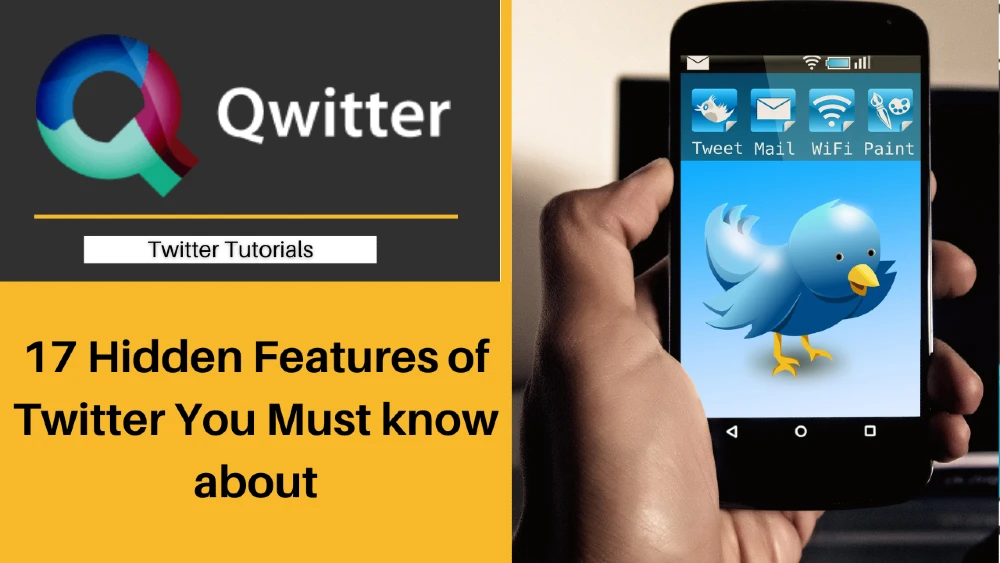 There are 238 million active users on this platform, according to the latest stats. Influencers of the most varied niches also cultivate their Twitter accounts carefully in search of more followers. It's easy to get lost there, though, with so many accounts to follow. There's space for all kinds of content, from sports to live betting, celebrity gossip, cooking, 3D printing, etc; so many to mention, so I guess you catch my drift here. 
Here are some lesser-sung Hidden Twitter Features to help you make the most of this platform.
Use Lists
Curate your feed by creating Twitter lists with the content you like the most. All you have to do is to go to List by clicking on the account icon and select "New". It's possible to create private and public lists. 
It's also possible to know to which lists you have been added, although you won't get any notification if you've been added to one. Still, you can check which lists you've been added to by clicking on the 'Lists' tab. You can either subscribe to this list or remove yourself from it by blocking the user.
Data Saving
Are you on a limited connection? You can save data while using the app by disabling the autoplay option for videos. In Settings, go to Data Usage and see what other options you can disable or even disable all at once.
Share accounts with a QR code
Avoid misunderstandings while spelling your Twitter account to others; use a QR code instead. The app allows you to create QR codes for sharing Twitter details. There's a QR button at the bottom of the page, where you can choose to scan or share a code.
Read Receipts
It's possible to disable read receipts by managing your Settings and Privacy, where you must choose "Privacy and Safety". Then, you can manage your receipts at "Show Read Receipts" and disable this option.
Profile Customisation
There are more options for your profile page than editing the profile and the picture on display. It's also possible to choose a theme color that all users will see when visiting your profile. Click Edit Profile and Theme Colour to choose a pre-set color or create a custom one. 
Choose a Browser
Twitter has a standard in-app browser, so users don't need to leave the app to access external content. However, you can choose a different browser for the task and disable the in-app option. In Settings and Privacy, go to Display and Sound, then deselect the "Use in-app browser" option.
New Tweets
Never miss a new tweet from someone you follow again. Turn on the Push Notifications in Settings and Privacy/Notifications. You'll find "Tweets from people you follow," then click on the bell icon. 
Clear your Twitter app cache
If you're a heavy Twitter user, you may notice that your app starts to lag or crash more often than usual. This is likely because the app stores too much data in its cache. One way to fix this issue is to regularly clear the app's cache. This can be done by going into the Settings menu of your Twitter app and selecting the 'Clear Cache' option.
Listen to Twitter Spaces on a Computer
Twitter Spaces is a new feature that allows users to host and listen to live audio conversations. While this feature is currently only available on mobile devices, a workaround allows you to listen to Twitter Spaces on your computer. All you need to do is open the Twitter app in your web browser and find an active space you want to listen to. Once you've found an active Space, simply click on the 'Listen in Browser' button to start listening.
Browse Twitter in incognito mode
You can use the incognito mode feature if you want to browse Twitter without your activity being tracked. This is a great way to check out new accounts or explore content without tracking your Twitter activity. To browse in incognito mode, simply click on your profile avatar in the top-right corner of the Twitter homepage and select the 'Incognito Mode' option from the drop-down menu.
Save tweets for later with Bookmarks.
If you come across a tweet that you want to save for later, you can do so by bookmarking it. This is a great way to keep track of interesting tweets or save important information for later. To bookmark a tweet, simply click on the share icon (the little arrow) and select the 'Add to Bookmarks' option.
Advanced Search – Level Up Your Twitter Game
If you want to get the most out of Twitter, you need to know how to use the Advanced Search feature. This powerful tool allows you to find tweets that match specific criteria, such as keywords, location, and more. To use Advanced Search, simply click on the 'Search' bar on the Twitter homepage and select the 'Advanced Search' option.
Mute Words, Usernames & More
You can mute them if you're tired of seeing certain words, phrases, or even entire conversations in your Twitter feed. This is a great way to filter out content that you don't want to see without unfollowing someone.
Night Mode
You may want to enable the Night Mode setting if you use Twitter at night. This will change the color scheme of the Twitter app or website to a dark theme, making it easier on your eyes. To enable Night Mode, simply click on your profile avatar in the top-right corner and select the 'Night Mode' option from the drop-down menu.
Disabling Notifications
If you're new to Twitter, you may want to disable notifications for a while. This will help you acclimate to the platform without being bombarded with notifications. To disable notifications, simply click on your profile avatar in the top-right corner and select the 'Settings and privacy' option from the drop-down menu. Then, click on the 'Notifications' tab and toggle the 'Receive notifications from people you follow' setting to 'off'.
Download Your Twitter data
One of the most useful yet underrated features that Twitter offers is the ability to download your entire Twitter data. This data includes everything from your tweets and direct messages to your account information and settings. This can be a great way to back up your data or to simply take a closer look at your Twitter activity.
These are just a few of the hidden Twitter features that every user should know about. By taking advantage of these features, you can level up your Twitter game and get more out of the platform. Do you know of any other hidden Twitter features? Let us know in the comments below!