Just after the success of Clubhouse, Twitter launched Twitter spaces with similar audio-based formats. Unlike various podcast apps, These social media platforms are gaining popularity in audio space networks, giving interactive ways for the potential audience to participate in conversations.
Marketers worldwide are using these platforms and finding them worth their investments to gain brand revenue. Some marketers are confused and wonder Which audio social media platform they should use?
In this article, we will help marketers explore in depth by discussing different factors that weigh the pros and cons of Twitter spaces and Clubhouse. In the end, you can decide which one to invest in.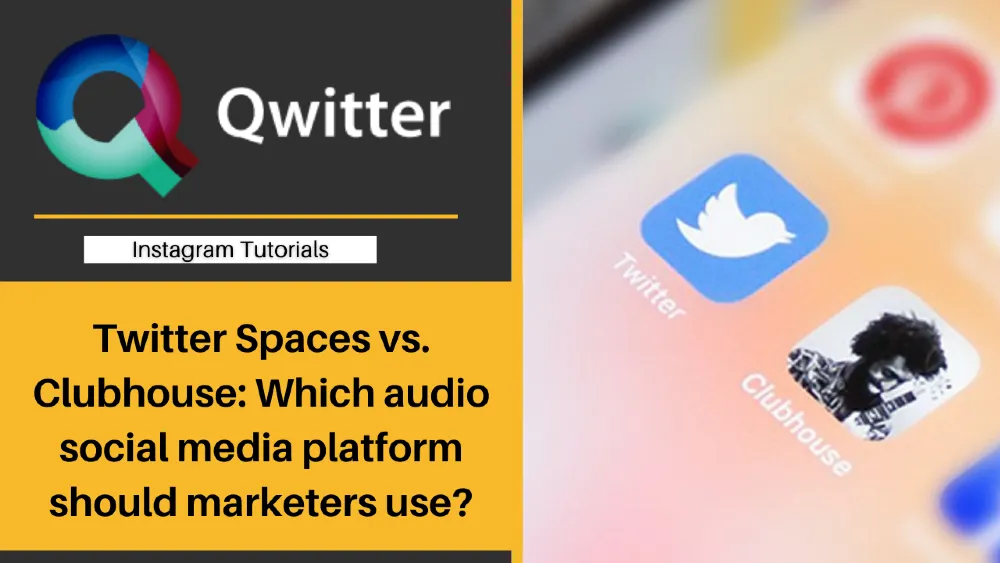 Twitter Spaces Vs. Clubhouse
---
Both these social media apps still follow the same approach and format, but they contain subtle differences, which we will discuss now.
We will compare these two based on accessibility, interface, interaction, compatibility, and authenticity to help marketers reach an absolute conclusion.
1. Accessibility – as an exclusive, invite-only app
Initially, after the release, Clubhouse rooms could only be accessed through invites, a limitation in its accessibility. Now, it's not the case, as anyone can become a clubhouse user and join this audio-only chat room based social media app anytime.
Any user can host a room for discussing topics from their niche. Users can join any room different from their niche. In this way, People can gain knowledge on different matters. Both audio apps allow you to schedule conversations in advance.
Similarly, Twitter users can also join any space conversations hosted by their followers and others. To participate, People require only a Twitter account.
People see the ongoing Twitter space events on the top of their screens. When it comes to hosting a Twitter space conversation, Only people with a 600+ followers count can conduct it. People with fewer followers cannot host the twitter spaces.
Both Clubhouse and Twitter are available on google and apple play stores. The clubhouse app is the winner in terms of accessibility.
2. Compatibility – use on phone or computer
Earlier, The clubhouse app was available only for ios devices. Now, it has an android version. Similarly, people can access Twitter spaces on both IOS and android devices. There is a desktop version, but it has limited functions. In terms of compatibility, Both are at the same status.
3. Interaction
Now, we will discuss who will win when providing creative ways for interactions. Clubhouse users don't get more options to interact with the speakers.
Clubhouse lets unlimited speakers host the discussion. It allows only a limited number of 8,000 listeners on this audio platform. The Clubhouse doesn't provide many options for interactions like twitter spaces.
During conversations, Clubhouse allows audience members to request speaking. In this way, it prevents disturbances & chaos among all the participants.
Twitter spaces allow 11 people to participate as speakers, while unlimited listeners can participate. Different ways in which Twitter space allows to engage are-
Participants can express their emotions through emoji reactions. They can send tweets.
It offers transcriptions & auto-captions during the existing conversation so that listeners cannot miss any word in case they don't understand a particular language well or have reduced hearing.
Users can share the Space via DM, link, or Tweet.
Members can send private DMs to each other's inboxes.
The Clubhouse lacks these features for interactions. It doesn't show captions, so it becomes challenging for members to understand missed words in between. Here, Twitter spaces win.
4. Interface
Both these social media networks have almost the same interfaces. When anyone joins the Clubhouse, they land on their feed page called the "hallway." Here you will view events or upcoming rooms and can choose to attend anyone.
Users can search for discussions or rooms though entering keywords or topics. While listening to an existing conversation, you can scroll to other sections in the Clubhouse.
If you want to leave any discussion in between, tap on the "Leave Quietly" option at the top of your screen. Again join all the conversations happening. You can allow anyone to join; limit only your friends or people you have sent the link to.
You can also keep a title for your room, add a maximum of three topics, and allow chats and repeats.
Users click on the center icon inside the Twitter app to start a space. Here, one can scroll and discover all conversations occurring at that time. Users can listen to the audio discussion while using the app.
They can continue listening even if they quit the app. Twitter spaces allow people to prompt their followers to set reminders. Twitter stores audio recordings for 30 days, while Clubhouse deletes the recorded conversations once the room discussion ends.
Unlike clubhouses, People can see functional spaces only started by their followers. There's no separate hallway to find all the ongoing Twitter spaces conversations.
Twitter spaces show conversations are at the top now at the place of Twitter fleets. There's no option to search other spaces based on specific topics and keywords. People are not able to explore spaces different from their niche.
Clubhouse wins with an impressive interface.
5. Authenticity
Clubhouse started initially by allowing conversations on a particular niche. Still, people can search for different topics and discussions. More specifically, the audience base, the discussion effectiveness, and authenticity increase automatically.
New users will be more authentic. It becomes challenging to create authenticity if non-followers or non-interested people join a conversation.
Both clubhouse & Twitter spaces allow non-specific users to join conversations. Here both win in terms of managing authenticity.
Alternatives to Twitter Spaces and Clubhouse
---
We have evaluated Twitter spaces and Clubhouse in detail. Now let's dig deep into understanding other similar platforms that are already popular among the masses.
Instagram Live Rooms
Instagram Live room is a popular feature where users host live chat rooms in real-time for their followers. It allows four co-hosts to participate in discussions at a time. The followers of each co-host can become a part of these live conversations.
Recently, This live feature witnessed special moments where creators from different niches like beauty bloggers, fitness trainers, influencers, musicians, chefs, celebrities, etc., have used this feature to bring together their community of followers.
Benefits
Creators can target a broad audience and gain new followers.
It brings more engagement rates.
It provides a creative way for influencers and brands to engage with followers by organizing large-level discussions, promoting new products, starting Q&A sessions, hosting jam sessions, etc.
This live feature assists entrepreneurs in earning money for their businesses. Viewers can purchase badges for their hosts & explore interactive features such as Live Fundraisers & shopping.
This feature keeps the safety of Instagram users in priority; therefore, People blocked by the active participants cannot join the live rooms.
Hosts during live streams can block and report unnecessary comments.
Limitations
Live Rooms are not available for all users. Only creators can access this.
Instagram live rooms are accessible only on mobile devices, not on desktops.
The video streaming stops when anyone receives the call.
Some useful features like scheduling and generating auto-captions are missed from these Live rooms.
Facebook
Unlike LinkedIn, Facebook has not announced any feature alternative to the clubhouse and Twitter spaces. There are no relevant details to interpret what the Facebook audio feature would be like.
Specific reports hint that Facebook will have the same audio-only experience. TechCrunch reported in May that this audio-based feature could be included in Facebook's messenger app.
LinkedIn's
Linked is a social media platform used chiefly by career professionals, including recruiters and job-seekers, with over 700 million users. Professionals act formally on this platform and avoid communicating in casual tones.
Currently, LinkedIn lacks the audio chat rooms feature. As told by a LinkedIn spokesperson, Its audio rooms feature is in the testing stage. They are exploring how they can use their new feature in groups & events sections.
This audio feature will primarily target professionals. One can expect The discussions to center around issues from a specific industry. Business leaders would be able to expand their network and build relationships with more potential clients.
Career seekers looking to excel in their occupations will be able to connect with experts in their profession more effectively.
Clubhouse vs. Twitter Spaces: Which audio social media platform should marketers use?
---
Debate is still going on among social media experts as to which audio social media platform is better. We have discussed essential points highlighting the effectiveness and limitations of both these.
Let's focus more on some points that help marketers decide which platform to choose in their social media marketing strategy.
Follower count– People with a follower count above 600 can host a space. In comparison, there's no such limitation on the Clubhouse. So, newbie marketers will have to increase their follower's numbers first.
Large-scale discussions – Both Clubhouse and Twitter spaces have limited the number of listeners and speakers. Hence, both limit large-scale discussions in terms of attendees and speakers. Marketers can choose anyone depending on their level of discussion.
Audience Type and reach – In the social media space, Clubhouse's 50% audience base represents a young audience between 18 and 34 years of age. In the majority, Twitter has a mature audience base between the 35-49 age group. Marketers can use anyone that fits their audience demographics.
No of the active users on Twitter is more as compared to the Clubhouse. Till now, The Clubhouse has more than 10 million users, while Twitter has over 229 million monetizable active users. Twitter spaces are ideal for marketers willing to target a broad audience base.
Marketers can select a clubhouse if they want to connect with like-minded young marketers and business professionals of their micro-niche. They can join the rooms on a particular topic and gain in-depth exposure to broad perspectives on a specific topic.
HubSpot Research Study
According to their study, Marketers find Twitter spaces more attractive than Clubhouse due to a broad audience reach and more engaging options. In 2022, Marketers intend to invest their efforts and budget more in Twitter spaces than the Clubhouse. Also, 15% of marketers have planned to reduce their investment in clubhouses in the coming time.