Back in 2018, when Twitter killed its official app for Mac, let's just say, Twitter lovers were not happy. Using Twitter on the browser is fine but as a regular Twitter user, you would often find your options limited. So, users were left with no choice but to look for a third-party Twitter client for Mac that integrates with the Macintosh operating system to provide users with more control, better designs, and advanced features.
Now the question is, which are the Twitter Apps that work best for Mac? Worry not because we are here to break it down for you with our list of the 7 Best Twitter Apps for Mac that You Must Use!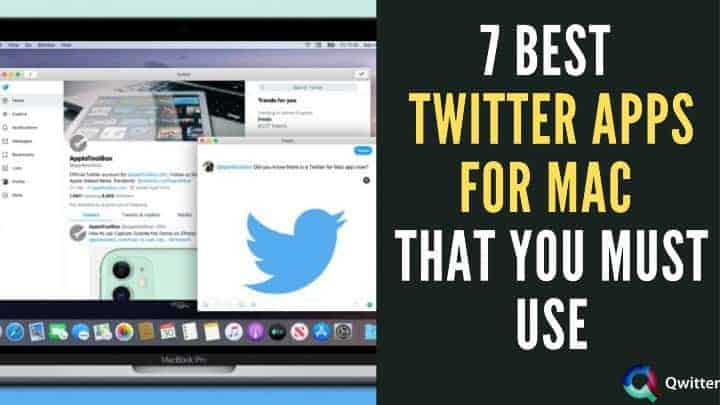 Best Twitter Apps for Mac
There are several third-party Mac dedicated Twitter client Apps available in the market which allows you a better Twitter experience with their smoother interfaces and trendy designs, powerful tools, and features. These apps try to address the shortcomings of the original Twitter client for Mac and make tweeting much more fun.
---
1. Tweeten built upon TweetDeck
Price: Free (download here)
Tweeten is the best of the best Twitter app for Mac for users who aren't willing to spend a penny. It is essentially based on Tweetdeck and can do everything Tweetdeck can do with a variety of additional features. To Tweeten, customization is the key as its custom CSS feature lets you customize literally everything about it, from its multiple columns to photo size, font size, themes to get the exact look and feel of your Twitter feed you want.
Tweeten provides a cleaner and more intuitive design along with all the nifty features like multiple account management, filters, emoji picker, video download, tweet scheduling, classic @replies, and even integrates with Touch Bar on MacBook. There's no other app like Tweeten!
2. TweetBot for MacOS
Price: $9.99 (download here)
An award-winning third-party Twitter client app for the Mac, TweetBot is the closest and the best version of what the official Twitter app tried to be. With its modern aesthetics and clean design, Mac Tweetbot excels at easing your usability with its brilliant features like automatically playing media on hovering, a Retina display for sharper photos, videos, and icons; expandable sidebar which provides one-click access to all of your subsections like lists, direct message conversations, and saved searches, mute filters, and whatnot.
TweetBot is the way to go if you are using Twitter professionally as it offers support for multiple accounts management which makes it easier to switch back and forth between accounts. It offers a variety of modes including half-screen, full-screen, and background modes. It also brings back Twitter's original light, dark, blue, and grey themes with a fluid reverse-chronological timeline that lets you read the latest tweets without refreshing.
Along with all of this, it also offers its users a "Profile notes" feature to add private notes to accounts you follow and full cloud syncing between your Apple devices so that you can pick up from where you left. If you are a devoted Apple user who wants only the best, regardless of the cost, buy TweetBot from Mac App Store right this moment!
3. Circleboom Publish
Price: Free up to 3 accounts / Pro: $7.99 per month up to 5 accounts
Circleboom Publish is a social media management tool that allows users to manage multiple social media accounts from Twitter, Facebook, Instagram, LinkedIn, Google Business profile, and Pinterest. You can use it through your web browser.
Circleboom Publish lets you add multiple Twitter accounts to design and schedule your tweets in advance. Through their built-in design and content curation features like Canva, Giphy, and Unsplash, you may increase your tweets' quality. Also, you can define your niche to curate news or connect RSS feeds to your Twitter accounts to be auto-posted.
And if you consider using it with their Twitter analytics features of Circleboom Twitter side by side, it would be a killer for your campaigns. Their prices are not relatively low, but neither salty, I can say.
Many respected organizations and corporate firms already prefer them. However, they also address ordinary users and solo entrepreneurs since their dashboard is easy to handle and intuitive.
4. Twitterrific
Price: $7.99 (download here)
Twitterrific has been here for a long time (even before the existence of the App Store) because of its simple user-friendly interface and doing what it does best, keeping your timeline free of the clutter of unwanted tweets. The latest version offers us a diverse range of customizing options along with Notification center, VoiceOver navigations, syncing with iCloud, muffling accounts, phrases, hashtags and it doesn't even have ads.
What makes Twitterrific stand out is its native translation feature, intuitive keyboard shortcuts, color coding tweets, PIP mode videos, and a unified timeline that shows all your mentions in your main timeline.
Related: 
Best twitter apps for windows 10
The best twitter app for android

5. TweetShot
Price: $2.99 (download here)
Tweetshot is a simple app that sits neatly on the menubar, only to pop up when pressed the keyboard shortcut to start it and then you can post a tweet. It does not have a variety of advanced features or customizable options but does best what it's made for, to tweet.
You can attach up to 4 images, or 1 Gif, or 1 video to their tweets. You can also reply to your last tweet and update your accounts information in "Preferences". When you're all done, you can press the escape key to close the Tweet window.
6. Flotato
Price: $19 (download here)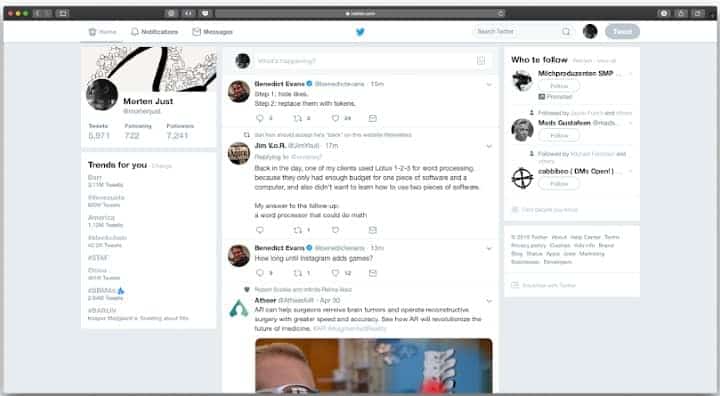 Want to minimize your Ram usage while you surf through your Twitter? Flotation is here for you. This app lets you turn your most-used apps that we normally use on browser tabs into little windows. It comes extremely handy if you use social media for marketing purposes for your business or other professional purposes or even just for fun!
It is found that Flotato has as little as 10% of Chrome's memory usage running the same apps. It saves you time and frustration from laggings. It's fast and offers every feature that Twitter on web browsers provides.
7. Buffer
Price: Free/Essentials: $5 per social channel per month (download here)
Buffer is another multi-platform management app that lets you manage all your social media brand accounts in one place. It is trusted by several high-profile companies like Spotify, Shopify, Food52, and many more.
Buffer lets you schedule tweets in advance and provides detailed analytics on your tweet engagements with the global audience. This app is not meant for general users, but it's your best option if you are a public figure looking for a way to handle all your social media conveniently. But be ready to pay its hefty price.
8. Neptune
Price: Free/Neptune+ starting at $1.99 (download here)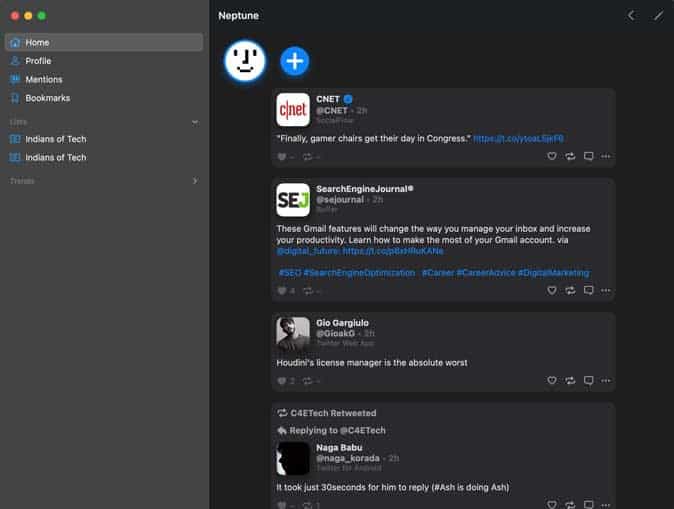 Neptune is yet another Twitter App for Mac with an elegant and sleek design that matches best with the Apple design scheme. The Twitter feed has a very clean look with tiny like retweet and reply buttons pushed to the side and modern-looking Twitter cards with rounded edges.
Neptune's smooth and trimmed interface offers a minimum amount of obstacles. Like all of its competitors, Neptune also offers features like Filtering, haptics, bookmarks, chronological timeline, multi-accounts usage, and of course, the dark mode. Although this app does not let you tweet videos, it's a great app for regular Twitter users to have some fun and can be downloaded for free from the Mac App Store.
Also Read: Best Twitter Alternatives
Which Twitter App Do You Use on Mac
As you can see, you have a lot of options for the Best Twitter Apps for Mac. If you're looking for the best for free, Tweeten would be your best bet, whereas TweetBot gives the ultimate tweeting satisfaction, but at a price. Twitterrific, TweetShot can also be opted as per your needs. For a professional with multiple brand accounts on different platforms, Buffer or Flotato would be advisable to you.
While every Twitter App has its own specialties, the app that you should use is the one that suits your needs and preferences the best to have the most enjoyable Twitter time.