Twitter is a fast-growing social media that enables people to share short 280-character messages. The number of active users in 2021 amounted to approximately 429.79 million people. And by 2025, this figure is expected to increase by 50 million users.
This platform is popular for sharing opinions on different issues and getting updates from ordinary people, politicians, and stars.
Besides, marketers widely use Twitter for promoting their products and services. If you struggle with making your account successful, there are several effective tips for that.
Read the article and achieve your goals with Twitter.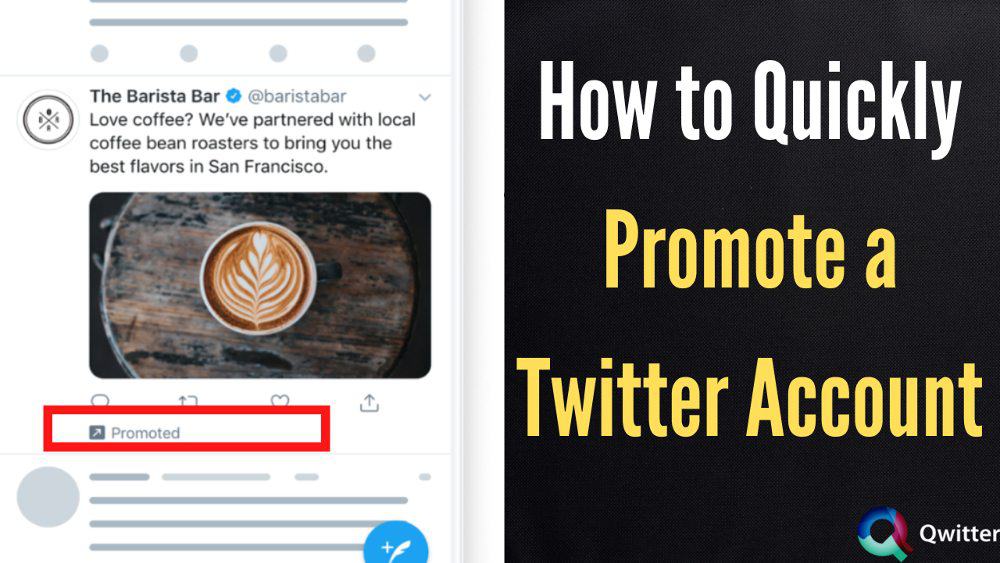 What Is a Promoted Account on Twitter?
---
Users promote their accounts and Tweets for many reasons and as a result, they benefit from a broader audience engagement. A promoted Tweet looks like an ordinary Tweet with up to 280 characters and some visual content elements, like images or videos.
A promotion option allows users to choose the target audience, set the budget, and define the campaign timeframe. Twitter users use different methods to raise their account visibility.
It is possible to retweet content or connects with influencers to get more subscribers. Let's find out more about fast and effective ways of advertising on Twitter.
What is Quick Promote on Twitter?
---
If you want to promote your Twitter account easily, there is a built-in feature in the program. Quick Promote helps users promote their Tweets to a larger audience in a few simple clicks.
This tool is available to all users who have Twitter Ads accounts. You can set up an ads account if you use Twitter for business to analyze your ad campaigns on Twitter.
It is easy, cost-effective, and secure. In order to launch a Quick Promote campaign, you should follow simple steps:
You should select the Tweet you want to promote and click the "Tweet Activity" button;
Then choose the option "Promote this Tweet" in the menu;
Now you get the possibility to customize the promotion of your Tweet by defining your target audience, the campaign's duration, and budget. You will see impressions and find who views your Twitter profile. Do not forget to add your credit card and billing details;
You have to select the "Create Promotion" option and wait for Tweeter to approve your campaign. Users will see your Tweets in their timeline as ads.
Guide on Twitter Advertising
---
Let's explore in detail the process of Twitter account promotion.
You should log into your business account and access Twitter Ads Manager. This tool provides you with plenty of possibilities, including tracking, analyzing metrics, customizing filters, and more.
Now you have to choose your Twitter ad objectives, like awareness, consideration, and conversion. It is crucial for identifying what engagement types you will be billed for.
After setting the "Followers" objective, you move to the 'Campaign set up' screen and click on the 'Ad group setup' page. Here you need to set up your ad group and bidding.
The next stage is targeting your audience by demographic, age, gender, technology, and location. You can even target the audience according to their interests and behaviors.
You can choose the placement of your ad: users' timeline, search results, or profiles and Tweets detail pages.
And finally, you can launch your campaign and engage many clients.
How to Promote Twitter Account – Tips for a Successful Twitter Advertising Campaign
---
It is vital to properly use this quick communication tool to attract readers. Here you can find efficient practices to manage Twitter accounts that will help you enormously benefit from an account promotion campaign.
Setting an Account
When creating your Twitter account consider the name reflects your business and people can easily recognize your brand page. Consider some creative username ideas for your Twitter account.
Make sure it's catchy and short so that people can memorize your mane and mention it in their Tweets. You should also add a link to the official website of your business to look credible and professional.
It's also great to get verified on Twitter so users know they can trust your brand. Select a catchy thumbnail and write a clear and engaging account description.
Engaging Copy
When creating a Tweet for promotion, focus on the text. Tell people a story and attract their attention with the first words. You do not necessarily have to write a 280-character post.
Users usually quickly scroll the timelines, and your task is to grab their attention and not let them go until they read the text.
Express your thoughts clearly so that people understand what you promote and why it is relevant to them.
High-Quality Visual Content
An effective advertising strategy is not exclusively based on a copy. Here images, videos, and even hashtags play a significant role.
A poor-quality image or a video with bad sound will not create a positive brand impression. Every piece of visual content you decide to include in the promotion Tweet should be sharp and eye-catchy hence your advertisement design is important.
A wonderful idea to diversify content is to record streaming video and incorporate it into your Tweet for promotion.
Consider that your visuals need be not only attractive but also meaningful. Add materials that relate to your business. 
Call to Action
Promoting a Twitter account with no purpose is meaningless. You should add a CTA to a promotion post. It will clarify for users how they can interact with your account, like visit the page, website, retweet, or comment.
Make your offer compelling and encourage people to buy your products or services.
Cross Promotion
You can promote your Twitter account via other social media. Make it easy for people to find your page and subscribe. Cross-promotion is an effective solution for making your account visible on Facebook or Instagram.
It's also recommended to include your Twitter account link to mail newsletters or their advertising means. Do not forget to include all our social media links on your website page.
Analyzing and Testing
You should not stand still when launching your account promotion campaign. Keep exploring new methods to stand out and overshadow your competitors. It'd be great to do A/B testing to identify the effectiveness of your Twitter ads.
Experiment and see what increases user engagement, twitter impressions. It may be a different image, language and tone of the copy, and more. 
Final Thoughts
---
Now you see that there's nothing challenging in promoting your account on Twitter. There are different free and paid options to engage a larger audience. Be yourself and generate absorbing content.
Your account will interest people if you know not only proper promotion tools but follow the latest trends and news, expressing your thoughts grammatically correctly and clearly.
We wish you good luck and hope that the account you advertise will get decent attention.