Are you frustrated with those fake accounts that follow your Twitter profile but don't react to any of your posts? I guess yes because we are too. Don't worry!
We have found 5 ways by which you can mass unfollow twitter followers who you think are fake profile or you just want to clean up your list.
Twitter is an interesting social media app when it comes to spreading any news online and making it trending worldwide.
As per Twitter's design, whenever you follow anyone, their tweets will show you on your Twitter feed. Now if you don't want to see their tweet in your timeline you need to unfollow that person. One simple way of doing that is manually by just going to profile on that person and Unfollow them.
What if there are so many Twitter accounts who you are following and you want to unfollow them massively or you want to unfollow everyone on Twitter with just one click of a button.
Is that even possible? Yes!
You must have tried to unfollow individual users by clicking on the unfollow button next to their name. You must be frustrated with that process.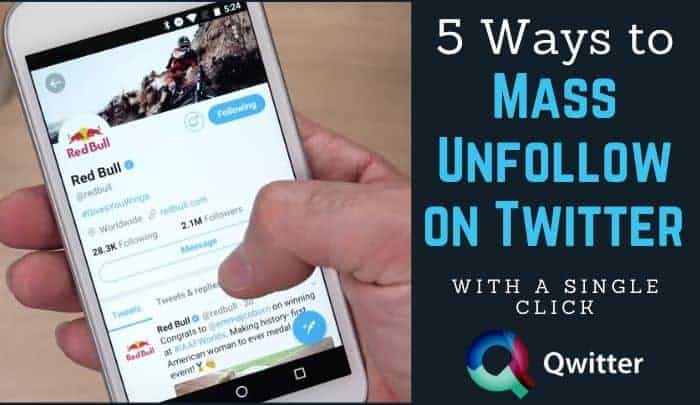 Yes there are no. of online tools and applications for both Android and iPhone by which you can unfollow twitters accounts in bulk.
Before we start the process, we suggest you to save all of your followers on a Twitter list. In case, if you did something wrong, you can go back and follow those people again. You can learn here about creating list on Twitter as many people to it.
How to Unfollow Everyone on Twitter
---
1. Circleboom
---
As a social management tool, Circleboom can help you with things like follower insights, dead baggage (spammers, inactive, and fake accounts), and a host of other capabilities that can improve your overall Twitter experience.
Additionally, you can also mass unfollow Twitter accounts using just a few clicks. And you can filter these accounts down to very specific parameters that you wish to have. You can sort the accounts by:
Number of followers
Specific keywords and hashtags
How old the accounts are.
Number of tweets
And so on.
To bulk unfollow on Twitter follow the steps below:
Log into Circleboom using your Twitter account.
From the menu on the left side of your screen, click on "The Circle".
This will bring out various categories of your followers like "Not Following Back", "Fake/Spam", "Inactive", "Overactives" etc.
You can then choose any of the categories, visit the profiles listed and unfollow them.
2. Unfollow Every Account Manually
This is the easiest & probably Freeway to unfollow everyone on Twitter. Open your Twitter account in the browser. Go to "following" to see a list of people you follow. Click on Following next to everyone's profile to unfollow them.
3. Use Tweepi.com
---
i) Open Tweepi website in the browser
ii) Click on Sign in and Verify with Twitter Auth
iii) Fill up your Sign up details like email, username and password
iv) Click on the list of people you follow.
v) Now there are 2 options. If you want to do it in bulk you need to buy the subscription otherwise you can do it manually one by one
4. Using a Chrome extension (Free Method)
---
This is a free and much quicker way to unfollow people in bulk on Twitter. But there is one catch you select the people you want to unfollow. You need to press unfollow button and all the Twitter accounts you follow be unfollowed by your Twitter profile.
That's before using this process, save all of your followers on a Twitter list as explained above.
Now to Follow this process download add this chrome extension here to your browser
Open your Twitter account and Go to the Profile section
Now Click on the Following. You will see a list of accounts that are following you.
You will see an Unfollow all button at the top. If you are not able to see it refresh the page. See below for more details.
5. iUnfollow
---
From the name, this tool is mainly about unfollowing people on Twitter. So it's a bit different from Circleboom above. There are other functionalities, though. With iUnfollow, you can
Check specific accounts to follow back.
Decide which follow requests to cancel (if you're trying to follow private accounts).
Check the list of accounts not following you back.
To unfollow people using iUnfollow, here are the steps:
Head over to the iUnfollow website.
On the homepage, click "sign in with Twitter" to connect your account with iUnfollow.
After authorizing the iUnfollow app, you'll be directed to the Unfollow page with all the accounts that aren't following you back. Click the Unfollow button on those that you don't wish to follow.
With iUnfollow, you can unfollow up to 50 accounts per day for the unpaid version which is just good enough.
Also Read: How to remove followers on twitter
FAQs
---
Is there an unfollow limit on Twitter?
There are no limits but how you do it can land you in trouble. Check the question below.
How many accounts can you unfollow on Twitter per day?
There is a limit but no one knows the exact figure as Twitter doesn't disclose it. But aggressively unfollowing people will surely attract Twitter's attention – not the good one. So it's important to do it in moderation.