Twitter is an excellent tool for brands to promote their business. Posting tweets is not all an individual needs to get success in their Twitter strategy. An excellent marketing strategy needs the best Twitter analytics tools to understand a tweet's performance or what kind of content performs the best.
All marketers and influencers need Twitter analytics tools to get a high ROI,on Twitter and other social networks. Not everyone can buy paid tools. So in this article, we will discuss the topic – Free Twitter Analytics Tool: How to Use Them. Keep reading to find how useful they can be in analyzing your accounts' performance.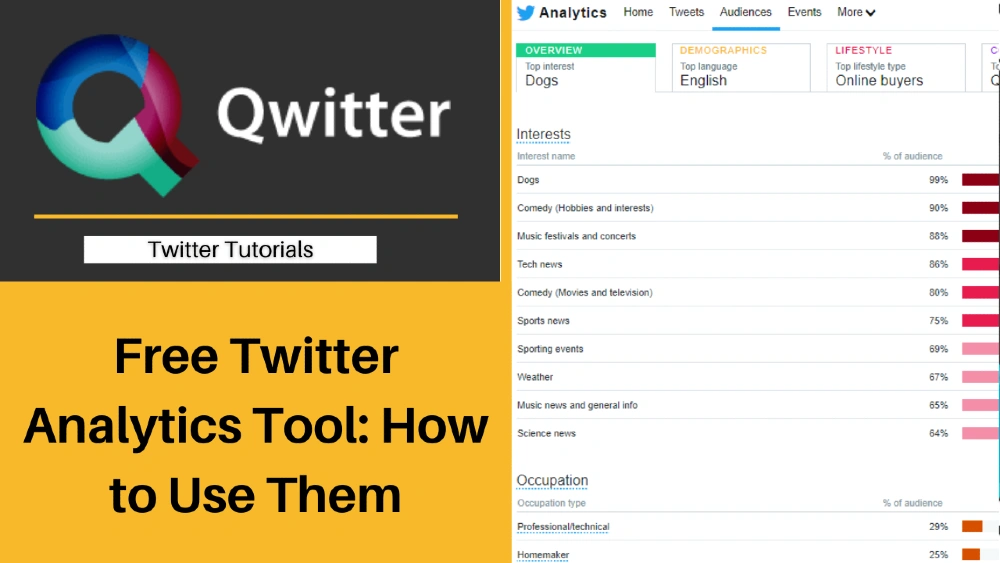 What are Twitter analytics?
---
Twitter analytics consists of a set of metrics displayed over a dashboard to monitor the performance of a Twitter account. Twitter ad campaigns include the in-built analytics tools to monitor advertisements performance.
Data gained from these tools help Twitter users create and implement desired results-driven marketing strategies.
Digital marketers study the analytics data to understand their customer's personas, such as their demographics and location. Nobody perfectly knows what audience most prefer to engage with.
Twitter analytics tools assist in multiple tasks such as scheduling tweets, receiving actionable insights, hashtag analysis, competitive analysis, tweets engagements, top-performing tweets, etc.
Why is Twitter analytics important?
---
Twitter users use analytics for multiple purposes as follows-
Know your followers
While using a Twitter analytics tool, a marketer can analyze who their audience is. In the beginning, everyone creates their content keeping a broad idea about their audience persona. Once they publish content, they can understand their community better.
What content works?
On Twitter, People post different kinds of content. Engagement Metrics help determine which tweets users most connect and respond to. It can be anything like Text posts, images, videos, Gifs, Polls, etc.
Individual tweets show their separate data. Marketers learn to make strategic decisions on what content to produce more in future posts.
When should I post?
On average, more than 350,000 tweets are sent per minute on Twitter. Every user looking to promote anything on Twitter must know the best times to post tweets. The correct times differ for every Twitter account.
One can discover when their tweets get the most impressions and engagements using Twitter analytics. Regular tracking gives what times in a day your audience stays most active.
Are your ads working?
Each Twitter ad primarily aims to generate more return on investment (ROI) than invested. Advertisers spend a massive budget on ad campaigns.
When they know which campaign is not getting desired results, they can optimize or delete them to get high ROI.
Find what's working, then do it again and again…
It's easy to make data-driven marketing decisions with Twitter analytics tools. Month-by-month summary report, decision-making power will enhance with time. Eventually, one will find what's working and what's not. Shift focus towards working to save efforts and money.
What are Twitter Analytic Tools?
---
Twitter analytic tools offer valuable data on a Twitter account. They provide data such as Engagement rate, hashtag performance, click-through rates, video views, profile visits, interactions made, tracking conversion rates, visual social graphs, etc.
All these show an accurate view of how effective a Twitter page performs. Outcomes are unpredictable for every content.
Free Twitter Analytics Tools:
---
All these below Twitter analytics tools are popular among the Twitter community. All these have unique features to offer to their customers.
1. Twitonomy
It offers detailed visual analytics to Twitter users of anyone's tweets, replies, retweets, hashtags, and mentions. Its easy-to-use interface monitors your Twitter activity and is available for both desktops and mobile phones.
You can back up or export tweets, mentions, retweets, and reports in Pdf and sheet format with just one click. Get exclusive insights on your followers.
Monitor the popular and regular tweets from any users, keyword searches, and lists. It provides a free plan but to access more enhanced features; you can upgrade to its premium plan anytime.
2. Tweepi
This free Twitter analytics tool effectively grows any Brand's Twitter followers with the application of Artificial Intelligence.
It helps you set up a Tweepi account with trending hashtags and Twitter handles appropriately to your interest. Increase your Twitter community by as many as 100 unique followers every day.
This analytics tool cleans your Twitter account by removing inactive, irrelevant, and undesirable users. Tweepi focuses on increasing the engagement of Twitter accounts. You can use its basic plan for free.
3. Twitter Analytics
This in-built Twitter tool helps you analyze how your marketing campaigns grow your business. Its dashboard provides the report on which Tweets organically receive the most engagement and impressions.
You can refine your marketing content that gets the most response from your target audience.
Include it in your Twitter strategies to measure and achieve your business goals, getting high ROI on your ad spend. You can determine which of your tweets performs the best and create the same content more in future marketing strategies.
4. Hootsuite
Using its free version, you can manage your two Twitter accounts & schedule five posts in advance. It generates custom reports based on particular searches. It's very easy to launch twitter marketing campaigns on this platform.
A Twitter user can track posts, tweets, mentions, retweets, and lists on its dashboards. One unique function that differentiates it from other Twitter analytics tools is that it tracks engagement on social media platforms such as LinkedIn, Facebook, and Google+.
In the single calendar, it provides instant twitter stats of the user's scheduled and published content on the connected social media channels.
5. Followerwonk
It helps users analyze their Twitter activities to assist in their account exposure. Further, it helps with the following-
Searches bios of other users to explore those with similar interests to form connections.
Manages the Twitter accounts to search for influential Twitter postings.
Tracks followers through bio information, their followers, and geo-location.
Optimize the marketing strategy for most impacts.
Follows and unfollows accounts with precise accuracy.
Track the popular influencers to get their focus.
Generate reports of a user's Twitter performance to share with others.
6. Buffer
Buffer helps brands build and grow their audience organically. It provides affordable marketing tools for individuals and teams.
Analyze which Twitter posts are working to deliver high engagement. Plan, schedule, publish and monitor tweets for an effective Twitter marketing strategy.
It helps you build a Twitter community of loyal audiences on Twitter by involving in all meaningful interactions that bring the opportunity to turn into your brand's fans. You can connect and manage three Twitter accounts and schedule 10 posts/profiles in its free plan.
7. MentionMapp
It's a visualization analytics tool that helps to explore interactions and build deep relationships with the audience. You can analyze the depth received on your accounts engagements with its real-time network visual map.
Its visual network displays the usage of popular hashtags and mentions based on a recent engagement.
You can obtain valuable insights into your social network. You can analyze which users contribute information relevant to your growth.
8. Foller.me
It is a free Twitter analytics tool offering helpful information on Twitter Followers. It's easy to access this by entering a Twitter handle into the search bar. It provides rich insights into any public Twitter profile.
They share unique information not visible on Twitter public pages, such as time zone, join date, and follower ratio. 
It uses the tag cloud to display which words get the most traffic.
It offers an in-depth Twitter analysis of the tweets, including total replies, all tweets with hashtags & mentions, retweets, links, and media.
9. Social Bearing
It's a Free Twitter analytics tool that allows search for tweets, Twitter maps & timelines. It lets you Filter & sorts your tweets by engagement, location, influence, sentiment, etc.
It analyzes the tweet's reach, retweets, impressions, and replies. It generates premium reports from historical data about tweets and more.
It helps in influencer marketing through Geotagged tweets which help in finding the top influencers and hashtags from a specific area.
10. Trendsmap
This unique tool Creates map-based visualizations showing tweet activities across a specific region or country.
Get detailed insights on Twitter on any topic using their impactful query capabilities. Explore the popular trends happening worldwide through their interactive map.
It provides valuable data on popular keywords, tweets, videos, images, locations, and users worldwide. It sends alerts on emails informing when new tweets surface on Twitter on chosen areas of interest.
11. TweetDeck
TweetDeck provides its customers with all the relevant tools to better organize their Twitter profiles. People can filter information based on keywords, specific users, location, engagement rates, etc. It helps to schedule Twitter posts in advance.
Its dashboard regularly monitors the tweet's performance in real-time. It groups all the helpful information on specific audiences and keywords about different Twitter profiles on one page.
12. ManageFlitter
Currently, they are no longer in service. Manage Filter allows to filter of the Twitter analytics data based on tweets performance, followers' behavior, and engagements.
Marketers used this data to build a strong community for their brand. It was easy to discover fake Twitter profiles among many followers. 
Their paid plan has a fantastic function called "Power Post." that allows them to determine the best times to post Tweets for a specific account.
13. Klear
It is an influencer marketing application with additional free tools for Twitter. Especially brand searching for influencers can use this tool to find the most influential influencers to work with and build connections with from their niche.
It provides a free tool that allows its customers to analyze Twitter profiles manually to search for the best influencers on their own. The tools helpful in Twitter search are entirely free.
14. Tweetreach
TweetReach provides detailed insight into how best and far the tweets have performed inside and outside of Twitter. You can start by entering the Twitter profile link or page you want to analyze.
It displays the detailed breakdown of the results of the last 50 tweets you saw, along with the name of the Twitter handle, hashtags, and keywords.
15. Keyhole
It focuses entirely on social media reporting and analytics. It Generates automated and comprehensive reports in seconds with zero errors in spreadsheets. You can Unravel your competitor's content marketing strategy & discover their best-performing content.
It assists in brand reporting by tracking and aggregating all the metrics about a brand's performance for different social media channels, including Twitter.
They offer a custom pricing plan where you can communicate with their teams to quote a certain amount.
16. Tweetstats
TweetStats is a free tool that helps you find the right time to post your tweets starting from day one. You can save time by testing various kinds of tweets. You can analyze your own and competitors' Twitter accounts.
It generates the graph of tweets posted in the last 6 months. The right-hand side graph shows tweets published by you on an hourly basis.
It has a separate section for hashtags used commonly by you and further shows more popular ones to use for more engagements.
You can view the Follower Stats section to get an idea of users who regularly engage with your tweets on Twitter.
17. Twittercounter
Twitter Counter was the leading analytics tool for Twitter. It provided the on your Twitter usage. It offered a variety of buttons & widgets that you could use to view your recent visitors and total followers. It stopped its service in November 2018.
It provided insights and statistics on the user's activities and followers' growth on Twitter.
18. Tweriod
Tweriod provides you with the correct times to tweet. It analyzes the tweets and tweets of your followers. It's easy to determine the times that get more impressions from the audience. You can receive the analysis report of your account for free.
In its free plan, You can analyze a maximum of your 1000 followers.
It's a combination of all these useful features-
Competitors Analysis
Followers Analysis
Influencers Identification
Content Engagements Analysis
API / Integrations
Reports Customizability
Paid Campaigns Tracking
19. Socialert
It's a FREE tool To Track keywords, Hashtags, and social media accounts. You can track all posts, and Twitter accounts, including a specific hashtag.
Take the help of this analytics tool to track essential metrics such as tweet count, impressions, reach, followers, influencers, and hashtags. 
It provides a hashtag and keyword tracking tool that searches every single keyword related to a particular brand. You can use the hashtag research tool to Recognize the most active users.
Its hashtag analytics delivers every piece of information, including impressions reports, in a visual format and hashtag reach. 
You can Study hashtag statistics like hashtags popularity, engagements, top tweets, active users, top mentions, and URL analytics on the dashboard.
20. Follower Audit
It's an Advanced AI-based Twitter analytics Tool. Using this tool, you can check for any Twitter account having fake and spam followers. You can track and analyze the follower's growth for any Twitter profile.
You can start the fake follower's audit for any public account on Twitter without alerting them.
21. Hashtagify
It is the most advanced Instagram And Twitter Hashtag tracking online tool. It's the best tool for beginners who do not know which hashtags to use in their tweets. You can quickly discover the most profitable hashtags to increase your post's reach.
Also, it provides customs suggestions and more information about influencers and potential competitors.
Hashtagify benefits to fasten the business growth, small to significant brand awareness, and campaign usefulness via intelligent Hashtag Marketing. People worldwide use it to enhance their Twitter campaign performance.
The Importance of Analytic Tools for Your Twitter Profile
---
Once you use them, You will get the following benefits.
You will Improve the performance of your social media marketing campaigns because you will understand your audience.
The engagements will increase automatically on your posts when you publish the content desired by your audience when they are most active.
RIO will increase as you will not waste money guessing what your audience likes.
You will know ways to create the content and do hashtag research.
Summary
---
Therefore, to win on Twitter, every brand must use any one of these powerful Twitter analytics tools. Most of them are free tools but to access more features; you can go with their premium plans. Some provide free trials for some days to check their effectiveness.
Which one to choose depends on the business goals. Give any of them a try if you are using none.