There are 322m people who use Twitter every year and not all Twitter accounts reach up to a million followers milestone. We have found the Top 20 Twitter accounts with the most number of followers worldwide.
As of March 2021, former US President Barack Obama is the most followed person on Twitter in the world with 130m followers while Justin Bieber ranked second with 114m followers.
Since Twitter started in 2006, as a microblogging service and social media platform, it has seen tremendous growth after Facebook and Instagram. These 20 most followed Twitter accounts include people from Music, Sports, Politicals, Business, Fashion, Entertainment and Popular Internet services like Youtube.
This list contains accounts with the most followers on twitter. Musicians and sports personalities are the most popular accounts on twitter.,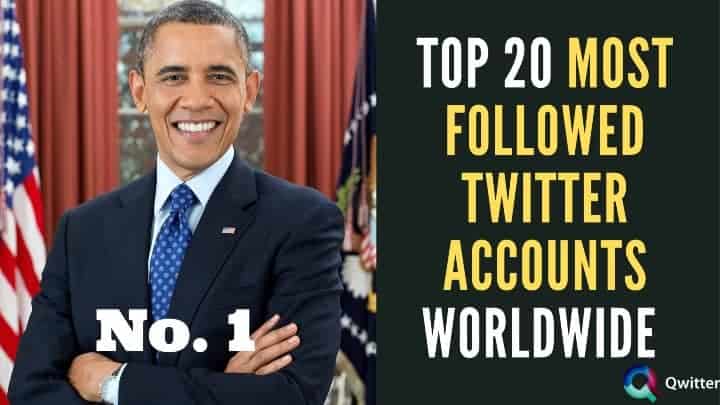 On number 20 we have American singer and actor Demi Lovato. Demi rose to prominence in the television series 'Camp Rock' where she even debuted her first single 'This is me'.
Lovato quit her Twitter account in 2019 for the constant online trolling, however, her Twitter activity resumed in January 2020, at first her team handled her account for promotions but later she took over her Handel.
Her account mainly promotes her music and upcoming events but also do a few personal tweets.
Next on the list, we have 65 years old billionaire Bill Gates. The Co-founder of Microsoft has 55m followers on Twitter. He has always remained a big name not just in America but around the world.
Bill Gates held the title of the world's richest person from 1995 to 2017. Gates in his Twitter Handel often tweets about various news articles and books. His Twitter handle makes people feel a personal space of his.
Mostly his tweets are informative and are about his charity events.
Next, we have pop sensation Britney Spears. American singer, songwriter and dancer Britney Spears was infamous as a teen pop sensation in the 1990s and early 2000s.
Britney has gone through several controversies and still remains one of the most famous celebrities in the world.
Also known as Pop Princess, Britney herself has celebrity followers like Drake and Cher.
Her account is usually about her music events, interviews and tours.
17. Elon Musk (57.6m followers)
The founder of SpaceX and chief executive of Telsa is a visionary entrepreneur. With 57.6m Twitter followers, Elon ranks as the 17th most followed personality.
With a net worth of $151 Billion, Musk was the richest person in the world in 2021.
Born and brought up in Africa, Elon faced a lot of hardship before reaching where he is today.
Musk's interest in memes and cryptos make him a Twitter magnet. Even the fact that he replies to his followers attracts people to him and his Handel.
16. Twitter (59.2m followers)
There isn't much surprise that Twitter found its way to the ranking.
Most people follow Twitter for the latest updates and news. With about 59.2m followers, Twitter secures 16th place.
People mostly tend to follow news in short headlines, and what's better than reading the news while scrolling your social media?
CNN Breaking News keeps twitter updated with the latest news and updates in short sentences.
It is the only news media with such a high following and the only news channel that made up twitter rankings.
Next, we have American singer, songwriter, record producer, and actor Justin Timberlake.
Justin is the best selling music artist in the world. He has sold almost 88m records worldwide. With such wide reach, he gained 60m followers.
His Twitter page is not just for promotion, Justin tweets about his work, life and views using his Handel.
On number 13 we have the infamous singer Selena Gomez. The American singer and actress started her career in the television series 'Barney & Friends '.
Selena's net worth is about 75m dollars and she remains one of the most famous female influential figures, hence 64m followers are not news for this singer.
Selena mostly uses her Twitter account to promote her music and occasionally share her thoughts.
Indian Prime Minister Narendra Modi with 69.3 Twitter followers is the first Indian politician to make to the list.
PM Narendra Modi joined Twitter in 2009 and had been an ardent Twitter user ever since. He remained relevant on Twitter with regular posting news and updates that you expect from a state head and slowly grew his base.
As a politician, he uses his Twitter Handel to promote campaigns, connect with his followers and other national and international politicians. In 2019 Prime Minister Modi became the first Indian to reach 50m Twitter followers, and his account has never stopped growing ever since then.
Narendra Modi's Twitter game seems to grow stronger with each day.
American media personality, socialite, model, world famous businesswoman, producer, and actress, Kim Kardashian West. Kardashian and her family started appearing in the reality television show 'Keeping up with Kardashians' (2007-21) and it was then people started noticing her.
Kim is also the owner of the 'KKW beauty' and shapewear brand 'Skims'. The Times magazine included her in 100 most influential people in 2015. Her followers and critics both stand with the notion that she is famous for being famous.
Kim uses her Twitter Handel to promote her brands and give her fans her daily life updates.
10. YouTube (72.8m followers)
Youtube has surpassed Twitter in its platform. The Twitter profile of Youtube is all about its updates.
Youtube keeps tweeting about new videos by some creative content creators. It keeps its profile, simple and sharp so that people get all the news and update on Youtube.
Youtube's popularity makes it one of the most followed accounts on Twitter.
American comedian. T.V show host, writer and producer Ellen Degeneres started with a sitcom called 'Ellen' & later hosted her syndicated television talk show, The Ellen DeGeneres Show, in 2003.
Ellen is one of the most influential figures in her country and worldwide. She shares good relations with many celebrities and public figures, which keeps her always in the spotlight.
Ellen Degeneres usually promotes her shows on her Twitter account and shares some funny videos & jokes with her followers as well.
Born in Florida, Ariana was a sitcom star who turned into a pop sensation. Ariana grande debuted at the age of 13 in a Broadway play in 2008. Later in 2011, she began her musical career and there was no looking back for her ever since then.
Thank you, the next singer, soon became a household name and even won Grammy for her music.
Ariana grande not only promotes her music but also shares personal images and messages on her Twitter account.
7. Lady Gaga (83.6m followers)
Known for her musical versatility, Lady Gaga is an American singer and songwriter. At a very early age, she started performing on stages but she became popular when her first single 'Just Dance' dropped and started going crazy in the clubs.
She has managed to remain on top of her game ever since then. Despite the rising of many new pop stars Lady Gaga still is known as one of the most famous musical personalities around the world.
Lady Gaga's shares her music, acting and personal updates in her tweeter feed.
With 88.5m Twitter followers we have Taylor swift in number 6. The singer and songwriter Taylor Swift is known for her fearless music and most influential person on twitter.
She has always been outspoken, attracting a great deal of fandom. Dealing through controversies over the years Taylor still managed to remain as one of the best singers of her generation.
With such fame and public attention, 88.5m Twitter users follow her isn't a big deal.
Taylor not only posts about her upcoming events but also tweets her mind out on her Twitter page.
On number five, we have the Portuguese footballer Cristiano Ronaldo. What's more interesting is that Ronaldo is the first person in the world to reach 500m followers across Twitter, Instagram, and Facebook.
Known to be the highest-paid athlete in the world,Cristiano Ronaldo is the only athlete featured on the list. Along with his lifetime deal with Nike, Cristiano also earns from his clothing brand CR-7.
Ronaldo does not only post about his games or brand but also tweets personal pictures of his family on his Twitter Handel. His Twitter feed is filled with pictures of his lavish vacations.
4. Rihanna (102.4m followers)
Yet another celebrity to join the ranking is Rihanna. Barbarian pop and R&B singer Rihanna saw popularity with her song 'Umbrella'.
The Grammy award winner is known for her fierce style. Other than being a megastar, she also owns her beauty line, Fenty Beauty.
Her Twitter handle is mostly about personal tweets, collaboration, and promotional images of her brand.
3. Katy Perry (108.8m followers)
Singer Katy Perry 2017 became the first person to reach 100m Twitter followers.
The Darkhorse singer joined Twitter in the year 2009. By mid-2012, Katy already had 50m followers and find herself as the 3rd most followed person on Twitter
Just after dropping her fifth album,Katy Perry hit the milestone of 100m followers. American singer and songwriter Perry is the second most influential female l figure on Twitter.
Unlike others, her tweeter feed isn't filled with promotional tweets but about her personal opinions and views.
Justin's Twitter is the 2nd most followed accounts on Twitter. The Canadian singer Justin Beiber gained fame with his song 'Baby' as a teen idol. Justin became the second most followed popstar after Katy Perry hit 100m followers.
He even has notable followers like Jayden Smith on his Twitter account. Justin Beiber has always remained in limelight for his songs and soon became one of the biggest stars around the world.
Justin Beiber Twitter feed isn't full of promotional messages but random thoughts and personal pictures that connect his fans to him.
1. Barack Obama (129.6m twitter followers)
The former American President Barack Obama joined the 100 million club in the year 2018. He is the most followed person on Twitter.
Barack Obama is known as the most loved President of America.
He connects with his people, maintains good relationships with other leaders around the world, and even has good relationships with many public figures. These connections act as a magnet of attention for him.
His tweets are the most retweeted tweets of the time. Barack Obama tweeter feed is often about political messages and updates from his charity 'Obama Foundation'
We congratulate Obama to have 129.6m supporters on Twitter and becoming the one of most followed Twitter accounts.
Here is the list of 50 twitter accounts with the most followers
Rank
Account name
Owner
Followers
(millions)
Occupation
Country
1
@BarackObama
Barack Obama
130.4
44th President of the United States
United States
2
@justinbieber
Justin Bieber
114.1
Musician
Canada
3
@katyperry
Katy Perry
108.7
Musician
United States
4
@rihanna
Rihanna
103.7
Musician and businesswoman
Barbados
5
@cristiano
Cristiano Ronaldo
96
Footballer
Portugal
6
@taylorswift13
Taylor Swift
89.5
Musician
United States
7
@ArianaGrande
Ariana Grande
85.1
Musician and actress
United States
8
@ladygaga
Lady Gaga
83.9
Musician and actress
United States
9
@TheEllenShow
Ellen DeGeneres
77.7
Comedian and television hostess
United States
10
@YouTube
YouTube
73.8
Online video platform
United States
11
@narendramodi
Narendra Modi
73.3
Prime Minister of India
India
12
@KimKardashian
Kim Kardashian
70.7
Television personality and businesswoman
United States
13
@elonmusk
Elon Musk
65.7
Business magnate
United States
14
@selenagomez
Selena Gomez
65.4
Musician and actress
United States
15
@jtimberlake
Justin Timberlake
63.3
Musician and actor
United States
16
@cnnbrk
CNN Breaking News
61.7
News channel
United States
17
@Twitter[a]
Twitter
60.5
Social media platform
United States
18
@BillGates
Bill Gates
56.4
Businessman and philanthropist
United States
19
@britneyspears
Britney Spears
55.7
Musician
United States
20
@cnn
CNN
55.5
News channel
United States
21
@neymarjr
Neymar
55.4
Footballer
Brazil
22
@ddlovato
Demi Lovato
54.4
Musician and actor
United States
23
@shakira
Shakira
52.6
Musician
Colombia
24
@jimmyfallon
Jimmy Fallon
51.4
Comedian and television host
United States
25
@nytimes
The New York Times
51.1
Newspaper
United States
26
@kingjames
LeBron James
50.5
Basketball player
United States
27
@nasa
NASA
50.2
Space agency
United States
28
@bbcbreaking
BBC Breaking News
48.5
News channel
United Kingdom
29
@srbachchan
Amitabh Bachchan
46.7
Actor
India
30
@MileyCyrus
Miley Cyrus
46.4
Musician and actress
United States
31
@pmoindia
PMO India
45.3
Office of the Prime Minister of India
India
33
@imvkohli
Virat Kohli
45.2
Cricketer
India
32
@JLo
Jennifer Lopez
45.2
Musician and actress
United States
34
@beingsalmankhan
Salman Khan
43.3
Actor and film producer
India
35
@oprah
Oprah Winfrey
43.1
Television personality and businesswoman
United States
36
@brunomars
Bruno Mars
43.1
Musician
United States
37
@akshaykumar
Akshay Kumar
43.1
Actor and film producer
India
38
@iamsrk
Shah Rukh Khan
42.2
Actor and film producer
India
40
@bts_twt
BTS
42
Musicians
South Korea
39
@niallofficial
Niall Horan
41.3
Musician
Republic of Ireland
41
@KylieJenner
Kylie Jenner
39.4
Television personality and businesswoman
United States
42
@drake
Drake
39.3
Rapper
Canada
43
@realmadrid
Real Madrid CF
39.3
Football club
Spain
44
@fcbarcelona
FC Barcelona
39
Football club
Spain
45
@sportscenter
SportsCenter
38.7
Sports channel
United States
45
@espn
ESPN
38.1
Sports channel
United States
47
@championsleague
UEFA Champions League
37.8
Football tournament
Europe
48
@Harry_Styles
Harry Styles
37.3
Musician and actor
United Kingdom
49
@kevinhart4real
Kevin Hart
36.8
Comedian and actor
United States
50
@sachin_rt
Sachin Tendulkar
36.4
Cricketer
India
Twitter is a massive social media network. It has approximately 353m users. 353m people have diverse tastes, preferences, and dislikes. Daily, there would be several people unfollowing a large number of people. These 20 folks, on the other hand, managed to keep on top of their game with their tweets, hashtags, and photos.
It's no surprise that they currently dominate the Twitter rankings.