Twitter can be a great resource for finding out about new UX design articles, tools, and resources. If you're looking to keep up with the latest trends and happenings in the world of UX design, then you need to be following these Twitter accounts. From insightful tips and tricks to new product releases and interesting case studies, these guys are killing it when it comes to delivering top-notch content.
That's why we've put together a list of the best UX design Twitter accounts to follow. From industry leaders to current students, these accounts will keep you up-to-date on all things UX design.
So go ahead and start following them now – you won't regret it!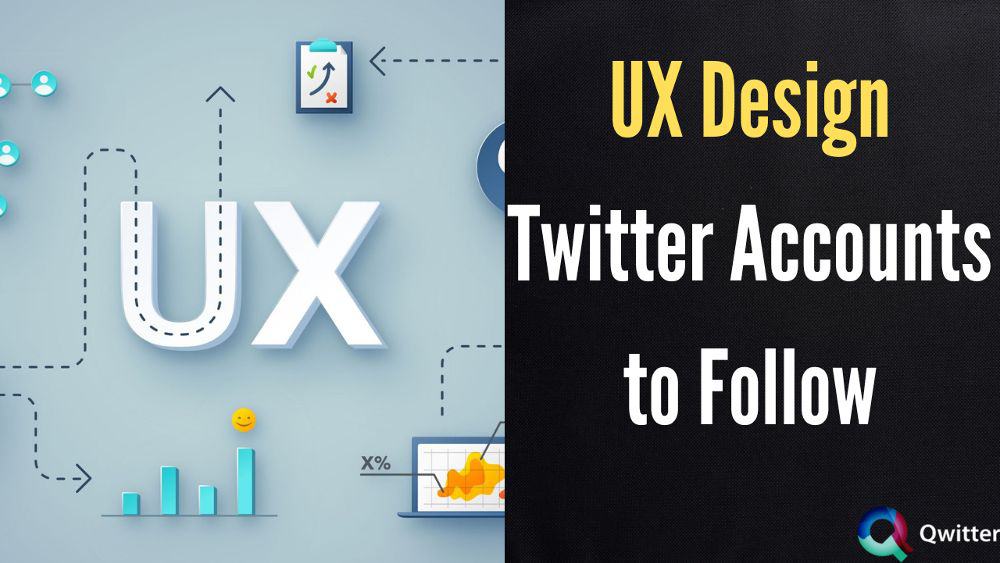 21 UX Design Twitter Accounts to Follow in 2022
---
Whether looking for UX Research or simply looking out for beginner guidance in UX Design, you can find various accounts on Twitter to help you. We have compiled a list of 21 UX Design Twitter accounts that can help you gain information.
Harry Brignull (@harrybr)
Harry Bringull is an expert in Deceptive design. On his Twitter account, you can regularly find Product and UX-based insights. His account also serves as a resource if you are interested in knowing about graphic design.
During our research we discovered https://t.co/zF6V16AcmT – a 3rd party search widget that you can drop into your webapp with a few lines of javascript. We're building our own thing in-house, but it works in a similar sort of way to CommandBar, if you're interested.

— Harry Brignull (@harrybr) June 22, 2022
Andy Budd is a Design Founder of ClearLeft. His Twitter account is full of relevant design-practice knowledge. This Twitter account is a great follow, especially for managers, aspiring managers, and senior-level designers.
Every designer wants to "do more strategy."

Few designers understand what "doing more strategy" actually entails.

Even fewer have demonstrated any obvious aptitude for strategy.

As such "do more strategy" really translates as "do less actual production work."

— Andy Budd (@andybudd) July 1, 2022
Vivianne Castillo is the founder of HmntyCntrd, a network of UX experts working to create an actual human-centered design. Her Twitter account covers knowledge on ethical activism, self-care, and fair procedure. Following this account can get many UX tips and even find a UX meetup Group. You can also check one such company website about UX design.
Since most #UX education tends to overlook #InclusiveDesign, I've created this beginner's guide.

…what it is
…why it matters
and lots of resources: books, videos, courses, articles, etc. which I will be periodically updating. https://t.co/ePibkQ9LBc

— UX For The Win (@uxforthewin) June 24, 2022
Doug Collins is UI and UX Director at Ever Driven and has even authored a book, "UX Design Felid Books." His Twitter account provides a wealth of excellent sources for basic understanding (must-know tools and portfolio development). His Twitter feed is a great resource, especially for students and professionals having a mid-career.
1/ Not all #UX is visual, a #design:

* Work on UX research presentation for C-level until 1 AM.
* Anticipate issues w/ @MicrosoftTeams, upload presentation to cloud.
* Teams repeatedly refuses my log-in at meeting start ("Try again later").
* Execs get restless while waiting…

— Doug Collins (@DougCollinsUX) July 1, 2022
Taylor Ling is a writer for androiduiux.com and a Google Developer Expert (GDE) for UX design and teaches human design. His Social media account contains cool stuff related to human-centered design.
If you have been wondering how you can shift your career to product (UI/UX) designer, this guide/checklist by Rachel is a fantastic resource! ✨ https://t.co/2NwVg9Y4Bk

— Taylor Ling (@taylorling) March 18, 2022
Josh Brewer is Principle Designer at Twitter. He has developed 52 Weeks of UX- a free tool for beginners and is also the CEO and Founder of MadeByHabitat His social media is that of an expert. He tweets frequently, and his posts are full of interaction design.
Pretty cool take on generating gradients: https://t.co/Dz4oDf3tb5

— Josh Brewer (@jbrewer) October 7, 2021
Kristina Halvorson (@halvorson)
In addition to being the founder of BrainTraffic and ConfabEvents, Kristina Halvorson is also a writer and content strategist. Her tweets cover information on marketing and user experience (UX)-related content. If you are looking for good tips on product management, you can add this Twitter account to your following list.
The Content Strategist's Toolkit @meghscase
The Elements of Content Strategy @kissane
Strategic Writing for UX @torreybird
Writing is Designing @mjmetts @awelfle
Writing for Designers @scottkubie
Content Design @escmum
Top Tasks @gerrymcgovern

And I do like my book. 😃 https://t.co/wNo1Id2MTo

— Kristina Halvorson (@halvorson) June 17, 2022
Catriona Shedd is the director of product design at SalesforceIQ. Her tweets are written extensively on UX-related topics and their usability. Her Twitter account is a good follow if you are looking for a resource catalog as a product designer. She even tweets about relevant job opportunities related to UX Designing.
Are your designers frustrated that they never get enough actual work time in their day? The wonderful team at @getclockwise just launched their intelligent calendar assistant that frees up blocks of uninterrupted time. Game changing! https://t.co/qX1gMsAtIc

— Catriona Shedd (@inspireUX) June 17, 2019
Daniel Burka (@dburka)
Daniel Burka is a UX Veteran. He is currently a design partner at GV. He's a UX expert who frequently tweets about various topics and gives product and UX Insights. He even posts multiple job opportunities on his feed.
Four years ago, I designed this poster in a couple of hours on a flight home from India. Now, variations of it are in tens of thousands of hospitals in India, Bangladesh, Sri Lanka, Ethiopia, and Nigeria. Design is a pretty wild profession. https://t.co/ys352hod5m

— Daniel Burka (@dburka) May 31, 2022
Khoi Vinh is the best graphic designer, currently serving as Adobe's principle designer. His account covers posts that are excellent design-related information on Twitter.
The @letterboxd team was kind enough to ask me (and several more important people) to share some thoughts on the site's 10th anniversary, and here it is: https://t.co/SYhnLwTkAa

— Khoi Vinh (@khoi) January 4, 2022
Jan Jursa (@IATV)
Jan Jursahe is the author of the book "UX Storytellers." and has put together the experiences of over 40 UX experts. He manages a fantastic curated Twitter feed of everything UX, produces two UX podcasts, oversees three conferences annually, and yet finds time to build mobile experiences. His Twitter account is beneficial for UX Enthusiasts and professionals.
Check out this Meetup with Berlin User Experience Designers https://t.co/obZl8tvDje

— Jan Jursa (@IATV) September 8, 2020
Jane Pyle is a UX designer that works in enterprise iOS app design. Her Twitter account has content, as well as notable examples of both excellent and awful design. You can find a lot of UX resources.
Great example of how data visualization and storytelling can be beautiful and engaging https://t.co/3Fsc4xed9f Designed by @datawheel

— Jane Pyle (@janepyle) March 11, 2022
Luke Wroblewski (@LukeW)
Luke Wroblewski is an avid Twitter user. His Twitter account contains relevant information related to graphic designing, UX resources, and information architect.
tap, scroll, resize. making Google widgets more useful on Android: https://t.co/3yz9u6J75U

— Luke Wroblewski (@LukeW) June 15, 2022
Scott Jenson served as the UX Director for Google, Symbian, and Apple. Currently, he is the Project Lead for Physical Web for Chrome. He frequently shares intriguing content and links to his in-depth writings on Twitter.
Junior UX designers rarely understand there are two very different users: the target customer(the obvious one) and the business owner(the stealth one). You have to "user test" both and meet both of their needs.

You can't afford to just focus on the customer.

— Scott Jenson (@scottjenson) June 6, 2022
Robert Fabbricant (@fabtweet)
Robert Fabricant is a creative design firm in New York and has created user interfaces for various digital platforms, including desktop applications, handheld devices, and in-car information systems. The Twitter account is a fantastic resource of recent UX news, opinion, and approaches.
Just finished this great book by @cliffkuang and @fabtweet . A history of user design and a thoughtful exploration of the current state of design. Inspirational and challenging. #userfriendly #uxdesign #designthinking #book pic.twitter.com/7CJ4aP5D0g

— Joel Walker (@JoelWalkerUX) August 23, 2021
Paul Boag is a user experience consultant and co-founder of the online design firm Headscape. An avid Tweeter, Boag updates his account frequently with various helpful links regarding software, observations, and dialogue with other top designers.
"Do you have an idea for a side project you are considering building? If so, you might want to read my advice on the subject first." – Software as a Service (SaaS): How to Be Sure of Success https://t.co/StvnjzIzT9

— Paul Boag (@boagworld) June 30, 2022
This Twitter stream from Stu Collett, co-founder and design director of user experience design agency Super User Studio Ltd., is really informative and useful. He gives a lot of information regarding consulting firms as well on Twitter. If you are interested in getting insights related to UX and consulting, you can follow his account
How we simplified the file structure in Figma#ux #productdesign #businessdesign
https://t.co/6IiDOVc7dP

— Stu Collett (@stucollett) June 26, 2022
Whitney Hess is a self-employed user experience strategist. She updates her Twitter account with new content, commentary, and thoughts. If you are interested in expert advice related to UX, you can follow this account.
Here is the story of our 2021. Thank you for reading. https://t.co/VoLL2SYIGU

— Whitney Hess (@whitneyhess) February 15, 2022
Jesse James Garrett (@jjg)
You should follow Jesse James Garrett, the co-founder of the experience design firm Adaptive Path if you're looking for UX content. Since 1995, Garrett has been working with the web. He has a variety of knowledge in interface design and programming, most of which he shares on Twitter.
In the latest ep of Finding Our Way, @jjg and I discuss struggles with UX maturity, the feeling you have to fight in order to be heard, imposter syndrome and, I hope, provide some new perspectives.
Apple: https://t.co/q8U71cWKkh
Website (w/ transcript): https://t.co/S5nwTHMTRQ

— Peter Merholz (@peterme) May 25, 2022
Aarron Walter (@aarron)  
Aarron Walter is the author of Designing for Emotion and The Rocket Science Group's director of user experience. His Twitter feed is brimming with design inspiration and insightful observations. Additionally, he routinely retweets pertinent and valuable material while supporting and following other designers.
If you're looking for ways to sharpen your design skills, @smashingmag just launched a quality interface design video course that is worth signing up for. #uidesign #uxdesign https://t.co/78cg2ILgp7

— Aarron Walter (@aarron) April 21, 2022
Liz Danzico, a user experience consultant, has held positions with several prestigious organizations, including briefly serving as the experience strategy director at AIGA. There are many helpful connections, advice, and insights into the field of UX in the numerous daily tweets.
Join a bold @svaixd Class of 2022 on May 18 for "(f)Hybrid," the SVA MFA Interaction Design Thesis Festival. See work that bounds us forward into what is pragmatic and possible for the human experience. RSVP for details. #IxDThesisFestival22 https://t.co/VphLBC4Vk4

— Liz Danzico (@bobulate) May 18, 2022
Conclusion
---
Twitter has become a valuable network for UX, Graphic designing, consultancy, and design-related resources. It is a great place to learn from some of the best UX design talent. You can get all types of information, from job opportunities to UX-related tips. You can also enhance your professional network. Following the best Twitter account can give you accurate insights related to designing.