In the Trading community, all you need is to work smart and creatively. But, having guidance from a professional of the stock market who can help you with wealth management and earn a lot of money is like icing on the cake. Who wouldn't want it?
Being a Day Trader means keeping up with the market analysis news because they have to purchase and sell stocks way too quickly.
On Twitter, there are a lot of renowned stock market professionals around the world with exceptional up-to-date trading tips and strategies.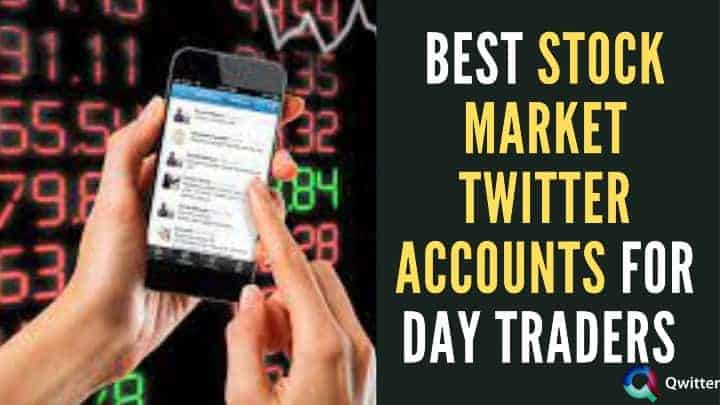 To help you take advantage of Twitter's fast and reliable feed, we have compiled a list of the top 11 best stock market twitter accounts for Day Traders in 2022. You can choose some of them as per your preferences as following everyone's advice would be counterproductive.
Stocktwits is one of the largest communities of investors, entrepreneurs, and traders globally. This company focuses on providing insight into a lot of economic issues. It regularly Tweets about business and other finances. It carries business-themed documentaries which are really beneficial to the Trading community. Its contribution to marketing is also specified in its Twitter handle. You will get updates about stock market data or any international business news by following them on Twitter.
Steve Burns has been in the trading field for more than two decades and has written thousands of original articles on stock trading. He is the founder of New Traders U. He supports the new Traders in the community and also, teaches in his unique way and new Traders will learn a lot from him. He uploaded several extensive courses and also, series of books regarding the Trading topic on his official website.
Peter is a professional Traders since 1980 and one of the best traders to follow on Twitter. He is also an author of a best-selling novel- 'Diary of a Professional Commodities Trader.' He Tweets about Trading, some useful chart analysis, and everything he learned on his way to becoming one of the best Traders. With the help of his personal experience and showcasing real-life examples, he advises the Traders by giving strong opinions and that is what made him more popular and respected.
MarketWatch is a Twitter handle which provides information like- Trading news, stock market data, Trading analysis, and gives knowledge about some personal finances. A lot of valuable educational material has been shared on it for beginner Traders. It has 4 million followers, which is enough of a reason for learning Traders to follow it. They update about every single detail regarding the Trading community which is very useful.
Professor Steve Hanke is an economist at John Hopkins University in Baltimore, Maryland. He has great knowledge about stock marketing and several Trading. He is also popular because he Tweets about inflation every day using the #inflation satellite. He conveys his thoughts about economic current affairs and also about Traders in FX and commodities. He shares his thoughts about different Trading issues and the ongoing news in the Trading community and how to deal with it. His Twitter handle is a path to the new Traders or investors who want to grow more.
Peter Schiff is an American businessman, stockbroker, and financial detractor, and author too. He podcasts a show named 'Peter Schiff's show' in which he teaches some valuable information about Trading. He Tweets about the latest news related to stock markets through stock charts on his Tweets. He provides a lot of information on various stocks in his Tweets also, some real-time Trade observations.
If you're looking for daily updates about the market analysis you should follow him without wasting a minute.
Scott Redler is the founder of technical analysis. He offers good observations and ideas to create stock charts not to mention provides information about current stock values. He Tweets regularly to keep his followers updated about any ongoing happenings in the stock markets. He grips the swing Trends in stock markets and Tweets about instructional material and some of his life-experience ideas. You can follow him if you want to improve your trading skills. His Twitter feed summarizes everything you need to know about trading. Also, his Tweets guide you to become a better investor. You can also check Best Investors to follow on Twitter.
JC parets is a well-known American businessman who also built his website named 'allstarcharts' which offers material for beginners investors. He is an expert in the stock field which is helpful for new investors. His Twitter handle is one of the best Twitter accounts for stocks in Day Trading. He Tweets about all types of stock information you want in an easily understandable manner for beginners. He updates lots of his analysis and even more on his Twitter Handle.
IBDinvestors is also known as Investor's Business Daily which provides information leading to the stock markets, news, and analysis for the same. The Tweets provide help to the budding investors to manage their risks while making any long-term investments. It's a free knowledge center as it cuts to chase every single news or update in the stock markets. It helps budding investors or any expert to quickly access the stock market. For becoming an expert in investing you can follow it undoubtedly.
10. Helene Meisler (@hmeisler)
Helene Meisler writes a daily column on all markets for RealMoney. Com. She spent her valuable time on a financial market analyzer for over three decades in her life. She had started her own company named 'Meisler's Market Insights' in 1986. She uploads hand drawn stock price charts and shares her views on it which is easy to understand by any new investor in the market. She provides information related to the stock markets and also advises less time-consuming ideas on her Twitter handle. She is a good trader mentor for investors who are dipping their toes for the first time in this field. Her Twitter handle is a great repository of information related to the market.
Wanna know who had the most twitter followers check this out
Wsjmarkets is also known as the wall street journal is a well-updated Twitter handle that provides financial news related to the stock markets. It is an ideal Twitter handle for both traders and investors. It posts an analysis of financial markets and in-detail information about Day trading. Wall Street Journal offers a lot of useful stock information and ideas on global financials that budding traders should obtain. Following its Twitter handle will make you start making more informed decisions related to trading.
Related: 
15 Best Meme Twitter Accounts
20 Twitter accounts to follow for daily funny tweets