Twitter is the most preferred Social Media Platform for promoting any small to big brand at nominal costs. Twitter is important for people to stay updated about the new trends and information from the NFT world.
If you are curious to learn in detail more about NFT or want to know ways to find the best legit NFTs projects, Twitter can be a valuable tool for tons of NFT information shared by experts from this industry.
Do you want to promote your NFTs on Twitter but don't know how to make the best social media marketing strategy?
We have shortlisted 31 best NFT Twitter accounts that regularly share legit information on NFT artworks and projects.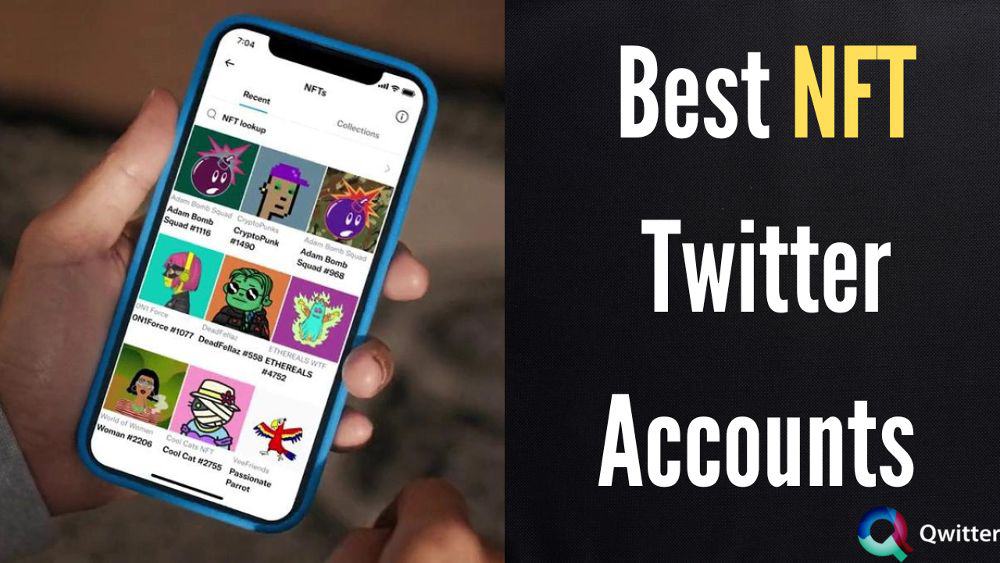 31 Best Nft Twitter Accounts
---
All our recommended Twitter accounts mentioned will teach you about NFT artworks; some will provide legit and profitable NFT projects, or some will help to collect more NFTs. Many NFT Traders, influencers, collectors, and advisors will help you make intelligent decisions about investing in the right NFT Projects to generate more revenue.
1.@garyvee (3.1M Followers)
Gary Vaynerchuk is one of the top NFT Twitter accounts for both beginners and experienced NFT promoters and traders. He has made millions of dollars with his NFT collection called VeeFriends. He gives valuable information explaining the fundamentals of NFTs and how to select projects to make large profits. Many NFT creators refer to his insight and knowledge while making their NFT purchases.
2.@opensea (1.8M Followers)
OpenSea claims to be the largest online NFT marketplace where one can Buy, Sell, & discover artworks. OpenSea's Twitter account educates people about NFTs and topics centered around NFT explanations and helps spread the market's current awareness state and investment risks.
3.@BoredApeYC (979.6K Followers)
Bored Ape Yacht Club is a popular and most spoken NFT project of 2021 and the fastest-growing company in the NFT industry.
4.@beeple (694.9K Followers)
Beeple is among the best NFT creators. His Twitter account is full of lots of NFTs projects. He encourages other creators through messages in the space and shares his opinions and perspectives on other artworks.
5.@punk6529 (382.5K Followers)
6529 collects the NFT Crypto art. He owns over 1.4K digital NFTs in the Open sea. You can view NFTs, photos, and artworks he has created.
6.@farokh (300.9K Followers)
Farokh Sarmad has built a large community of followers for whom he hosts Twitter spaces with other famous creators. He collects various NFTs, including Bored Apes, Cool Cats, and Crypto Punks.
7.@CozomoMedici (263K Followers)
Cozomo de' Medici is a prolific NFT collector and trader with the largest NFT art collections in the world. They collect NFTs in the art space from other artists and in different themes. They have collaborated with many famous celebrities to aware people of the NFT world and encourage them to make intelligent decisions during trading.
8.@DeezeFi (232.1K Followers)
Deeze is an early collector of Crypto Punks and advocates for NFTs photography. It is the community manager for Fractional Art, where you can mint, buy, and sell fractions of NFTs. They educate their followers about NFTs and bring other artists and photographers to their Twitter spaces.
9.@DCLBlogger (226.5K Followers)
Matty is the owner of this Twitter account, and his Bio indicates his deep obsession with NFTs. He is Featured on other accounts like GaryVee and Coindesk. He runs a popular blog to learn in detail about crypto collectible trading. He shares NFT-related topics, regular updates, his thought process behind his trading, and insights on the current state of the market.
10.@iamDCinvestor (207.1K Followers)
DCinvestor.eth is a valid account for people with basic knowledge of NFT. They tweet a variety of advanced-level thoughts and ideas to the crypto space. They are one of the top NFT collectors, including XCopy, AutoGlyph, Ringers, and Chromie Squiggle.
11.@thebrettway (197.6K Followers)
Brett Malinowski is a content creator that focuses on NFT strategies and how specific NFT projects exceeded expectations. Brett is the project director of mushroomclubNFT.
12.@andr3w (184K Followers)
Andrew Wang is a writer featured on platforms like Time Magazine, Washington Post, Insider, etc. His Twitter account provides valuable information to understand and learn the nuances surrounding NFT buying and trading. He provides advanced insight on different NFT projects.
13.@beaniemaxi (183.9K Followers)
Beanie is among the recently grown NFT Twitter accounts with thousands of followers. They are an advisor and investor in different NFT projects and DAO projects. They provide valuable insight on how to take different NFT projects.
14.@RealmissNFT (171K Followers)
Real Miss NFT supports new and experienced NFT artists and musicians. Her writing content covers the main trends and highlights in the NFT space. She shares her thoughts on inspiring artists and supporting smaller accounts. She provides regular updates on upcoming NFT collections that have sound potential.
15.@packyM (161.4K Followers)
Packy McCormick shares his analyses on NFT and Solana. He is a Web3 advisor at A16Z
16.@j1mmyeth (142.1K Followers)
J1mmy.eth is the founder of nft42. Jim previously founded Dito, pioneering and advancing on-chain NFTs and the metaverse. J1mmy. Eth's tweets are about upcoming projects, opinions, and inspirational quotes on NFT.
17.@NFT_NYC (110.4K Followers)
NFT NYC on their account features tons of useful content about NFT. NFT.NYC is on the top list of NFT enthusiasts as they bring together the NFT community for debates and discussions.
18.@wilxlee (83.4K Followers)
Wilson K Lee, the founder of @wilxlee, created a twitter thread on creating a successful NFT series that quickly went viral amongst NFT followers.
19.@KennethBosak (76K Followers)
Kenn Bosak shares current trends, ongoing launches, and everything in the NFTs world. Kenneth updates his followers about his projects and investment that he makes.
20.@mevcollector (64.9K Followers)
MEV Collector is famous for flipping NFTs and has made approximately 800 ETH per month. They are among the most prominent NFTs collectors with over 2,500 assets. They explain to their followers about choosing and trusting the data to get better returns in shorter periods. They give insight into how traders with time and experience navigate the NFT market and make intelligent decisions.
21.@nounsdao (59K Followers)
Nouns focus on unique nft projects. They use the funds raised through the sale of their NFTs for a decentralized autonomous fund or organization, which the holders will control.
22.@jennifer_sutto (34.1K Followers)
Jenny From The Blockchain.eth shares helpful information and opinions on news in the NFT community. She also works as a co-host of a podcast called NFT Catcher.
23.@topshotfund (31.1K Followers)
Space Cowboy posts tweets on news and advice about the NFT space. They keep an eye on scammers and bad actors in the NFT space and expose them vis their tweets.
24.@adamamcbride (27K Followers)
Adam McBride is a famous NFT archaeologist who creates content to assist people with NFTs.
25.@Dikasso_ (26.5K Followers)
IAmDikasso.eth is among the most active NFT buyers on Rarible. He's a digital artist, A VP, and a Pro NFT collector. Regularly, he shares updates on his projects or hosts giveaways for his followers.
26.@TyDanielSmith (21.4K Followers)
Ty Smith is another famous person who is not afraid to share his opinions on NFTs. He is the Managing Director and creator of the Coinbound podcast. He regularly involves himself in the crypto space and offers helpful insight into the field of NFTs. His Twitter Account also shares ideas from blockchain conferences or how bright is the future of NFTs.
27.@StephSutto (20.7K Followers)
stephsutto.eth is actively working in the NFT space for Cryptoys. Her valuable wealth of knowledge, positivity, authenticity and a strong sense of humor make her a unique part of the NFT community.
28.@LgDoucet (19.7K Followers)
LG DOUCET is talented at educating beginners in the NFT space. He is the founder of The First Mint, an NFT podcast, and media outlet.
29.@SeraStargirl (17.4K Followers)
Sera is a fashion designer and a famous digital artist. She tweets helpful information about the latest NFT space trends and hilarious NFT memes, allowlist opportunities.
30.@Wades_ETH (16.8K Followers)
Wades is new in the NFT space but shares helpful tweets for everyone, from beginners to experienced collectors. He shares thoughts and news about many NFT projects.
31.@nftnoobie (14K Followers)
Noobie writes blogs and informative tweets with clever commentary on the latest and upcoming trends in the NFT space.
Who Is the Best Nft Promoter on Twitter?
---
All our recommended Twitter Accounts promote NFT-related content.
NFT influencers like @farokh, @RealmissNFT, and @beeple are some of the best NFT promoters and influencers.
@beeple is a creator who developed the artwork that was acquired for 69 million dollars. @farokh is a Twitter influencer who influences the NFT community. He loves collecting artwork as NFTs.
How Do I Find the Best Nft Projects on Twitter?
---
You can follow the below accounts to find the best NFT Projects on Twitter.
@garyvee is the top account on our list with many followers and explains how to find the most profitable NFT projects.
@beaniemaxi helps to find the best NFT Projects.
@andr3w is a helpful account for early news and access to new NFT projects.
How Do I Grow My Twitter for Nft?
---
Twitter is a great platform to gain a broad reach and traffic for your NFT project. Building an NFT Twitter profile is not sufficient; you need to engage with your potential audience actively. Here are some ways to help you grow your Twitter account for NFT.
Build your community
Building a community around your NFTs account is essential if you want to succeed. Along with a good artwork collection, build your community that stays eager for your new launches. You can redirect your followers to your marketplace to sell your NFTs.
Engage with Your Audience
Focus on increasing awareness about your brand through regular engagement and communication with your followers. Twitter Spaces is the best way to establish your brand voice and increase your reach on Twitter. The success of an NFT Brand largely depends on loyal followers.
Hence, try to position yourself as a strong community leader. Create your own Twitter space as a host and share your NFT insights. Get your audience feedback and improve your NFT collection. Add credibility and authenticity to your NFT project.
Create your unique content
Create your content, make your network reach potential investors for your NFTs, and make strong connections with existing followers. Create impressive and engaging content by-
Mention popular NFT accounts in your posts.
Replying to other useful tweets centered around NFT.
Retweet the relevant tweets of other NFT accounts.
Send personal Messages to accounts you want to collaborate with.
Increase your account reach by tweeting threads.
Create value for your NFT Account
You can create Twitter threads and increase your followers by linking a series of similar tweets. Ask your audience to share their valuable feedback and reviews on your NFT collection. Educate your audience by sharing your knowledgeable insights and opinions on new NFT projects available in the market.
Become a Host and organize Giveaways & Bounty Programs
Giveaways and Bounty programs have chances of more success rate when making the best Twitter marketing strategy. You can host an NFT to ensure you can drive more web traffic within your NFTs.
Host bounty programs where you can reward loyal customers/followers for every action they take on your account, like retweets or tagging NFT investors.
Collaborate with NFT influencers
Influencer marketing is among the best ways to broaden your follower reach. Partner with NFT influencers who can feature your NFT project on their Twitter Home feed. Choose a Twitter NFT influencer within your budget.
Twitter has been established as the best platform where you can find a legit and profitable NFT Project to invest in. First, You should start by following these accounts for more exposure to unique and valuable NFT information only shared on Twitter. Then, find your NFT project and grow your successful NFT brand.