Twitter is a trendy social media network that is an excellent source for the latest information and breaking medical news. Many popular world health organizations, NGOs, medical professionals, physicians, doctors, surgeons, researchers, and students from the medical industry are on Twitter.
If you are a Medical Student and still haven't created a Twitter account, now is the best time. Follow our 31 Best Twitter Accounts for Medical Students that deliver helpful information and medical news about health, healthcare systems, mental issues solutions, medical science, medical education, future technologies, and study resources.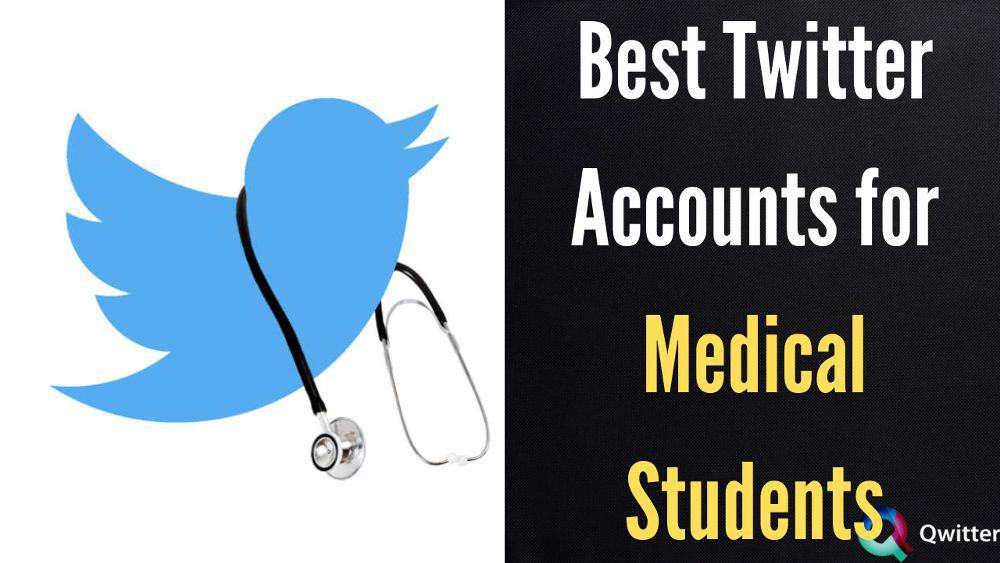 31 Twitter Accounts for Medical Students
---
We've rounded up the 31 Best Twitter Accounts for medical students to stay ahead in their scientific studies.
1. @CDCgov (5M Followers)
It's the official account of the U.S. Center for Disease Control & Prevention, a health protection agency. It works hard every day to save the lives of millions of people. Follow this account to get information on vaccines and immunizations, food safety, disease prevention tips, travelers' health guides, cancer treatment, the latest digital tools, and many others.
2. @HarvardHealth (2.5M Followers)
Harvard Health Provides Twitter users with trustworthy health and wellness-related information from the Harvard Medical School and its world-famous affiliated hospitals.
3. @MayoClinic (2M Followers)
Mayo Clinic is an integrated education, clinical practice, and research institution specializing in treating patients. They treat millions of patients annually with accurate diagnoses and the best treatment methods.
4.@PsychToday (997K Followers)
Psychology Today is a Twitter account dedicated to mental health. It gives you enlightening stories about all aspects of psychology. They share information on broad topics like family relationships, self-love, workplace culture, and the basics of going to therapy. They share tips for helping with mental health issues.
5.@AmerMedicalAssn (751K Followers)
@AmerMedicalAssn is the official Twitter account of the American Medical Association. Its mission is to bring together physicians to improve people's health.
6.@Atul_Gawande (396.2K Followers)
Atul Gawande is a famous award-winning surgeon, public health leader, writer, and Assistant administrator at USAID for Global Health. He shares information based on his expert experience for many years.
7.@MentalHealthAm (370.3K Followers)
Mental Health America is a non-governmental organization with the mission to dedicate its lives to helping people live better, mentally healthier lives.
8.@American_Heart (308.1K Followers)
The American Heart Association started its Twitter account with the mission to help people live a healthy life. They share valuable Tips on healthy eating & best exercises to prevent heart diseases.
9.@TimetoChange (290.9K Followers)
Time to Change provides people a unique way to view mental health problems. They post updates on mental health problems and raise awareness on how to deal with them.
10.@PsychCentral (271.3K Followers)
Psych Central provides information to people on different issues like depression, autism, eating disorders, OCD, and other mental health issues.
11.@Reuters_Health (265.5K Followers)
Reuters Health Shares medical and health news from around the world.
12.@KHNews (197.1K Followers)
Kaiser Health News is a News service and journalism covering health care.
13.@kevinmd ( 161.4K Followers)
Kevin Pho is a Physician, podcaster, author, keynote speaker, and founder of KevinMD. Kevinmd is the world's leading platform for advanced medical practitioners, physicians, medical students, nurses, and patients to share their stories and insights from the medical world.
14.@tinycarebot (151K Followers)
It's an engaging and exciting account that shares a one-line daily reminder to help people boost their mental health. A tweet can be about any simple to complex about drinking some water, reaching out to a close friend, or remembering to breathe, 
15.@HealthITNews (122.3K Followers)
Healthcare IT News is the medical industry's authoritative source focused on healthcare and technology markets. It shares updates on health IT, delivering editorial insights about various topics like electronic health records, population health, patient engagement, and more.
16.@HIMSS (113.7K followers)
@HIMSS is the official account of the Healthcare Information and Management Systems Society. It is a global advisor committed to reforming the global health system through technology and the power of information.
17.@medlineplus (104.7K Followers)
MedlinePlus is an online platform offering the latest information on health topics, drugs, videos, supplements, health tools, and a medical encyclopedia. It updates you with the latest news on medicine and health.
18.@ResearchDigest (99.5K Followers)
Dr. Christian Jarrett founded BPS Research Digest. It is run by the British Psychological Society, which provides information on useful psychological facts every weekend.
19.@Active_Minds ( 67.6K Followers)
The Active Minds is an NGO that helps people cope with mental health issues. They engage people in conversations related to health issues and organize programs for helping people.
20.@myselfandhealth ( 66.7K Followers)
Myself and health Twitter Account is run by a lady with bipolar disorder and anxiety. She shares her thoughts about mental health and happiness, along with quick self-care tips and personal feelings.
21.@HealthyPlace (64.9K Followers)
Healthy Place is a trusted online source for information on psychological disorders and their treatment methods. They provide mental health support to people by sharing motivational quotes and solutions and organizing campaigns for people dealing with such issues.
22.@FierceHealth (57.2K Followers)
Fierce Health provides Industry executives access to the latest healthcare news, real-time practical insights, and trends from the medical industry.
23.@LifeofMedstudnt ( 53.9K Followers)
Life of a Med Student is the best account to get study resources for aspiring and existing medical students. It provides tips on choosing a medical specialty, how to study in medical school, clinical rotation, residency guide, and more. They share books for basic sciences and clinical rotations that help medical students perform better in medical school.
24.@BlurtAlerts (44.7K Followers)
The Blurt Foundation with a mission to help people struggling with depression. They urge people to engage with them by sharing three things that bring them comfort and relief during mental issues.
25.@EndTheStigma (36.3K Followers)
End The Stigma is an online platform that offers credible resources, tips, and discussions for getting solutions to mental issues. It Invites people to share their stories about overcoming mental illnesses.
26.@TheUSMLE (32.5K Followers)
@TheUSMLE is the official Twitter handle of The United States Medical Licensing Examination that helps medical students with helpful USMLE examination preparation tips, practice materials, quizzes, and the latest research articles. All these resources guide medical students to achieve a higher score in the USMLE examination.
27.@AANP_NEWS (28K Followers)
The American Association of Nurse Practitioners is the largest online community connecting nurse practitioners to improve patient care and bring in advanced NP practices.
28.@PJK4brainhealth (25.4K Followers)
Patrick J. Kennedy is a former Congressman who has become a dedicated mental health advocate. His Twitter account shares information for improving the mental health care system.
29.@somedocs (18K Followers)
Doctors On Social Media is a Twitter account of physicians worldwide sharing health and medical news for health experts and the public. They offer unique resources for health experts to grow their brand or side business. They help the public to connect with experts to get health advice and consultation quickly.
30.@jayparkinson (11.5K Followers)
Jay Parkinson is among the "top ten creative health care people." He shares insights into the current healthcare model, drastic update requirements, articles linked to healthcare systems stories, political roles in this industry, and How to fix the problems.
31.HeadsUpGuys (3,991 Followers)
Heads Up Guys is a brilliant online resource working to help men experiencing depression. They share stories from men on their accounts who have opened up about their mental health struggles and challenges and help others in the same situation.
Should Med Students have twitter?
---
Researchers believe that Twitter can provide many benefits to medical students.
A wealth of information – Medical Students can engage and learn from medical experts who share information from their area of expertise. They can ask questions from the experts directly or by participating in tweet chats with them. As in everyday life, medical students can access information only from their subject's mentors.
They can connect with other college students worldwide to learn about their experiences. 
 Medical students get exposure to expert perspectives and varying opinions about health policy, medical research, upcoming health law, medical education, and profession. It also helps them understand the medical field outside the patient-doctor dynamics.
Twitter is one of the best online learning tools for the medical community. Students read scientific studies, share their questions, opinions, and concerns, and discuss medical issues with experts. Stay connected; tweets offer your Twitter feed the latest and quality medicine-related information.