Twitter has become a hub for information, and it's not uncommon to get notifications from social media platforms. These Twitter notifications are a great way to keep up with what your favorite Twitter accounts are doing. If you're on the go, they can also help you stay updated.
But what if you don't want notifications from every account?
You can now turn on notifications on desktop and mobile for specific accounts but the process is different for both. We've broken it down for each below!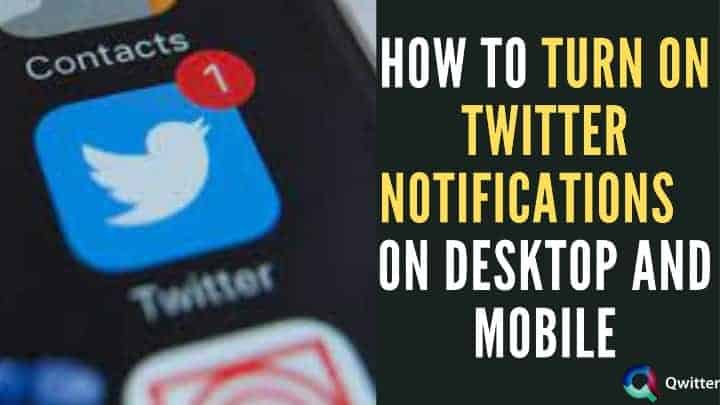 What are Twitter Notifications?
---
Twitter Notifications are updates sent to you on your device alerting you about various topics. It lets you know how other users are interacting with you. You can see the number of likes, replies, and retweets your tweets are getting, who followed or mentioned you. It also shows you the tweets from your favorite accounts for which you have enabled your notifications.
If We Turn on Twitter Notifications for a Specified Account, Will They Know
---
No, if you turn on Twitter notifications for an account you follow, they will not know. Twitter has designed it to be anonymous. You will receive all the notifications about their tweets or lives on your Notifications timeline, but they will not know until and unless you engage with their tweets.
How to Turn on Twitter Notifications for a Specific Account
---
You can follow and turn on post notifications for any Twitter account you like. This allows you to keep yourself updated with all their tweets, retweets, or likes. Just check the following simple steps and you are good to go.
Step 1: Go to the account for whom you wish to turn your notifications on.
Step 2: Tap on the bell icon with a plus sign.
Step 3: On the menu that pops up, select "All Tweets" if you are on mobile but if you are turning on notification on the desktop for a specific account just click on the bell icon. This will show you a solid blue color filled bell icon with a tick sign beside it.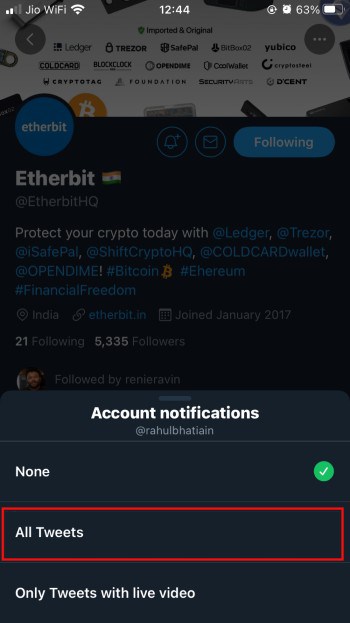 How to Turn on Push Notifications on Twitter
---
Twitter allows its users to turn on push notifications based on the types of notifications they wish to receive on their devices. You can choose to get notifications about mentions of your accounts, retweets, replies, likes, new followers, direct messages, news, highlights, and so on. You can turn on Push Notifications on your desktop or mobile devices using the below easy steps.
On Desktop PC [Windows 10 or MAC]
---
Step 1: Log in to Twitter on any internet browser of your choice and go to the three-dotted More options icon on the navigation bar on the left.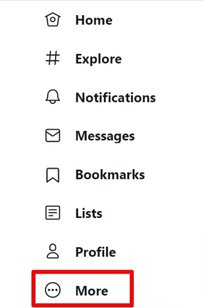 Step 2: Select "Settings and Privacy" from the menu and then under "Settings" click on "Notifications".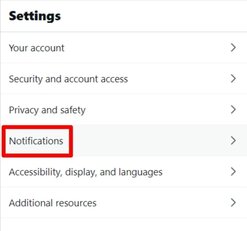 Step 3: Now, under "Notifications", select "Preferences".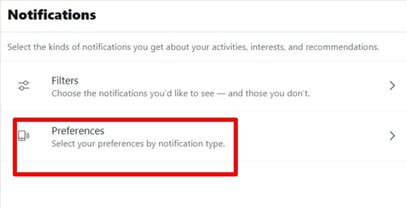 Step 4: Under "Preferences", click on "Push Notifications" and slide the bar to the right to enable all Twitter Notifications.
On Mobile [Android and iPhone]
---
Step 1: Tap on your profile avatar (for iPhone) or the navigation menu icon ≡ (for Android) on the top-left corner and select "Settings and Privacy".
Step 2: Under the "Settings and Privacy" menu, go to "Notifications".
Step 3: On the page that opens, tap on "Push Notifications".
For Android, slide the bar beside "Push Notifications" on the top to the right to enable notifications and you can further adjust the Notification types you wish to receive.
For iPhone, just select the types of notifications and turn them on.
Why Am I Not Getting Twitter Notifications on My Phone
---
Many Twitter users often face several issues and have reported not receiving Twitter notifications even after their Push Notifications option is turned on, making them left out of the updates and essential messages. This could happen due to several reasons. Usually, it is due to some improper settings on your device, but other factors like unstable network connection, third-party applications, and faulty servers could also be the reasons behind this mishap.
You can try logging in and out of your account on the app or restarting your device. Also, turn off the Silent Mode or the Do Not Disturb mode on your device. Check the notifications settings for your device. Sometimes, Twitter may not have proper permissions to send notifications to your device. Report the problem to Twitter if you still face the problem after trying out all the fixes.
Also Read:
How Can I Find Out Which of My Twitter Followers Has Turned on Notifications for My Tweets
---
No, Twitter does not let its users know if one of their followers has turned on notifications for their tweets. It's kept anonymous and you will only be able to know who follows you or engages with your tweet.
Twitter Notification Bell not working – What to do?
---
Twitter users sometimes don't receive notifications even after turning on the notification bell from the accounts they wish to receive updates. This could sometimes happen due to a glitch in Twitter's system or unstable internet connection or maybe some third-party applications.
To fix this, check if Push Notifications on your Twitter settings is turned on. Also, check if your device has Notification permissions turned on for Twitter. Try logging in and out, and restarting your phone to fix this problem. If it still does not work, report the issue to Twitter.
How do I turn off email notifications from Twitter?
Conclusion
---
Twitter is a very convenient platform to keep up with everything that is going on in the world. One can follow thousands and millions of accounts to be informed about the subjects they are interested in and can socialize with people with similar tastes. The Twitter Notifications Timeline is one's go-to place to check how others are engaging with their tweets.
They also don't need to go to the profiles to read the tweets from their favorite accounts. The Twitter Notifications features come in handy to sort out the notifications one wishes to receive and save valuable time.