Trending a hashtag on Twitter is not as easy as it seems. It's not as difficult if you apply all the strategies from this article. We have shared a complete guide from How to trend a hashtag on Twitter to choosing a hashtag to strategies to promote it.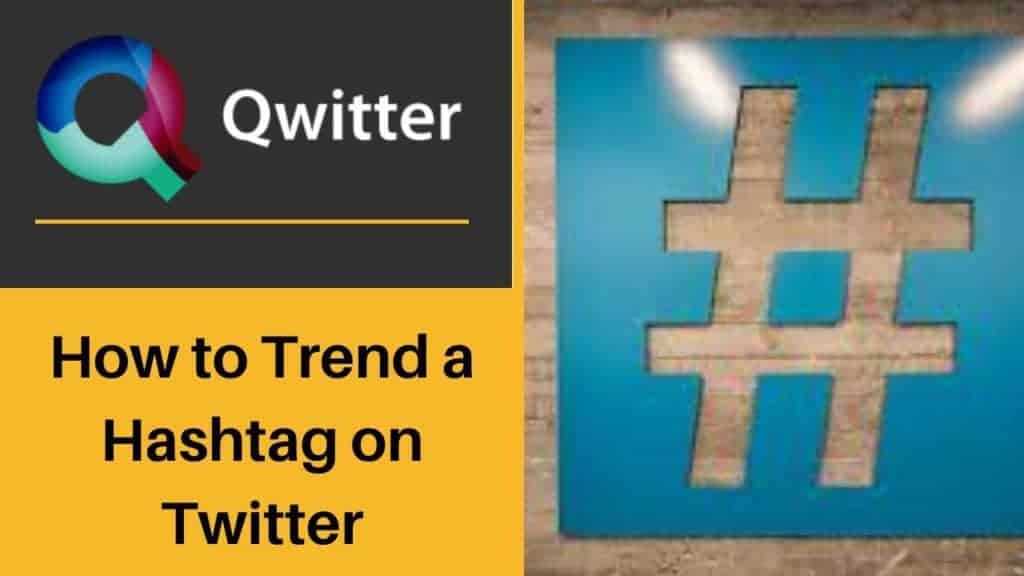 What is a trending hashtag on Twitter?
Trending hashtags are labels (or tags) used on Twitter that categorize messages around a specific topic. They are usually accompanied by the "#" symbol and allow for easy searching of related content. Trending hashtags come and go, so staying up-to-date with what is popular at any given time can be difficult.
How a Hashtag is used on Twitter?
Hashtags are used on Twitter to categorize tweets and make them easier to find. Adding a hashtag to a tweet becomes part of an online conversation on that subject.
For example, if someone is tweeting about the latest sports news, they might use the hashtag #SportsNews so that anyone searching for sports-related topics can easily find their tweet.
Hashtags can also be used to join conversations in progress, create polls or surveys, and increase reach and engagement with a tweet. Hashtags are a great way to organize content on Twitter, allowing users to find relevant information quickly and easily.
Additionally, when users click on a hashtag, they will be taken to a page displaying all tweets with that hashtag, allowing them to find and interact with related content quickly.
How to Trend a Hashtag on Twitter
---
Choosing a hashtag:
Before creating a hashtag, you'll need to do some research. You can find popular hashtags all over the place and narrow your research to some that appeal to you. If you're in charge of a company and you're looking to promote something, then you'll need to look at company hashtags to see how they're written.
Alternatively, if you're looking for something as an individual, you can go for your favorite celebrities and people you admire. They need to be popular, so you'll know what kinds of things people are into.
Once you find what you're looking for, it's time to narrow the group further. The goal is to find the ones that appeal to you and get to the point. Naturally, this needs to be a point you support.
Create a hashtag that's short (and simple) & easy to read, original and actionable
Having a clear message is essential, but keeping the hashtag simple is also vital. The most popular hashtags are simple and easy to remember.
By having several examples of hashtags, you can go over them and see what they have in common and start creating a trending hashtag of your own. Before you go for that, you can always feature a popular hashtag on Twitter on one of your posts, and then you'll trend your post. Creating one is a challenge you should always go for.
Check if a hashtag is already in use on Twitter.
By searching for the hashtag on Twitter you can find out if it's already in use or not. If it is already in use, think of a new hashtag that reflects your topic but isn't already taken. Use tools such as Hashtagify or RiteTag to search for related hashtags and find one that is not being used yet. Remember when creating a hashtag to make sure it's short, easy to read, and relevant to the topics you cover.
Also, consider whether it looks good on the page, as people are more likely to click on an aesthetically pleasing hashtag. Once you've found a unique hashtag, use it consistently across all of your tweets and other social media posts so that people can easily follow along with your content.
Creating a hashtag campaign and Promoting it
Plan and organize a hashtag campaign to help promote your business. Develop a hashtag that reflects your brand and use it consistently across social media platforms to increase engagement. Make sure the hashtag is simple, memorable, and easy to type. Just like an Irish online casino might congratulate its Irish players on St. Patrick's Day, so can other providers and casinos wish their fans and followers a Happy New Year, Christmas, or any other holiday.
Encourage users to use hashtags when they post about or interact with your brand. Offer incentives for using the hashtag, such as discounts, freebies, or exclusive content. Additionally, you can use the hashtag to track conversations about your brand online and respond to customers in real time.
Join in on conversations using your hashtag:
Find conversations that are already happening on social media related to your brand and join in using your hashtag. This will help you build relationships with potential customers and strengthen existing customer relationships. When joining in conversations, make sure to add value by providing useful information or helping people solve problems.
Don't use too many hashtags in one post:
When using hashtags, use them sparingly. Too many hashtags can clutter up the post and make it difficult to read. This can also lead to people losing interest quickly or not paying attention at all. Stick to one or two hashtags per post, preferably ones that are related to your topic and brand.
Use Twitter ads to reach a larger audience:
Twitter Ads can be used to reach a larger audience and increase the visibility of your hashtag. Use Twitter Ads to target specific users, such as those in a certain geographic location or with specific interests, and promote your hashtag. This will help you gain more followers and create more engagement around your brand.
Tracking and measuring the hashtag's performance:
Monitor your hashtag 's performance and track how often it was used and how much engagement it received. This will help you determine whether your hashtag campaign was successful or not.
Analyze which types of posts got the most engagement, when people were most likely to use the hashtag, and what topics were being discussed in the conversations. Use this data to create more targeted campaigns in the future.
You can also use tools such as Hashtracking and Brand24 to track your hashtag's performance and measure its effectiveness.
These tools will give you insights into how often the hashtag was used, who used it, and how much engagement it received. This data can be used to refine future campaigns and make them even more successful.
By following these tips, you can create an effective hashtag for your business and use it to increase engagement, reach a larger audience, and build relationships with customers.
10 Strategies for keeping the hashtag relevant and maintaining its visibility over time:
1. Encourage users to engage with the hashtag in creative ways. For example, ask them to post pictures or videos related to the hashtag topic or create a challenge centered around the hashtag.
2. Examine related hashtags and trends in your industry so you can use relevant keywords in your content that will link back to your hashtag.
3. Monitor the hashtag to keep track of conversations and mentions, so that you can respond quickly to engage with users and further promote the hashtag.
4. Keep the content fresh by regularly sharing updates related to the hashtag topic, such as news stories or user-generated content.
5. Leverage influencers to promote the hashtag, as their large following can help spread your message more quickly.
6. Incorporate the hashtag into offline campaigns and events. For example, print it on promotional materials or use it in presentations at trade shows and conferences.
7. Integrate the hashtag across all platforms to ensure maximum visibility.
8. Consider running a contest or giveaway that encourages followers to share the hashtag with their friends and followers.
9. Collaborate with other organizations or brands to create content around your hashtag topic, as this can help expand its reach.
10. Track the performance of the hashtag over time so you can analyze which strategies are effective and modify your approach accordingly.