Twitter has been around since 2006 and it's still going strong. It's a great way to share your thoughts, stay up on what's happening in the world, and meet new people. It's no surprise then that there are many apps for the Android operating system which allow you to "tweet retweet" on the go!
Are you tired of the Twitter app that comes on your Android phone? Don't worry!
We have mentioned 11 excellent alternatives to the default Twitter application, with many features of twitter and layouts to choose from. But with so many apps out there, how can you know which one to choose? Try these 11 best Twitter apps for Android. One of them will definitely become your favorite.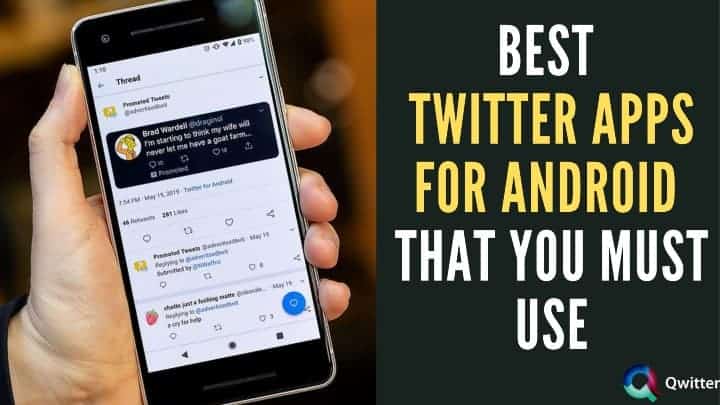 List of Best Twitter Apps for Android
---
1. Albatross for twitter
Price: free/$2.99 (download here)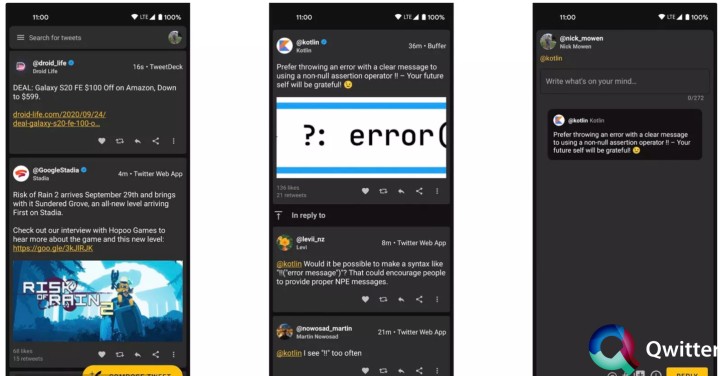 Albatross for Twitter is the newest and one of the best Twitter apps alternatives. It's an ads-free, effortless Twitter client which will leave you enjoying the experience of Tweeting. It supports all kinds of Twitter media accounts, any notifications, DMs, etc. It also includes theming features to customize impressive animations and has a beautiful material design. One of the most loving features of Albatross is that it can schedule Tweets to send later. It will make your Twitter experience better.
2. Fenix 2
Price: $4.99 (download here)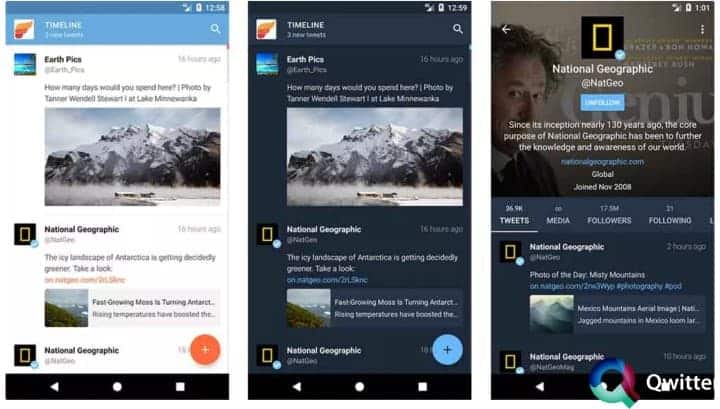 Fenix 2 is a good and most popular third-party Twitter app for android. Unfortunately, it has no free version to use but the app is definitely worth the money. It provides amazing layouts for conversation, mute unwanted posts, or user accounts. It supports some external websites like YouTube, Instagram, flicker, vine, and multiple Twitter accounts and is now also available for IOS devices. There are more customization options included in it to make the experience aesthetically pleasing. So, if you are a person who spends a good amount of time on Twitter, you should give it a try.
3. Friendly for Twitter
Price: Free / $1.99-$9.99 (download here)
Friendly for Twitter is another good alternative to the official Twitter app. It is a light weighted app with cache optimism and a lot of useful services. It does not drain the battery of your device. It allows you to download GIFs, videos, and pictures that are shared on Twitter, and it is completely ad-free. It can also block all sponsored Tweets by default and also supports multiple accounts.
4. Hootsuite
Price: Free / $19.99+ per month (download here)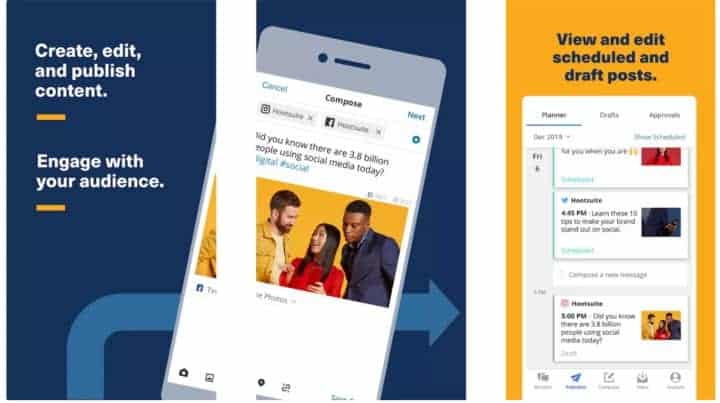 Hootsuite is an original and best Twitter app that can track multiple accounts simultaneously. It's free for 2 social network profiles but its premium version allows you to benefit from complete features. Also, it delivers timely responses. You can post on multiple networks at once. You can create or publish your content, schedule the Tweets to post later, edit drafts in all kinds of social profiles. It can manage your incoming messages from any other social platform in a single feed. You can upgrade to a premium account to benefit it's all the other useful and great features.
5. Owly for Twitter
Price: Free / $2.99 (download here)
Owly for Twitter is also a new and decent app available on the google play store. It provides a lot of unique and useful features. It's a customizable one and can create tweets without any limitations. It provides relevant Tweets for any topic with some new and advanced filtering. Moreover, it supports good Tweet management which means you can easily hide any Tweet if you want and attach any regular media to your Tweet. Also, it stays up to date with the ongoing news or any other topic of your choice and helps the user to do the same. Owly allows accessing actions and media previews of user profiles. It also offers some tools to clean out the timeline or background sync. It's the best Twitter app of all time.
6. Talon for Twitter
Price: $2.99 (download here)
Talon for Twitter is one of the great third-party Twitter apps. It is one of the highest-rated and best Twitter apps on the google play store. It's famous for being the best material for designing a Twitter app. But this app is not free of cost any more, you need to purchase the app to enjoy its amazing features. It allows access to 2 accounts at a single time. It includes some features like compact timeline layout, do not disturb mode, you can mute any user, hashtag, retweets, or any expression. It provides widgets to view any mentions, unread counts, and home timelines. you can fix your photo to crop, rotate or zoom before you upload it on your profile. With Talon for Twitter, you can easily view a profile, watch videos or GIFs and view images without leaving the timeline.
7. Tweet2gif
Price: Free (download here)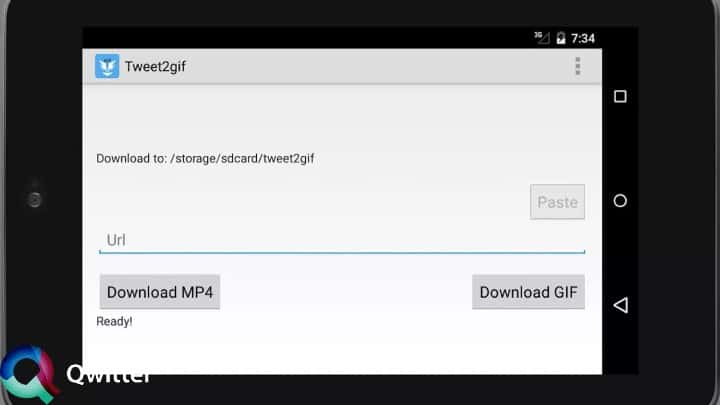 Tweet2gif is not an alternative to Twitter apps but it is used for Twitter as a helpful tool. You can copy any link from Tweets and download it from here. With the help of this app, you can easily download animated GIFs or MP4 videos on Twitter. It doesn't need any access to your Twitter account. It allows you to copy and paste the link of any Tweet in its app. It's one of the best twitter helping tools.
8. TwitPane
Price: Free / $4.99 (download here)
TwitPane is a lightweight and best alternative to the Twitter app. It's really good for the users who want good customization options. It supports multiple accounts, customized apps features, and uploading videos too. You can reply to multiple Tweets at once. It supports only 3 accounts in the free version you've to purchase this app for more useful features. It also includes features like color labeling, saved search, drafts of new Tweets, filtering user/word/app, and many more. Your Twitter account can easily be managed by it. Also, multiple GIFs and photos can be uploaded simultaneously to Twitter with the help of this app.
9. Twitter Official App
Price: Free (download here)
The official Twitter app is the number one social media app for daily updates and it is the best source of connecting people, sharing your opinions, following trends, building personal connections, and is also good for marketing purposes. Twitter's app itself is rich in features. It helps you to stay alert of what's happening around the world.
You can easily Tweet, retweet, reply to tweets, like or share, enjoy live streams, and many more. Influencers use Twitter to make the world hear their voice regarding common issues. You can use hashtags in your Tweets to become trending.
Twitter's official app also provides features like night mode, live-streams, muting, and blocking options.
10. UberSocial
Price: Free / $4.99 (download here)
Ubersocial is developed by the same developer who developed plume for Twitter. It's the best Android app for Twitter. You can create a list of your favorite users or friends. It supports features like multiple accounts, Tweet, ReTweet, timeline filtering, conversation view, mentions, and shake for a refresh, post muting, and many more. You can also post to Facebook through this app. This app also provides live preview TM which means you can view any image, videos, or links on your home timeline without leaving the app. There are some of the new features included in the upgraded version of the app like advanced search, customized notifications, location services, profile edit.
11. Storm It
Storm It app for Twitter is no longer available on the google play store or app store. It is a decent app that lets you gather your thoughts or ideas and can easily share them on the Twitter app. It also has common features like all the third-party apps which include saving drafts, manage, compose, or preview Tweets before posting. You can easily switch accounts, reply to Tweets.
Thank you for reading! Try these out too: