We know how much you are frustrated with when other people's likes or retweets showing on your twitter timeline. Like you, we were also thinking, Is there any way to hide likes, also known as favorites, in my Twitter feed? After scorching through the internet and reading various websites, we found four ways by which we can get rid of likes.
Nowadays, twitter shows so much unwanted content on our timeline. When you open your twitter feed, you must be seeing people's likes and retweets, which means your followers must be seeing what you like or retweet.

Like you, we also don't want this to happen; hence we created this guide to turn off likes from anyone we don't follow. This way, you can see the real content we use this social media platform for i.e., to promote your work or share ideas.
We have seen lots of users complain about this instant push of activity from all the followers. Not everyone wants to see what you like and retweet all through the day.
But worry not, as we have what you need to take your twitter Activity much optimized for both you and your followers.
Also Read:
Hiding your Likes from non-followers
You can save your likes from other people by playing with your Privacy Settings. Let's do it step by step.
Login to your Twitter account and on the top right corner, click on the "Profile" icon.
From the dropdown, select "Settings".
Click on the "Security and Privacy" tab.
Next, go to the "Privacy" section and click on the checkbox next to the "Protect my Tweets" option.
Now click on the "Protect" button.
Your likes will only be visible to your followers now. This will make your profile private. If someone wants to access your activity, then their only option is to follow you.
Note: Twitter is an open platform. Making your Twitter profile private will partially defeat the purpose of the existence of twitter. But it will definitely hide your likes from others and keep your account protected.
If you do not want to make your Twitter profile private then there is one more method that you can follow:
Hide your Favorites from others
Click on the "Profile" icon in your account.
From the dropdown, select "Favorites"
You will now see all the tweets that you ever favorited.
Select the tweet that you want to hide and click on "Unfavorite". You can select any tweets or even all of them to hide from other people.
This way, you can keep your account Public, and still be able to "stop seeing your likes on Twitter"
The number of profile feed on twitter can sometimes be too exhaustive for a user. if you wish to read only quality information on your feed, then you have options to cut down the undesired information from your Twitter feed. Read further to know the two methods to hide likes from your twitter account.
Hiding other people likes by adding Mute Words
In your feed, you might see a lot of activities from your followers. You might want to avoid reading unnecessary information and keep your content optimized.
With the Mute option, you can hide suggested Tweets and menus like "Who to Follow?" With this option, you can mute keywords, phrases, usernames, emojis, and hashtags.
The activities that you will mute will affect the below fields:
Notifications tab
Push notifications
SMS
Email notifications
Home timeline
Replies to tweets
Let's see how to use the Mute option to hide the likes on Twitter:
Click on "Settings and Privacy" tab.
Select "Content Preferences"
Go to "Muted" and then select "Muted words".
Then select all the muted words and everything that you want to mute, including usernames, phrases etc.
Then click on "Save". It will immediately affect your notifications and feed.
However, to get the best out of Mute option by Twitter, we suggest you a better approach by muting Activities.
Tap the Gear icon to go to settings or directly click here.
Select the (+) plus sign and go to the field "Add muted word".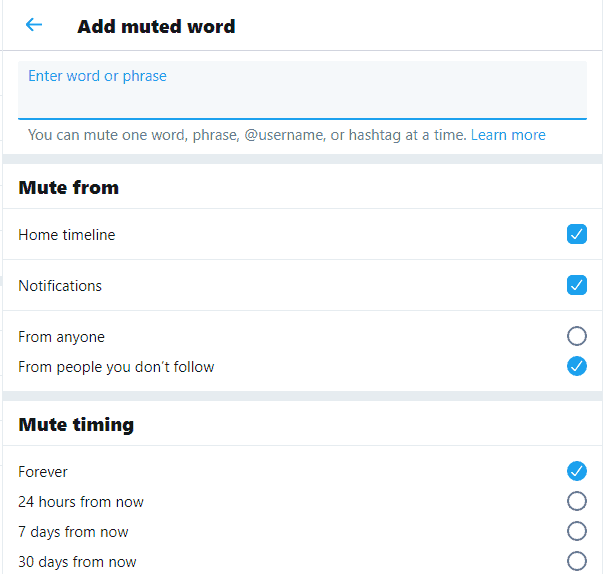 Add the below phrases to the field:
a) ActivityTweet
b) RankedOrganicTweet
c) suggest_activity_tweet
d) suggest_activity
e) suggested_recycled_tweet_inline
f) suggested_grouped_tweet_hashtag
g) suggest_pyle_tweet
h) suggested_rank_organic_tweet
i) suggest_ranked_timeline_tweet
j) suggest_recycled_tweet
k) suggest_sc_tweet
l) suggest_recap
m) suggest_who_to_follow
n) generic_activity_Highlights
A few things that you must know about Muting are:
Muting is case-insensitive.
If you mute "fashion", the word "Fashion" or "FASHION" will also be muted.
Muting a word, will also mute the hashtag.
If you mute "music", then it will mute "#music" also from notifications.
Using AdBlock Plus to Hide Sponsored Likes
Adblock Plus works the best to hide sponsored tweets from your timeline. The trick only works when you use the Mozilla Firefox web browser. Adblock Plus gives double benefits with its additional Element Hiding Helper.
You can select an area containing "Tweets", "Moments" or "Trends" and Element Hiding Helper will remove them from your view. All you will see is blank space instead.
Also read: Why can't i see who liked my tweet
Remove Unwanted Likes from your timeline
This option lets you remove a single tweet at a time. But if you keep doing this on a regular basis, the algorithm of Twitter will be changed at your convenience.
Go to a unwanted tweet or to a tweet that you don't like.
Click on the down-hand arrow.
From the drop down list, select "Not Interested in this" option.
You can use this option on your desktop browser as well as on mobile app.
These are the only methods which should you try. Let us know in the comments which method is able to hide your likes.