To kick off or spark romantic conversations, people use a variety of pickup lines in their Twitter DMs. On Twitter, people connect with random strangers worldwide and even become lifetime friends. If you're confused about which words to use to initiate talks with Any Twitter user you like, keep reading.
We have simplified your task by collecting 51 Best creative Twitter pick lines, from cheesy and funny to dirty ones, to use in DMs.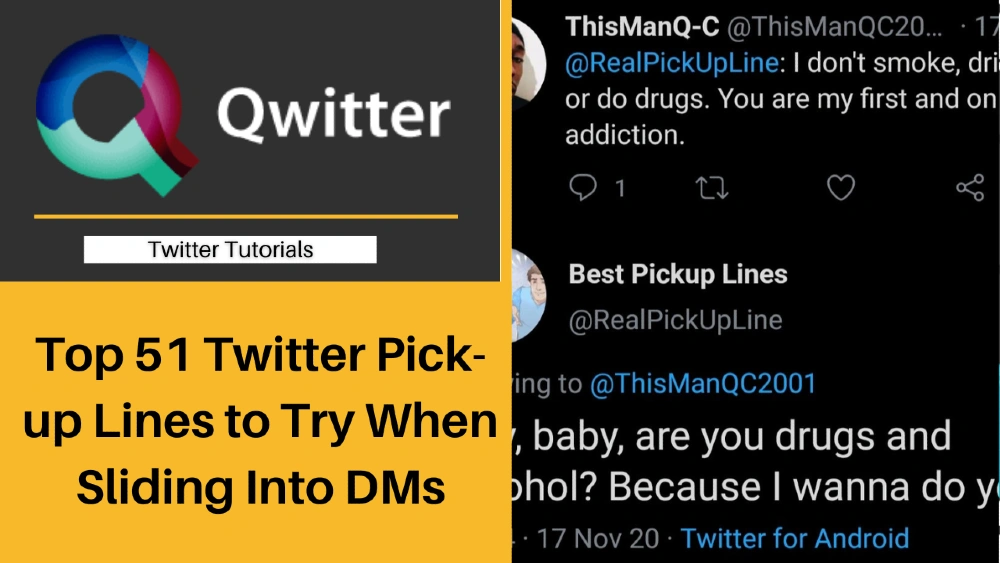 Making Use of Twitter Pick-up Lines
---
Before using these Twitter pickup lines, avoid some common mistakes which can impact your impression and end the conversation from continuing further. You have to impress the next person.
Avoid using awkward sentences.
Don't use inappropriate words commenting on someone's appearance.
Avoid creating a confused delivery with the wrong words.
Send the line which can make the other person realize your motive for sending the dm.
51 Best Twitter Pick up Lines That Worked
---
We have provided you with a combination of funny, cheesy, and dirty pick up lines that emphasize your great sense of humor.
The aim of all these is to make the next person grin with a long smile so they feel special enough to reply. You can write them in the DMs of both men and women.
Funny Twitter Pick Up Lines
These funny pick up lines will show your personality as a cheerful and spirited person interesting enough to be with.
Hey, My name's Microsoft. Can I crash at your place tonight?
Well, here I am. What are your other two wishes?
I must be a snowflake because I've fallen for you.
Are you a magician? Because whenever I look at you, everyone else disappears!
I'm lost. Can you give me directions to your heart?
Are you a time traveler? Because I see you in my future.
Can I follow you home? Cause my parents always told me to follow my dreams.
Are you a bank loan? Well, you've certainly got my interest.
Are you a cat? Because you look purrrfect!
Is your name Google? Because you have everything, I've been searching for.
Are you a broom? Because you've swept me off my feet.
I should charge you rent for spending so much time in my mind.
Excuse me, do you have a band-aid? Cause I scraped my knee falling for you.
Was your dad a boxer? Because damn, you're a knockout!
Hey, you're pretty, and I'm cute. Together we'd be Pretty Cute.
Was your father an alien? Because there's nothing else like you on Earth!
Cheesy Twitter Pick Up Lines
These cheesy lines will take your Twitter chats more steps forward with healthy flirting. You will look funny, humorous as well as romantic.
You're single. I'm single. We could change that together.
You're so fine; you made me forget my pickup line.
Are you a banana? Because I find you a-peeling.
If you were a fruit, you'd be a "fine-apple."
Are you a cake, "Because I want a piece of that."
You look cold. Want to use me as a blanket?
If I said you had a good body, would you hold it against me?
On a scale of 1 to 10, you're a 9, and I'm the 1 you lack
Want to go outside for some fresh air? You took my breath away.
If I could rearrange the alphabet, I'd put "U" and "I" together.
Want a raisin? No? Well, how about a date?
I love flirting with you, but I'd have even more fun dating you.
Aside from being sexy, What do you do for a living?
I never believed in love at first sight, but that's before I saw you.
There's only one thing I want to change about you, and that's your last name.
I must be in a museum because you indeed are a work of art.
There must be something wrong with my eyes; I can't take them off you.
Dirty Pick Up Lines Twitter
We have tried our best to include Dirty pickup lines, which are funny and romantic enough to initiate advanced romantic conversations with another person. You can use them for both men and women.
They say that kissing is a language of love, so would you mind starting a conversation with me?
Give me your car keys so I can drive you crazy.
I just checked my battery life, and it's at 69%.
Sorry, that seat is taken, but you can come and sit on my lap if you'd like. We'll talk about whatever pops up.
Do you know what would look good on you? Me.
Is it hot in here? Or is it just you?
If you don't want to have kids with me, then why don't we just practice?
Can I borrow a kiss? I promise I'll give it back.
Did you just come from a bakery? Because you've got the hottest pair of buns I've seen all week.
Let's both be naughty together and save Santa a trip.
Are you an elevator? Because I'll go up and down on you.
I wish I were your phone, so you'd be on me all day.
Do you have a cell phone in your back pocket? Because your ass is calling to me.
Did you have Lucky Charms for breakfast? Because you look magically delicious!
Were you arrested earlier? It's gotta be illegal to look that good.
Do you have a shovel? Because I'm digging you
That's a nice smile. It'd look better if it were all you were wearing!
Your feet must be sore from running around my mind all day. Why don't you come back to my place and put them up on my shoulders?
Do you believe in love at first sight, or should I walk by again?
After Your Twitter Pick-up Line Works
---
Imagine you get an optimistic reply from the receiver. What next?
If you only want to flirt, keep going with the text messages. If you're willing to start a romantic relationship, try to set up meetings at nearby cafes. Politely ask for their number.
Twitter Pick-up Lines: Final Thoughts
---
Be cautious before using dirty lines because the next person may block you. Practice dirty lines with close friends or someone you already know. You can pick anyone that suits your scenario. You can also use these lines for other social media platforms and dating apps.