Are you looking for a twitter unfollow tool so that you can figure out who doesn't follow you back on twitter?
Well, Twitter is an awesome social media marketing tool. Even though you can find out your followers and people whom you are following, just by going to your twitter profile.
Twitter doesn't tell you the accounts who are not following you in any quick way. You can find that by checking individual profiles users and going to their following section. But that's just a bit daunting task.
If you have an account on any social media website like Facebook, Instagram, Snapchat, or Twitter, you want to grow your list of followers. So for that so you follow many twitter users to get follow backs. But when don't follow you back, you want to unfollow all of them.
That's where this twitter unfollow tool comes handy to help you find out the people who are not following you back.
Our below mentioned 5 Twitter unfollow tools remove the fake twitter followers from you profile and unfollow them who don't follow you back.
With the help of these tools, you can manage your Twitter followers easily. Once you give these tools access to your account, they will find all the unfollowers.
We even have a tool if you wants to mass unfollow twitter accounts.
Free Twitter unfollow tool to Find out Who Doesn't Follow Me Back on Twitter
---
1. UseQwitter:
Qwitter is a social media management tool specially made for twitter users. It is a smart twitter tool that will tell you the accounts who are not following you back.
We have all the important features which you need to manage your twitter account. Here is how you will access this tool.
Login to Qwitter account via Twitter login button on the homepage. Click on Unfollow tab and go to "not following you back" option. It will give you list of all fake twitter accounts not following you.
Check on Select all button and unfollow all of them at once.
Twitter has limit to follow and unfollow accounts at once. So we suggest you to keep the number up to 50 max for an hour.
2. Circleboom
With Circleboom, you can easily detect inactives, spam accounts, and even non-followers through its audience insights features. It allows monitoring those accounts and making a list of them to let users unfollow them through Twitter lists they create. Hence, you won't violate Twitter policy because of unfollowing too many accounts, and your account will be safe with all aspects.
Here are the steps you can use to go through accounts that are inactive, fakes, or even worst, don't follow you back:
Navigate to Circleboom website through any web browser.
Log in to Circleboom with your account, or you can get yours in minutes.
Log in to your Twitter account and authorize Circleboom.
On the opening dashboard, go to the left sidebar, navigate the Circle Tool. Under the Circle Tool, you will find options to find inactives, spam accounts, and non-followers. Go for any of them you need.
After choosing the accounts, make a Twitter list of them and go to your Twitter account to unfollow them quickly. That's all!
3. Crowdfire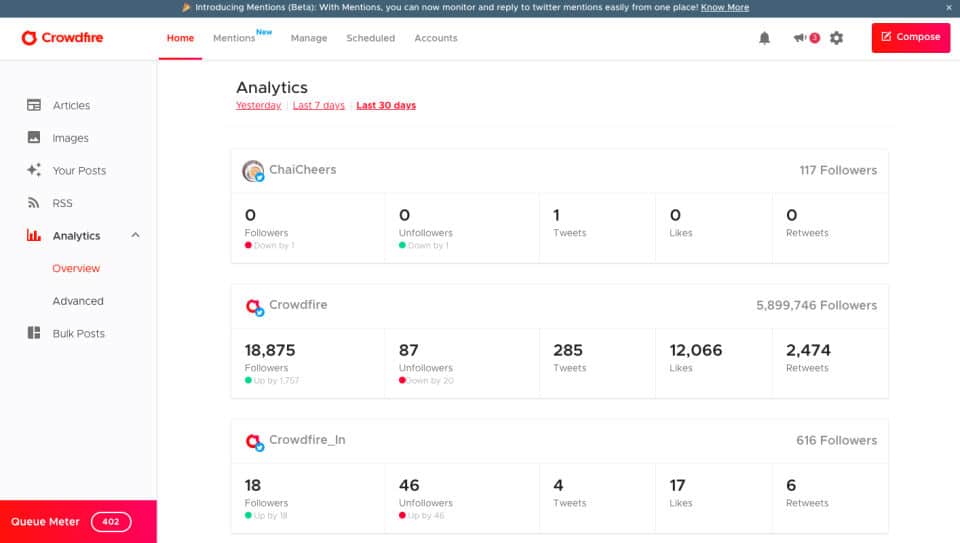 Previous this tool is known has Justunfollow which we think and as per about using the tool is, 2nd best free twitter tool to unfollow accounts. There are no. of features that you may like in this tool like you can sort the non-followers account by date. But that will be applicable only from the date you add your account to crowdfire.
Otherwise crowdfire can't find the data of previous followers or non-followers. On free plan, you can follow or unfollow 25 accounts at max.
If you want to increase the limit you can opt for paid subscription available for both Android and iOS apps as well.
4. ManageFlitter
ManageFlitter has no of features which we really liked. This is one of our favorite twitter tool to unfollow non-followers. One of their feature is hashtag or account Search.
In their beta version you can select multiple twitter accounts and unfollow them. One thing we didn't like is you can select all accounts at once. You need to select them manually but you can remove them from you followers list in one click.
Some other features of their tools, are Fake(Spam) accounts, Following Ratio, Most Active and non-active Twitter accounts, Mute/Unmute Users.
5. TwitNerd
TwitNerd gives you lots of options as far as using Twitter goes. But the main functionality is in managing other people connected to you. These include your followers and those you follow (both who follow back and those that don't).
Here are the steps you can use to sift through accounts that don't follow you back:
Log into TwitNerd using your Twitter account and authorize the app to access some of your Twitter info – nothing to worry about here.
That'll automatically give you access to the free plan which is just enough to find all the users that aren't following you back. Near the top of the page, click "Who Doesn't Follow Me".
On the next page, you'll see the list of accounts that aren't following you back. You can now select the individual accounts you want to unfollow.
Scroll at the bottom of the page and click on "Unfollow Selected" to finish the process.
Also Read: How to stop someone following you on Twitter without blocking
6. Unfollowerstats
Pretty much like TwitNerd, Unfollowerstats gives you some insights about both your followers and those you follow. How many followers do you have? How many people are you following? How many are you not following back? And how many don't you follow back?
You can answer all these questions by simply glancing at the dashboard on the left of your screen after you sign into Unfollowerstats. From there, you can sort all those who aren't following back and decide if they should go.
Pretty straightforward.