If you are here then, there is a possibility that you are facing issues with your Twitter account. Twitter being a prominent social media platform also, faces several issues from time to time like any other platform. And there are a lot of reasons that cause such troubles on Twitter. However, one can't exactly point out a particular reason.
In this article, I am going to help you fix the Twitter not working issue and provide you with several solutions for the same. Keep reading till the end to find the right solution for your problem.
Is there any problem with Twitter today?
---
Yes, recently a large amount of the population faced trouble using Twitter and reading any tweets on the platform. In fact, Twitter tweeted stating that there was a technical error/bug which caused a huge inconvenience to the public. Users were unable to tweet, comment, or even open their accounts.
If you are facing the same troubles in opening your Twitter then, you must go through the fixes that we have provided below in this article. Those solutions will help you fix the Twitter not working issue. There could be more than ten reasons why your Twitter is not working today. And to find the right solution to the cause, you will have to read this entire article.
Why is my Twitter not working or loading?
---
As mentioned earlier, several reasons restrict Twitter from opening or operating smoothly. I am going to mention the most common causes of this issue below:
Corrupted data and system files on your device
Server issues
Software glitch/bug
Twitter is down
Unstable internet connection
Un-updated Twitter version
Here's why your Twitter is not working and how to fix that?
---
Now, that we have looked upon all the reasons that can cause the Twitter not working issue, we are onto looking for the solutions to fix it. I am going to provide you with more than eight solutions that you can try, all of these fixes are tried and tested.
I would recommend that you try all of the methods until you fix the issue, do not stop after one or two methods.
1. Check if Twitter is down
Well, the first thing to ensure as soon as you suspect an issue in the Twitter application is if the platform's server is currently down. A lot of times, when the developers are fixing some issue or introducing new updates to the app, the server is turned down.
To check if Twitter is down or not, the easiest way is to contact a friend and ask if they are facing similar issues or not.
Or you can also try using Twitter on a web browser if you were using it on your mobile device to see if Twitter is acting in the same manner or not. And lastly, you can use websites that can help you detect when a social media platform's server is down.
2. Close and reopen Twitter
The most common way to fix any technical issue is to shut the application and then reopen it again. This way all the temporary glitches that the software was experiencing will clear away on their own.
You can try logging out of your account and then closing Twitter for a while. And then, log back into your account again to see if the issue has been resolved. If the issue continues to persist then, follow the next methods.
3. Update the app or browser
The next resort is to ensure that you are using the updated version of Twitter. Apps like Twitter, Instagram, WhatsApp keep updating their apps and fixing the small bugs and glitches. Thus, it is really important that you update the Twitter application to its latest version.
You can check for updates directly from Google Play Store or App Store. Simply, go to the list of the apps that you've installed and then, update Twitter from it if there is an update available.
And once the app is updated, open Twitter on your device and see if it opens now without any issue or not.
4. Restart your phone
Another method that a lot of people confide in is restarting their devices when they face any issue in an application. And that is what we are going to do, close the Twitter app from your device and then, press and hold the Power button. And then, choose the 'Restart' option to reboot your mobile device.
As soon as your phone restarts, launch the Twitter app and see if the Twitter not working issue revolves. If not, try the next method.
5. Check your internet connection
A lot of times, the problem is as simple as an unstable internet connection and we ignore it. I would recommend that you don't overlook this solution and ensure that your Wi-Fi or Mobile data is receiving a stable network connection.
If you are using mobile data on your device then, try enabling the Airplane mode on your device for a while and then, disable it. And then, check if Twitter opens up without glitches or not. Enabling Airplane mode often helps reboot the networks on a device.
If you are using Wi-Fi then, turn off your modem and then, turn it back on after a minute at least. And then, re-connect your device to your Wi-Fi connection and see if the issue persists. Also, try reducing a few devices that are connected to your home Wi-Fi to see if the network traffic is an issue.
6. Check app network permissions
When we install any app on our device, it asks us to grant several permissions for its flexible running. There is a possibility that you have not allowed all the network permission that you were supposed to.
Here's how you can do it:
STEP 1: Open the Settings app on your device.
STEP 2: Then, click on the 'Apps & notifications/ Apps' option.
STEP 3: Look for the Twitter app under the list of apps that appears.
And then, click to open the inside settings of the app.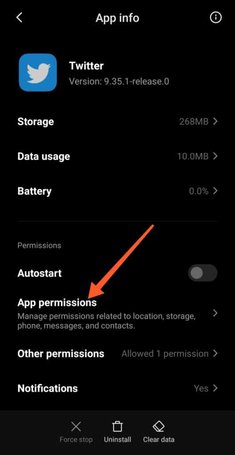 STEP 4: Tap on the 'Permissions' option and then, allow all the permissions asked.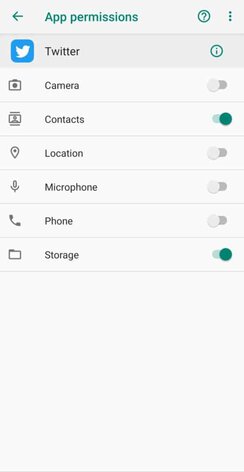 7. Clear the cache
In devices, often data files get corrupted and thus, create issues/glitches. And to fix it, you must clear the cache of that particular application that is facing problems in working or opening.
Here's how you can clear the cache of Twitter using an Android device:
STEP 1: Open the Settings app on your device.
STEP 2: Then, click on the 'Apps & Notifications' option.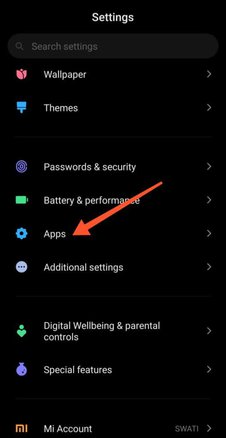 STEP 3: You have to look for the Twitter app and then, click on the 'Storage' option.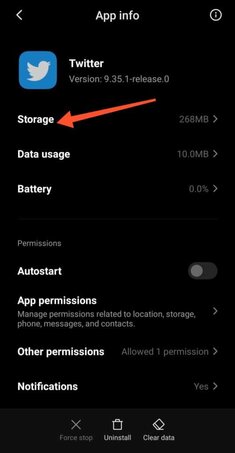 STEP 4: Lastly, tap on the 'Clear ' button and you are all done.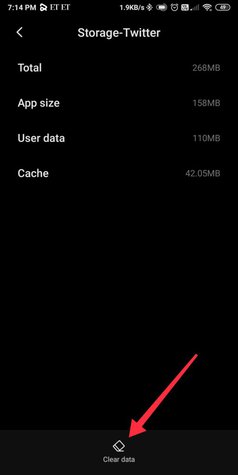 Photos or videos not uploading
---
If you are finding difficulty uploading your photos or videos on your Twitter account then, it could be due to a glitch in the app and you can try using all the methods that we have mentioned above to fix it.
And another reason for the same could be that the image or video that you are trying to upload is exceeding the provided limit by Twitter.
The supported image formats on Twitter are JPEG, GIF, PNG and the size of the image should not be larger than 2MB. The videos should not be longer than 2 minutes 20 seconds.
Can't load a Person's Tweets
---
If you are unable to view a particular person's tweets then, you must know that you have been blocked by that certain person. Because when you are blocked on Twitter, you are unable to see their account activity which includes stories, tweets, and chats.
Or the other reason could be that the person's account is either disabled or deleted.
Conclusion
---
We briefly discussed all the reasons that could be restricting your Twitter account from opening and not operating properly. We have also provided the required solutions that can help you fix the Twitter not working issue. However, I would like to remind you that there are several issues that occur from the end of Twitter itself and there is nothing that users can do to fix them.
I hope you liked reading this article and found the solutions helpful enough to solve the issue.