Many Japanese learners are unaware of Twitter's potential as a helpful study tool to aid their studies? People think that Twitter is all about scrolling feeds and following people.
Are you a beginner or advanced Japanese learner curious about how to use Twitter for your Japanese learning? Worry not! This article teaches 6 Fun Ways to Use Twitter for Interactive Japanese Learning.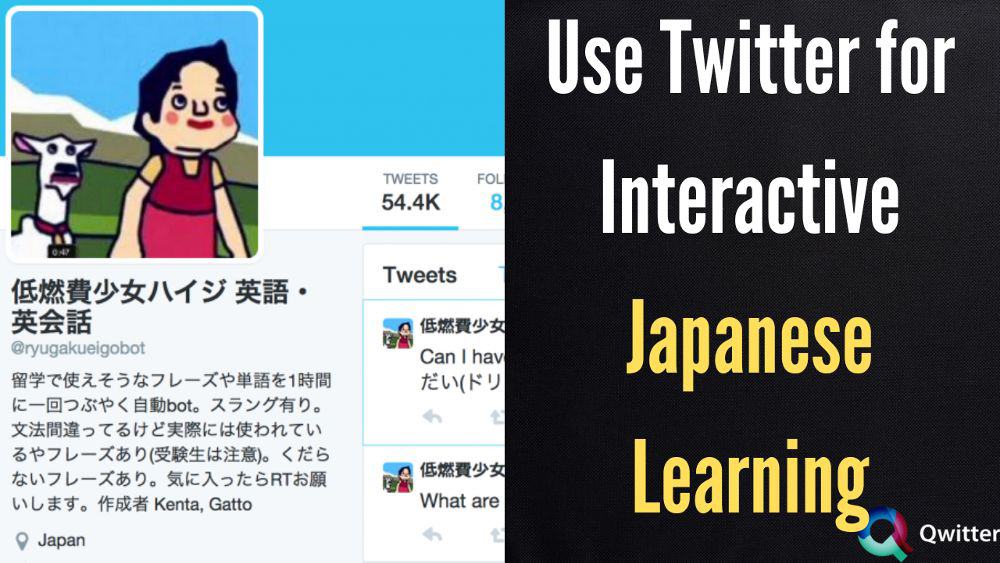 Why Twitter Is Awesome for Learning Japanese
---
For learning a language, we need an environment where we can practice with people fluent in that language. Without actually going to Japan, Twitter can provide the same environment and solve the issue of traveling to another country.
We scroll social media platforms a lot so that this habit can switch to real-time Japanese study time. We have more reasons for choosing Twitter.
Beginners can start by reading tweets in Japanese– You can change your language settings to Japanese anytime to switch to the Twitter interface.
Hashtags and searches can help you find your people. Twitter is quite popular in Japan. By searching hashtags similar to your language, you can find Japanese people and tutors with similar passions and interests to connect with.

You can grow your relations with them and shift to video calls and text messages for discussing doubts face to face.
You'll feel as if Japanese people surround you – People use casual, conversational, slang language tones. You will get the experience of talking with your Japanese friends.
Twitter is a platform for all the latest gossip. You can receive advance updates about the Japanese-cultural world. You can search for Japanese language sites for more information.
How Twitter Helps You Progress with Your Japanese
---
Setting a schedule for everyday tasks can help achieve the goals within the shortest time.
Make and achieve small daily goals- learning a language is complex and takes constant effort. You can learn Japanese by learning new words from tweets. Even if you miss a grammar chapter, You can read and learn new words from tweets and advanced searches.
Follow Japanese Teachers and influencers- People post new phrases, idioms, and words to help their followers learn Japanese. There are many native Japanese speakers like teachers, bloggers, tutors, and language sites to learn from and engage.

You can follow other accounts that share updates and news on Japanese songs and movies. Two Japanese Accounts are –

1.@japanesepod101 – Learn Japanese in a short time with their online resources such as video and audio lessons.

2.@toeic_talking – This account posts a combination of phrases and sentences for Japanese learners.
Track your progress over time –You can quickly improve your reading speed little by little every day. You become familiar with the words you come across daily. This helps in maintaining your study momentum.
Twitter is easy to access – Twitter is there on all smartphones.
Keep you motivated – Your experience becomes interesting when you engage in gossip about your favorite topics. You learn more words and practice by writing. Notifications pop-up remind you to learn regularly without running short on motivation.
6 Ways to Turn a Twitter Check into Dynamic Japanese Study
---
If you don't know, you can speed up your learning by combining reading, writing, and speaking practice in innovative ways. Let's examine the six ways to help you progress your Japanese studies.
1. Change your account language settings to Japanese
intermediate level Students can change their language settings to Japanese on Twitter. So, You will read Japanese all the time. And the catch is that you'll need to read enough Japanese to change the setting to the previous language.
Use your desktop or laptop for this setting. Click on your profile pic. Select the "Settings and privacy." A page appears that allows you to edit your profile preferences. In the "Account" section, choose Japanese "Language." Scroll down and "Save changes."
2. Read the tweets and captions out loud
Tweets are a good way of learning vocabulary and grammatical rules and structures, and sentence formation rules. It seems an easy way to practice reading and speaking skills on Twitter. You can check you are pronouncing the words right by posting them on Google translate. 
Use advanced search to find more words. Click on "advanced search," and A page appears where you can refine your search requirements. Search for a specific word or phrase in the target language.
3. Translate difficult tweets step-by-step
Practice by writing tweets in a copy. Read the words aloud. You will get a natural conversational speed with time. Note down the words whose meaning you don't know. Discuss with your followers and post as a tweet to find the answer.
4. Practice writing by tweeting in Japanese
Commit to tweeting by posting tweets at least three times a day.
Only 2800 characters in your daily life are not more. The best way to learn a language is to practice it.
5. Once you have read a tweet, maybe you have a few thoughts in response
Write down your thoughts in your notebook. You can reply to the original tweet in Japanese and wait for the response.
6. Talk about contemporary news and gossip from Twitter in your conversation practice
Share your recommended Japanese-language Twitter accounts with like-minded friends. Chat about them with your language instructor. More and more discussions can make you fluent in your conversation.