Twitter is one of the most popular social media platforms with over 300 million active users. People use this platform to share stories, news, etc.
While the mobile version of Twitter has a pretty intuitive user interface, the Windows desktop app imposes several limitations. For example, it doesn't use the entire display, nor does it support multiscreen.
Further, most third-party Twitter client apps no longer let you use Twitter in the way you want. Luckily, there are still a few best Twitter Apps for Windows 10 PC that will enhance your experience and give you access to more features. Check them out below!
Best Twitter Apps for Windows 10
---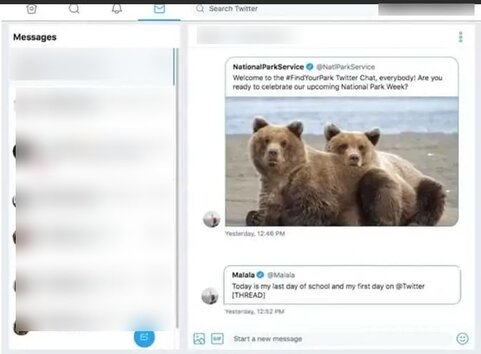 Twitter for Windows is the official Twitter app for Windows devices. The application is simple, with a pretty simple user interface but lacks some professional functionalities.
On Twitter for Windows, you can create tweets, use GIFs, manage multiple accounts, post multiple images, etc., as you'd typically do on the mobile app.
Unfortunately, the app doesn't support various functionalities like scheduling tweets, filtering the search results by person, replying to direct messages from the notifications, to name a few. Also, you can view the content in a single column view only.
Still, if you just want a Twitter client app on your Windows device for basic needs, this official web version is a good choice.
Pros:
Let's you send your feedback to Microsoft using the smiley icon
Simple interface
Most latest features are included
Supports multiple accounts usage
Cons:
You cannot see the trending topics and hashtags together
Lots of advanced features are not included
2. Circleboom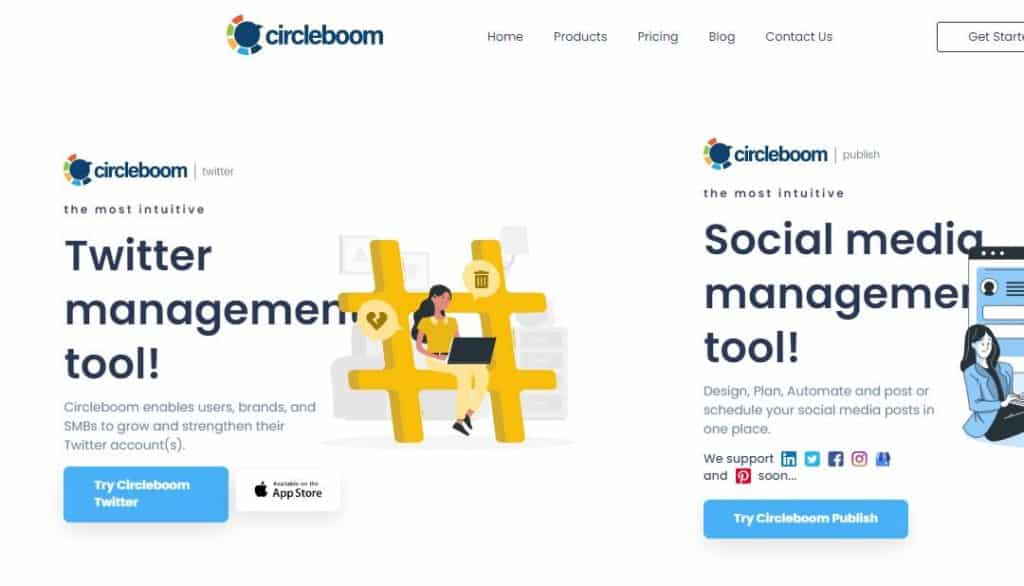 Circleboom has two social media management tools, Circleboom Publish and Circleboom Twitter. You can use both through your web browser.
With Circleboom Publish, you add multiple Twitter accounts and design and schedule your tweets in advance. It provided one of the easiest to learn dashboards on the market. Circleboom Publish supports Instagram, Facebook, LinkedIn, Google Business Profile, and Pinterest. So, you can add and manage multiple accounts on it.
On Circleboom Twitter, you can analyze your follower deeply with multiple statistics tools available. It also leads you to delete your tweets, retweets, likes, or Twitter archive.
Pros:
Support multiple accounts usage
Post scheduler
Article curation tool
RSS feed automation
Built-in design features
Advance Twitter analytics and account demographics
Cons:
You cannot see the live timeline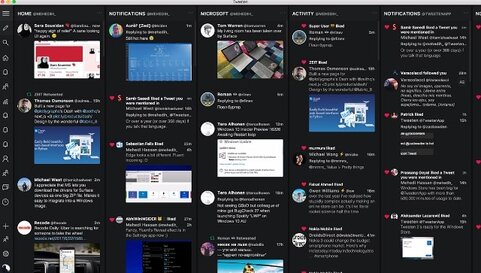 Tweeten is a free Twitter app for Windows 10. The app has an excellent multi-column interface that lets you track and monitor all your Twitter accounts.
Using Tweeten's powerful search engine, you can search for emojis, GIFs, hashtags, trending topics, or news.
Unlike Twitter app for Windows, Tweeten provides various features such as tweet scheduling, link shortening, filter hashtags, mute users and hashtags, track Twitter lists, etc. You can even switch the interface's theme from light to dark mode in one click.
Furthermore, Tweeten is only compatible with Windows 10 or Pro. So, if you have another device, you may check out the other twitter clients on this list.
Pros:
Multi-account support
The user interface utilizes the entire display
Free to use
Options to save and download videos or GIFs
Cons:
Auto-play is not supported
Fenice for Twitter is a premium Twitter client app for Windows. The layout of this app has been specifically designed for large screens. However, it's not as intuitive as Twitter for Windows, but you can navigate easily and quickly across the interface.
Fenice offers various features like interactive notifications filters to mute hashtags, offline tweeting, etc. It also displays the messages, notifications, and feeds in different timelines. So, you can view it on the entire display of your desktop.
Apart from that, this Twitter app lets you access multi-accounts, watch thumbnail previews, and even adjust colors.
If you are willing first to try out the platform, you can go for its 24 hours free trial before purchasing the premium plan.
Pros:
Suggests relevant hashtags
Automatically updates feed to show recent tweets
Allows offline tweeting
Interactive notification functionality
Cons:
Paid
The user interface is slightly complicated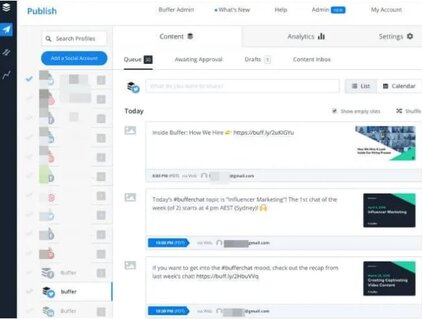 Twitter is a helpful platform for promoting businesses. But for that, you need to use the platform regularly for posting tweets, sharing content, sending direct messages etc., which may not always be possible.
However, with Buffer, you can create and schedule tweets and analyze their performance so that you can identify your audience and the best response times. It is an ideal application for those, that use Twitter for business.
It also lets you manage multi-accounts and your other social media accounts like Facebook and Instagram.
Buffer offers a free version with limited functionalities in addition to a paid version.
Pros:
Excellent for business use
Allows post scheduling
It lets you monitor the tweet's performance
Cons:
The free version allows only one account usage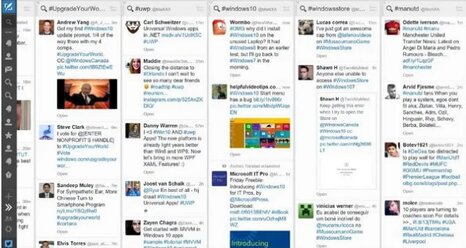 TwitDuck is another Twitter alternative for Windows. The app has been designed to add more functionality to the Twitter app.
It offers several features that are not available in the official Twitter web app. Some of these include the ability to filter orschedule tweets, track your activity, display notifications on the same screen, interactive notifications, and even feed customization options.
If you have been a TweetDeck user, then you'll love the TwitDuck app, as both provide similar functionalities.
Pros:
Allows feed customization
It lets you respond directly using the notifications
Intuitive interface
Cons:
Tweet scheduling is not possible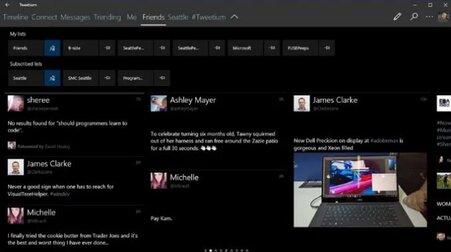 Tweetium is known for its excellent design scheme that displays the content from Twitter in multiple timelines. It shows the tweets horizontally and each image in full resolution. So, even if you don't open a tweet, you can view the picture clearly.
It has a quick and reliable interface that lets you get the most out of Twitter effortlessly. And its responsive design adjusts according to your device's size to give you the best viewing experience.
You can even personalize this Twitter app by modifying the theme color, background picture, etc.
Additionally, with the live tile, you get constant updates and replies from your Twitter account.
Pros:
7-days free trial includes all features
Supports multiple windows
Unique and intuitive user interface
Cons:
Lacks premium features that most other apps provide
8. Tweetz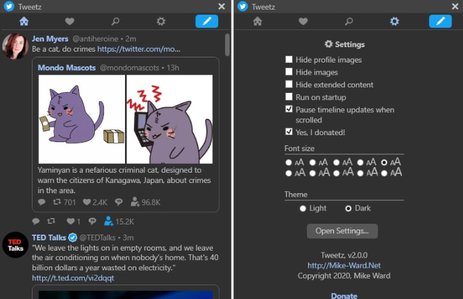 Tweetz is a beginner-friendly Windows 10 app for Twitter. It has an unbelievably clean interface.
The app simply replicates all the data from your Twitter account to your desktop client. It allows you to tag people, post or schedule tweets, sending direct messages and access notifications right from your computer screen.
However, Tweetz does not provide various features like post scheduling, filtering hashtags, and several other features.
In a nutshell, although the app does not offer professional features like Fenice, it's a fantastic platform to use as a secondary app. And it's free to use!
Pros:
Allows feed customization
It stays active regardless of the app you are using
Free for download and use
Cons:
It does not let you use GIFs, Emojis, etc.
The interface lags sometimes.
Related:
- Best android twitter app
- What is the best Twitter app for Mac?
Conclusion
---
Twitter's API does not support third-party Twitter client apps much, and the official Twitter app is only suitable for basic use. Hence, if you want to get the most out of Twitter, you can choose any of these best Twitter Apps for Windows 10. All of the apps can be very helpful for browsing Twitter on your Windows 10 desktop, whether you want to use Twitter for business or personal purposes.
The interfaces of all these twitter clients are almost similar. But the functionalities of each of the apps are different. So, make sure to pick the one that fulfills your requirements.