Did you suddenly realize that Tweets from a particular someone are missing from your timeline? Or that someone is not responding to your tweets. Then there is a very high chance that you have been muted.
The Twitter mute feature lets you ignore a person without going through the divisive process of unfollowing or blocking them. It is equivalent to the "hiding all" feature available on Facebook.
Muting on twitter provides control over your Twitter feed. No notifications will be sent to Muted accounts and they can be unmuted anytime you want. Muting is a useful safety tool that helps to customize your Twitter experience.
Now you might be thinking 'who muted me?' When we came across this concept we had the same question in mind. After going through a lot of guides we found just the right answer for you. We now know a secret trick that allows you to see who has hidden your tweets.
Also Read: How to see who blocked you on twitter
Check if Someone muted you on Twitter or not via Tweetdeck
Tweetdeck is an application that is used to manage twitter accounts. By using this application you can find out who muted you. To know about this follow these steps.
Step 1 – Install Tweetdeck
First, download Tweetdeck and sign in with your username and password the same as of twitter account.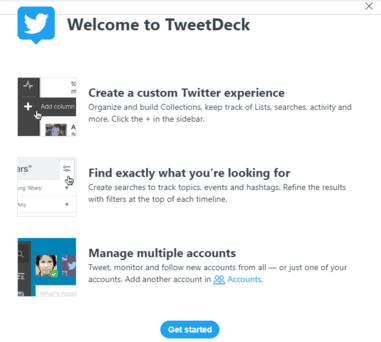 Step 2 – Add a Column
On the left most corner of the main view, click on the
sign to add a new column.
Step 3 – Choose a column
A dialog box will open with the title Choose a column type. Select your column type " home ".
Step 4 – Twitter Handle
In that view, add the Twitter handle of a person you suspect has muted you. You will see their timeline now.
Step 5 – Publish A Tweet
Post a tweet to all the followers, and then observe the changes in the Home column.
The published tweet should appear in the home column. If the tweet doesn't appear, that means it does not show up on the person's timeline. Then it is likely that you have been muted.
You can follow these steps to check for all the persons that you think might have muted you. We hope the list is not very long as the method is tedious but does seem to work.
Method 2 – Check if you've been muted on twitter
Sometimes, people temporarily mute accounts, with a positive intention let's say, to avoid spending more time reading the notifications of people who are active Twitter users. Later they completely forgot to unmute. Or if they are trying to manage their Twitter account just for work.
If you feel that this can be one of those cases then You can also simply ask the user whether he has muted you or not. This might not be very useful because generally, the intention behind muting is to hide the reality from you along with removing the post that is not of one's interest
You have one more method to save yourself from embarrassment and still get an idea of if you really are muted by a specific person. When the person is online, you can flagrantly tweet about that person and see if they notice. If they don't react, you know you're muted.
Important things to know about Being Muted on Twitter
If someone has muted you they can still continue to follow you, and you can follow them too.
No push notification will be received by the muted account. That was of course the first intent behind muting.
Even when the account is muted, you can still send the Direct Message.
What happens when you Mute Someone on Twitter
If you are wondering how muting someone on twitter will affect the notifications and Twitter feed of people you have reached the right section.
Replies and mentions by you will still appear on the person's notification tab, but not on feeds.
Tweets that you posted before you were muted, will be removed from the Home timeline of the person who has removed you on Twitter.
When they click or tap on the conversation tab with you, your reply will be visible to them.
If you get all obsessed over the fact that someone has muted you, then it is suggested that you should not get into this process. Some people would say that someone hates you on twitter. It definitely hurts or one can even call it "a digital funeral". So if you can not take the consequences of the search, then do not trouble yourself, by trying to find out who has unmuted you.