You need to check all the individual accounts to know who blocked you on twitter.
What you won't see on twitter if you are blocked by someone
You won't see any notification from the account of that person if you are blocked on twitter by them. Moreover there is no way you can find the list of people who might have blocked you.
You can not contact that person neither you can see their Tweets, and not you can follow them.
To confirm that, go to the twitter account of that person and see whether you are seeing a message like in the image below "you blocked".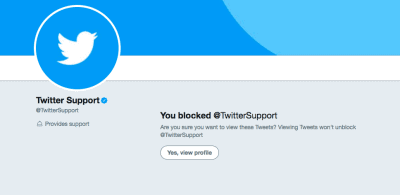 Twitter has give so many tools to control your accounts, feeds and notifications, includes blocking and mute. These features gives you ability to block or mute people whom you don't want to engage with.
There is one bad news that you won't be notified if someone has blocked you. There is no tool that provide you list of accounts who have blocked you.
Now you need to follow the below steps to find out who have blocked or muted you on twitter.
How to find out who blocked you on Twitter
As we have mentioned before there is not tool provides by twitter or third party to see list of accounts or people blocking you. We suggest you to follow manual procedure to check the suspected accounts individually.
1. Open Twitter app on mobile phone or website in browser.
2. Type the profile name of person in the search box you suspect might have blocked you.
3. If you are blocked by someone , you won't be able to see their tweets, or followers list. Instead it will display a message that "you are blocked" like show in image below.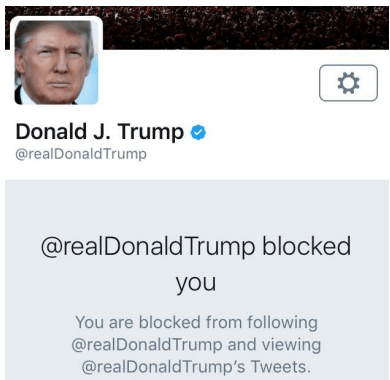 This is what you will see if you are blocked by Donald Trump on Twitter
What does this mean for you being blocked on Twitter?
Being blocked by a Politician, Celebrity, Sports Star or even you Friend, it doesn't feel good neither in real life nor on twitter.
By now you must have known that you can't view the any type of content from that person's account be it tweets, retweets, comments. Even though you can send them direct message but they won't receive it.
Moreover, by being blocked means you can't follow that person. You also won't see their tweets in your feed. You can't tag them as well in any of your tweets.
Also Read: