Twitter is strict when it comes to enforcing its rules and policies. Twitter believes in building trust with its users by providing a safe platform. But what happens if you tweet something that violates the law?
Does Twitter report this activity to the police? Here we will explore this question and provide some answers.
Twitter records user information to check their credibility and improve their experience with Twitter. Twitter provides an option to People to report Tweets, Direct Messages, and lists containing abusive, harmful content, impersonation, copyright, spam, and trademark violations.
People can report tweets to the Police with the help of Twitter. Twitter has established guidelines for law authorities seeking information about Twitter accounts. Twitter promises to cooperate with legal authorities.
Here's your quick guide to knowing how Twitter works in creating a safe and secure platform for its users.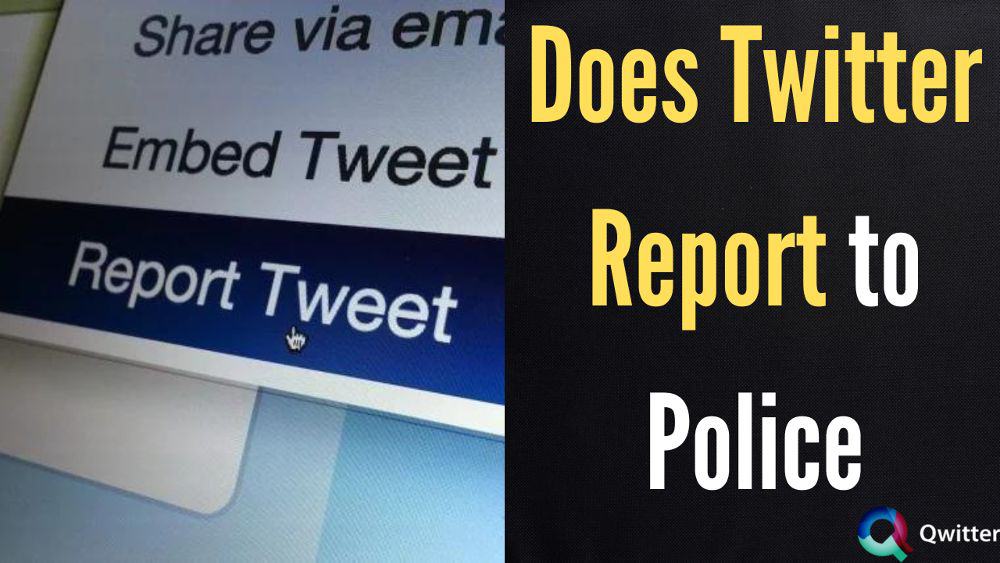 Does Twitter Really Report to Police
---
Twitter takes actions on its level, from a warning to permanent account suspension. Twitter rolled down a feature on its platform in 2015 that makes it easy for people to report abuse and threatening tweets to their local authorities.
Twitter'sTwitter's terms of service clearly state that they will provide their full cooperation with law enforcement if needed. Local authorities can request Twitter to provide users with private information in the following ways.
A court order or subpoena– Twitter will only provide private information if authorities submit the request through the legal process, such as a court order, subpoena, and a valid emergency request.
A valid search warrant – Law authorities can request for accessing users' communications content ( tweets, photos & direct messages ) through a valid search warrant from an agency with a strong jurisdiction over Twitter.
Emergency disclosure requests – Twitter may disclose account information in situations of the danger of death or a physical injury to a person to law enforcement officers through emergency disclosure requests.
What Happens if Your Twitter Gets Reported?
---
The person who reports the account receives a confirmation message from Twitter informing them that they have received their report.
Then, Twitter reviews the reported account for the violation of their policies. Twitter conducts in-depth research. If they find that a particular account is responsible for breaking their laws, they take action from warning to temporary or permanent account suspension, depending on the depth of violation.
Twitter takes action against a reported account at three levels.
Tweets level enforcement – Twitter replaces the original reported content of a tweet with a notice stating that it's reported.
Direct-messages enforcement
Account-level enforcement.
Twitter Makes It Easier to Report Threats to Law Enforcement
---
Twitter made it easier to report threats and abuses to local authorities.
If a person receives a threat on Twitter, they can report that tweet, profile, or Direct Message directly to Twitter.
If someone Tweets or messages a violent threat to another person. If that person fears for his or someone else's physical safety, he can also contact the nearby local law enforcement agency.
The respective law authorities can assess the threat validity, investigate the threat source, and respond to physical safety concerns. If the law enforcement contacts Twitter directly, it will cooperate with them to provide the relevant information for help in their investigation.
Can You Report Tweets to the Police?
---
A person can get a copy of their report of a violent threat from Twitter. They can share that report with law enforcement and local Police.
How to Report a Tweet to the Police
---
It's very easy to report a tweet to the Police with the Twitter simplified procedure. Twitter provides a report summary that a person can send to local authorities. You can follow this procedure.
First, report a threatening tweet to Twitter by clicking on the Report option.
The user receives an option at the end of their screen to receive a summary of their report for sending to the Police.
Tap on the " Email report" option.
The email contains information about the threatening Tweet, your URL, account information, the responsible person's Twitter username and URL, a timestamp, and your report's timestamp.
How Does the Police Use Twitter to Track Someone Down?
---
Yes, Police can use Twitter to track down someone easily. Police need personal account information from Twitter.
To access the information, Police will have to submit a court order or subpoena or a search warrant and emergency disclosure requests depending on the information they want.
After twitter approves the request of the Police, it provides them with the required information. Twitter has described in its privacy policies all types of information they collect from its users.
The information they collect from users falls under three categories.
Personal and professional information people provide on their accounts.
Personal information such as username, email address, and phone number.
Professional account information such as a street address, email address, and contact phone number.
Payment information
Preferences settings
Information Twitter collects when users engage on its platform.
Tweets
Engagements with other content.
Payments & Purchase activities
Device Information: Information about the device people use to access Twitter includes the IP address, browser type, device settings, operating system, language, memory, carrier, installed apps, and battery level.
Location information – approximate location of accessing Twitter
Information from third parties.
When people use other online products, third parties may share information about them with Twitter.
Police can use device information and location information for tracking a Twitter user.