With millions of tweets posted daily, many Twitter Users want to look back at their old tweets or search for tweets from other users. What if anyone wants to search for tweets from a specific date range? Many users are unaware of the Twitter useful search features on the app. 
Are you looking at How to search tweets by date on the app? and don't know the exact steps to implement? In our article, We have described two easy methods to search tweets by date on the Twitter app. Keep reading to find more helpful information.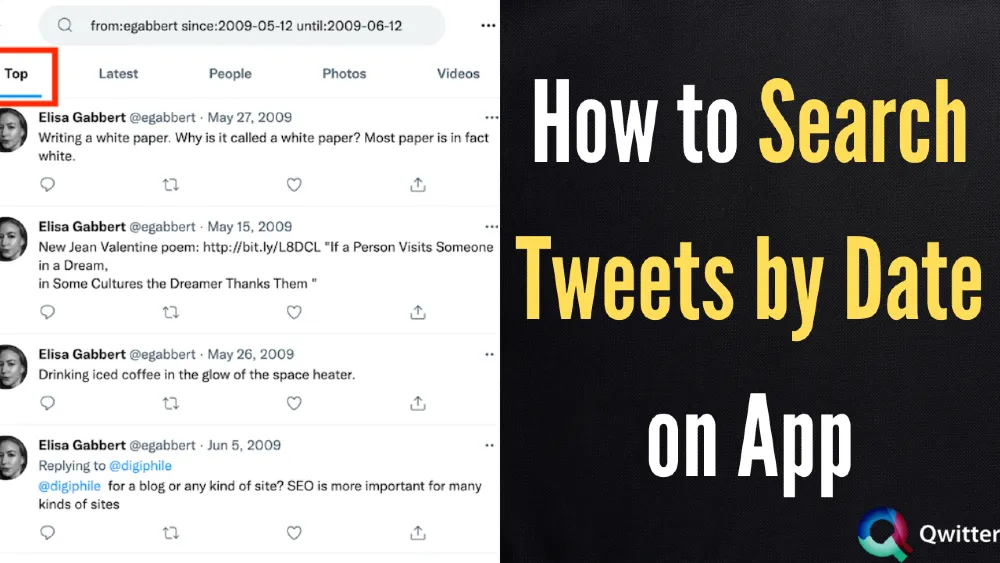 How to Search Tweets by Date on App
---
To search for tweets within a date range, we will use Twitter's search feature. The second method sorts tweets on any topic.
The Twitter app includes only the regular search feature, which has fewer options than the advanced search feature, which lets any user search content with precise intent.
Here we will focus on people using the app to conduct their search by date.
Searching Tweets by Date Range
You can use this method to search your and anyone's tweets.
Steps to find tweets by date range
Open your Twitter profile in the app.
In your dashboard, navigate to the end of your screen.
Click on the magnifying glass icon, which is the search bar.
The next steps focus on typing the username and date range in the specified format.
Use this format from:[user name] since:YYYY-MM-DD until:YYYY-MM-DD in the same manner.
Customize your search results as per your query.
Write your Twitter handle and choose the dates.
Tap on the search option.
If you want to search posts from another user, enter their username. Select a range.
Twitter displays all the tweets posted during requested dates.
Twitter provides access to advanced search settings on Twitter.com. If you are opening your Twitter profile in your mobile browser, visit https://mobile.twitter.com/search-advanced. With specifying dates, You get more options like-
Words used in tweets – You can write any or all words that are a part of a particular tweet.
Exact phrases are contained in the tweets.
Data range.
Hashtags in tweets – Find any tweet containing the hashtag you type.
Tweets from a specific profile.
From Accounts.
Include Tweets with links or only tweets with links.
Amount of engagements (i.e., tweets with the minimum number of replies, likes, and retweets).
Sorting Tweets in Order
Using this method, you can easily find tweets on any topic through keywords, usernames & hashtags. You can find tweets on your profile, including local brands, business companies, news channels, friends, global celebrities, and political leaders. You can find exciting conversations around any topic of your interest.
Twitter gives you more control over the content you view by adding Safe search options and more filter options.
Hide Sensitive content
Remove blocked and muted accounts
Filter options
Top – In this option, you can view top posts with a good engagement rate for your selected keyword, handle, or hashtags.
Latest-In this, you find the latest posted content.
People – In this, Twitter shows you suggestions of accounts based on the keyword you type. If you enter a Twitter handle, You find all posts related to that account.
Photos – This option shows you posts containing photos with or without texts. You can get more ideas to create your own images.
Videos – As clear from the name, You see all posts containing videos as per your query. You can get more ideas for your niche.
Steps to sorting tweets in order
Open your Twitter profile in the app.
In your dashboard, navigate to the end of your screen.
Click on the magnifying glass icon, which is the search bar.
The search bar appears.
Type your query in the search bar.
For example- if you write "motivational quotes." You get the motivational posts.
Filter your search results by choosing from Top, People, Latest, Videos, and photos.
You can further filter tweets from two options: "People" and "location."
Tap on the icon next to the search bar and find the above filter options.
In People, You can select to view posts from anyone on Twitter or People you follow.
Search content from anywhere or near you.
Tap on the three dots icon, where you will see three options – search settings, Delete search, and share.
You can choose to turn on "hide Sensitive content" to avoid seeing sensitive content in your results.
Also, In the "Remove blocked and muted accounts" option, you can decide not to view results from your muted and blocked account.
You can apply many combinations of search filters to find the posts. Twitter's search filters are easy to understand. In the app, You manually add the date range. Unfortunately, Twitter's advanced search filter function is unavailable for its mobile app.
If you want to search by date on the mobile app, use our way of typing "since:" to "until:" operators. Open the Twitter mobile browser version, which provides the Advanced Search function.