A Twitter thread is a series of tweets that are all connected to the same topic and tweeted one after another. It's not just an interesting way to share thoughts, but it also helps users avoid posting something they later regret because they have more time to think about what they're saying on social media. If you're thinking about how to make your own Twitter thread, don't worry – we've got you covered with this article!
Why make a Twitter thread?
A Twitter thread is generally used to add updates to the existing tweets. Moreover, a thread might be helpful in storytelling and adding points to earlier tweets. As you must be aware that there is a limit of 280 characters in each tweet and expressing yourself within a word limit is next to impossible. Sometimes you need to add multiple tweets to express your thoughts. That's why you must learn how to create a Twitter thread. This will help you link various tweets into a single tweet.
How to Make a Twitter Thread
One of the simplest ways to make a thread on Twitter is by replying to your own existing tweets. In this method, you need to publish a tweet first and then make a reply to the same tweet by continuing the information. Since there is a 280 character limit, you can now publish another tweet by replying to the second tweet and continue with the same until you have expressed everything on your mind.
Being the simplest method, it comes with a flaw. As replying to the existing tweet may take up some time, your followers may start replying to your published tweets and ask related questions that you were about to explain in later tweets. This can cause unintentional misleading information at the first sight.
However, Twitter has now provided a solution to this problem. You can create a Twitter thread using Twitter's built-in thread feature that allows you to compose a whole thread consisting of profuse tweets and publish them all at a time to avoid any confusion.
The detailed steps for using Twitter's in-built thread feature are elaborated below:
1. First of all, you need to visit the Twitter website or open the Twitter app on your Android or iOS devices.
2. Here, you must tap on the compose icon provided on the homepage. It is a blue icon consisting of a feather and a plus symbol. Whereas, you will find this option as "What's happening" on the top of the Twitter website.

3. Now, you must write the first tweet of your thread as you usually do.
4. Tap on the "blue-plus" icon available in the lower-right corner to add the next tweet to your Twitter thread.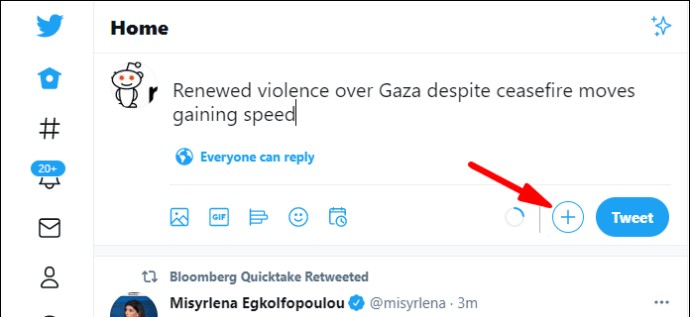 5. Now write another tweet in the thread and tap on the "blue-plus" icon again.
Continue these steps until you are finished and then finally tap on the "Tweet all" option. This will help you publish all your tweets as a thread at the same time.
How to Start a Twitter Thread for a Published Tweet
If you want to add a new thread for old tweets on your account, you can now do so using Twitter's amazing update. You need to follow these simple steps to start a Twitter thread for a published tweet:
You must visit the Twitter website and click on "What's happening" at the top of the homepage.
Now, you must write the tweet you want to share.
Pull down and click on the three-dotted menu to view old tweets and choose the "continue thread" option.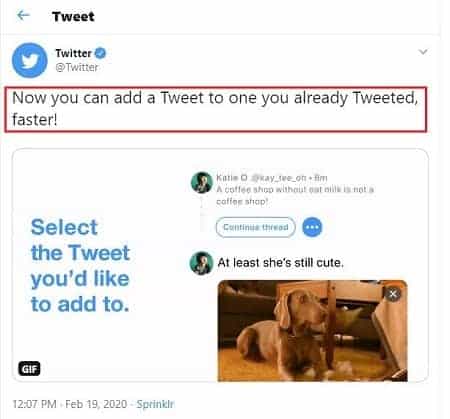 This will allow you to add a thread to your existing tweets. You can use this option to provide additional updates to existing previous tweets.
How Many Posts Are in a Twitter Thread?
You can add up to 25 tweets in a single thread. These threads contain tweets that are linked to one another consisting of images, GIFs, polls, etc. This can help you express your thoughts without any interferences between consecutive tweets as all the tweets get published at the same time.
Are Twitter Threads and Tweetstorms the Same Thing?
However, sometimes Twitter threads and Tweetstorms can be referred to as one and the same thing, but it is not always the case. A Tweetstorm refers to rapid tweets made by a user. If a user is adding continuous tweets in reply to a previous post, it may be termed as a thread. Although if the same user is adding the tweets without any reference or context to the previous post, then it will only be termed as Tweetstorms and not a thread.
We hope that this comprehensive guide will definitely help you with all your doubts about how to make a Twitter thread. For more information on Twitter and related updates, stay connected with us.