Every Twitter user must have seen the blue tick next to display the names of their favorite celebrities and public figures. Do people wonder what the benefit of getting the blue tick?. Twitter users obtain this authorized blue badge when Twitter verifies their Accounts.
In this article, we will describe What Does It Mean to Be Verified on Twitter? Keep reading to explore every helpful information regarding the blue tick, including the application procedure and the benefits.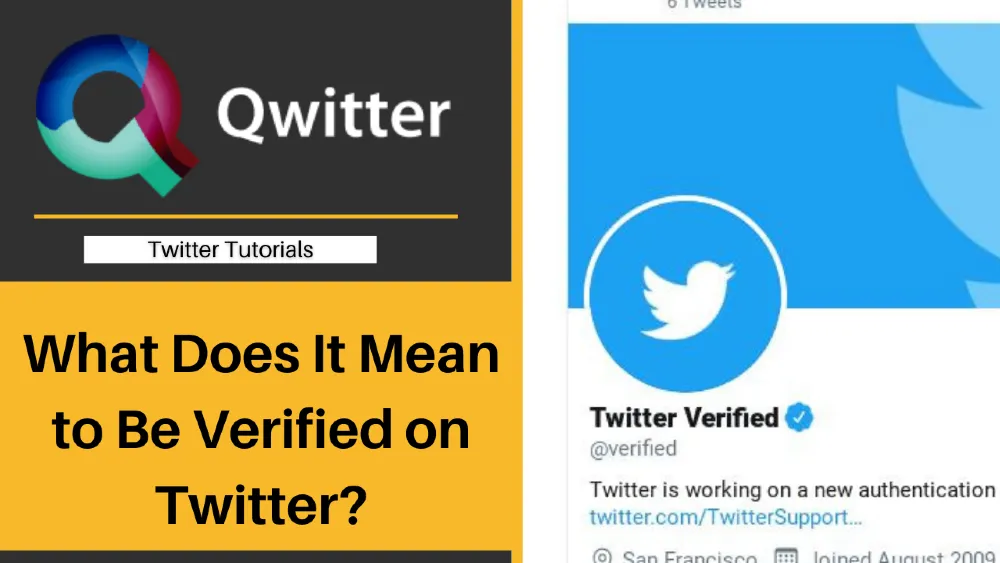 What Does the Blue Tick on Twitter Mean?
---
The blue tick on Twitter next to any account name proves that the concerned person's profile is authentic. Twitter has verified the accounts with a blue tick. Verified accounts mostly belong to famous celebrities, influencers, politicians, journalists, brands, companies, sports personalities, etc.
After getting the blue badge, Twitter users can trust that a particular account belongs to a notable person. Twitter never sells the blue tick.
Why Does Twitter Verify Accounts?
---
Twitter verifies accounts to confirm the authenticity of accounts from celebrities, popular brands & organizations so imposters cannot misuse their names to create fake accounts. Before that, many people were creating unauthorized accounts from the names of celebrities.
After introducing a blue tick on Twitter, it becomes easy for people to trust the correct accounts and avoid falling into the traps of imposters.
What Types of Accounts Does Twitter Verify?
---
Twitter has set criteria for the profiles to obtain the status of verified accounts. Their Account must be notable, authentic, and active. Here's how Twitter decides whether an account satisfies the three criteria.
Twitter has defined some categories from which the Account applying for verification must belong. These are-
1. Government ( current government departments, ministries, agencies, and institutions )
2. News institutions and individuals in this field.
3. brands, companies, and organizations
4. Entertainment Industry ( including individuals and companies)
5. Gaming & Sports industry ( Professional sports teams, organizations, professionals & leagues)
6. Organizers & Activists
7. Content creators & different influential people
Twitter's Criteria for an Authentic Account
---
Here, users have to confirm their identity. Depending on which category an individual belongs, Twitter asks to choose one method from the three for identity verification.
Users must provide the official website links that reference them (or their organization) and their Twitter account. For people, the institution owning the website must be already Verified on Twitter.
For id verification, users can provide their accurate official government-issued documents, such as passport or Driver's license. This condition only applies to individuals, not to brands & organizations.
Users can provide their official email addresses with domains appropriate to their chosen category.
Twitter's Criteria for a Notable Account
---
Users' accounts must be associated with or represent a prominently identified individual or brand, in sync with the notability standards defined below. In all the categories, Twitter can alone ensure qualifying affiliation via business partnerships and direct outreach. Twitter may request the below-described information from every category to establish notability.
News Coverage: Users will provide news articles either about them. Articles can reference them or their organization numerous times. These articles must belong to verified news institutions and must not be self-published content or blog. For some categories, Twitter may ask users to submit articles that link to them or their organization's Twitter account.
Google Trends: Users will Provide the link to their Account on Google Trends that displays search history and should be connected to the category the user is applying for.
Wikipedia: The user can Provide a link to a Wikipedia article regarding them or their organization meeting the encyclopedia's notability benchmarks.
For the entertainment industry category, Twitter may request more additional industry-specific references like an IMDB page link.
Followers/Mentions Count: If the user's Twitter account is detected in the highest .05% follower/mention count for their geographic location. Twitter can also include this as notable evidence.
Twitter's Criteria for an Active Account
---
Twitter checks this criterion by matching it with its rules. This means:
Complete: Users profile must have a display/handle name and the profile picture.
Active use: Users' accounts must be in public mode when applying for an application. They must have logged into their Twitter account in the prior six months.
Security: Users' accounts must include a verified phone number or email address.
Twitter Rules: In the last 12 months. Users' accounts must not have the 12 hours and 7 days lockouts after breaking the Twitter rules. This condition excludes successful appeals.
Benefits of Getting the Blue Tick on Twitter
---
In addition to confirming an account's authenticity, getting the blue tick brings additional benefits that add value and a trust factor for the audience connecting with the verified accounts. People come across various fraudulent activities on Twitter.
Here are some benefits that drive people to have the blue badge.
1. Greater Credibility
Owning a blue tick delivers better credibility and aids in boosting trustworthiness among the user's followers. People rely on these accounts for digging for credible information.
People rely on and follow the ideas shared by verified accounts. Everyone prefers to obtain knowledge from sources that are credible.
2. Reduced Fear of Impersonation
In the past, many influential names from different industries have been subjected to impersonation of their Twitter account. A confirmed Twitter account decreases the probability of somebody impersonating an identity.
So, next time any person makes a different account imitating an influential person's identity, users can easily recognize the original Account. They can report fake accounts. 
Plus, the verification badge assists cut down on phishing attempts. A phisher can impersonate the Account. It can begin sending messages to the influential individual followers declaring they're qualified for a gift etc.
In exchange, people can share their sensitive data with the spammer's website.
3. More Followers
Verified accounts appear on top of the search results when anyone searches them. People can easily find authentic accounts of their favorite personalities. An account with blue tick witnesses the fast community growth.
Verified accounts gain better visibility and reach in comparison to non-verified profiles. Verified accounts receive an inflow of messages  & followers from people peeking for verification.
4. Potential Increased Engagement
People willingly interact more with the tweets from verified accounts and find them appropriate for the engagement. A blue tick on an account reflects the value. People can build their prestige as prominent industry experts.
Small brands approach verified accounts to promote their brand as an influencer. Such people frequently get more engagements on their posts. 
5. Sign of Trust From Twitter
People pass Twitter's criteria with consistent efforts to shape their popularity. Therefore, a blue tick signifies the sign of trust the user obtains from Twitter.
6. Can Lead to Verification on Other Platforms
Tiktok users benefit from getting their accounts verified on this platform by linking with their blue badge Twitter handles. This increases their odds of receiving the blue tick on tik-tok.
Is the Twitter Verification Blue Tick Permanent?
---
No, the Twitter verification blue tick is not permanent. Twitter reserves the right to snatch blue ticks if the owners fail to comply with its terms of service.
The actions that can lead to losing the verified status.
1. Changing Your Username or @handle
Twitter automatically withdraws the blue tick from your verified Account if you change your @handle ( username). This step can be a sign of an account being hacked or renamed.
2. Switching to a Private Account
Twitter has clearly mentioned that an account must be in a public setting while applying for verification. In private mode, only followers can view & engage with tweets.
3. Allowing Your Account to Become Inactive
Twitter clearly says that owners of verified accounts must stay active. Otherwise, they will lose their blue tick.
4. Leaving the Position You Were Initially Verified For
For example, an elected government administrator who has left his current status for any reason becomes eligible to lose the blue tick. This was the same identity for which a user received the verified account status.
5. Changing Your Display Name or Bio
Twitter sees this as an attempt to modify the verified Accounts persona. This attempt may be seen as a try to mislead individuals.
6. Violations of the Twitter Policy
Twitter may withdraw the blue tick from accounts found in repeated or severe breaches of the Twitter Rules. This can include hateful conduct, abusive behavior, platform manipulation, spamming, etc.
Can You Now Apply for Verification on Twitter?
---
Yes, you can apply for verification on Twitter anytime. Before applying, read the criteria to analyze if your Account is eligible for the blue tick. If your Account satisfies the criteria, here are the Steps to apply for the verification process.
People accessing the Twitter web click the Settings and privacy option inside the more menu.
Then, navigate to "Your Account" and click on "Account information."
Enter your Twitter account password and then navigate to Request Verification.
Android & IOS users, tap on the Settings and Privacy, then Account. Tap on the Verification request option.