Sometimes, Many Twitter users employ third-party services to Auto-follow accounts automatically. If you want to stop this auto-follow activity and are curious about How to stop Twitter Auto-follow, you are on the right page.
This article will also be informative for people who have not started this service on purpose. Stay reading till the end to find step-by-step instructions to stop auto-follow.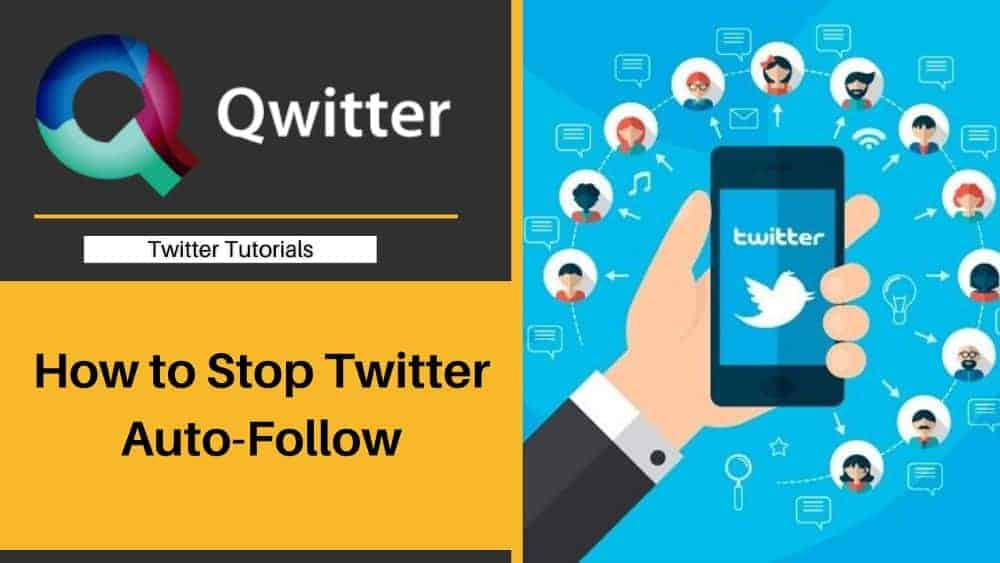 Does Twitter Follow Accounts for Me
---
No, Twitter doesn't follow accounts for any of its users. If you created a new Twitter account and want to gain more followers, one way is to search the social network manually.
Some People use automation tools and software programs to follow new people automatically. Twitter doesn't appreciate using automated following tools or softwares on its platforms.
According to Twitter, the real growth lies in building meaningful communications, not on many followers.
As Twitter's laws state, "The best auto-following manners Twitter permits is auto-follow-back. It means following any user when they follow you.
Automation tools often break Twitter Rules differently by following/unfollowing many accounts at a time, frequently posting duplicate or retweeting spam links, updates, etc.
All these activities can get your account banned. Twitter allows having unlimited followers but limits following a limited number of people.
My Twitter is Following Random Accounts? What to do?
---
If you have permission for third-party apps to run their automation activities on your account, you can revoke the access by following the steps mentioned in the next section.
If you have nothing to do with following random accounts, then possible chances are that your account has got compromised or hacked. Kindly follow the next steps.
Change your Twitter password – Keep a strong password this time.
Ensure that your attached email address is secure and you can only access it. Change the email address from the Account settings section.
Cancel the links to third-party tools and apps not connected by you.
Consider utilizing a two-factor authentication method.
Update the passwords of your authorized third-party applications.
How to Stop Twitter Auto-Follow
---
If you want to stop Twitter auto-follow, you can withdraw the automation tool or software access provided by you to your Twitter account by in-built settings. Once you are inside the settings, you see all the applications you have provided access to.
Just implement the next steps that take only 1-2 minutes.
Step 1
Open chrome or any other web browser on your desktop. Login by entering your Twitter username and password. You will get directed towards your home feed.
Step 2
In the extreme left corner, Click on the three dots more option. A pop-up menu appears on your screen. Select the "Setting & Privacy."
Step 3
Further, Select the "Security and account access" option and then the "Apps & Session" option.
Step 4
Move to the section of "connected apps." Here, you get the lists of all connected apps. Direct link to open this page- https://twitter.com/settings/connected_apps
Step 5
Click against the name of the application you wish to remove. You can view the following information: description, date added, home page link, and permission.
Click on the bottom link emphasized with the red color named " revoke app permissions."
Step 6
Further, you can report the application if you wish. Otherwise, go back and remove others in the same manner. The access gets revoked till the time you can grant this application permission. Till then, automation will stop on your account.
Why Are Random Accounts Following Me on Twitter?
---
There could be the following possible reasons why random accounts are following you on Twitter. However, keep in mind that using a reliable VPN service on social media platforms such as Twitter can help you with cyber threats and protect your online privacy by encrypting your internet connection and blocking unauthorized access to your personal information.
Public Account:
By default, Any new Twitter account remains in public mode until any user changes the settings to a Private account.
Other users don't require permission for requests sent to follow a public account. If you see an increase in your followers by random accounts, check and adjust your account settings.
Strange accounts wishing to get a follow-back
The random accounts can belong to any user who might be interested in your content or wishes to get more followers for their accounts. Sometimes, when you hit back the follow button, there are all possible chances that they may remove you from their list.
They find your accounts through keywords and hashtags you include in your tweets and profile information.
Twitter Bots
Twitter bots can be behind the face of random followers. These are automated bots created by third-party apps. Twitter bots can prove helpful and malicious both.
They act like regular Twitter users and interact with your tweets through likes, retweets, etc.
These automated bots may have found your account through the keywords added by you in your posted content.
Some Cybercriminals employ Twitter bots to disperse malware and send these to pursue Twitter users. Be aware of such bots. Sometimes, they contain malicious links and can hack your account.
Can Someone Follow You on Twitter Without Your Knowledge?
---
Without your knowledge, no setting or way can help someone follow you on Twitter. The same applies in your case too. The moment any user hits the follow button next to your profile, you will get a notification.
Creating Twitter lists is the closest way to follow someone.
The users you add to those lists will not receive notifications for addition. You can keep the list Private, so only you can view that. Through the list, you can view all of their tweets and activities like retweets, etc.