In a zeal to stay on top of the social media world, Twitter takes action to improve its platform usability for users. One of these efforts includes acquiring companies and platforms that can help Twitter become more robust and gain more active users, revenue, and popularity.
This article describes the List of Twitter Acquisitions – Subsidiaries Owned by Twitter. Keep reading to discover which popular companies are now part of Twitter.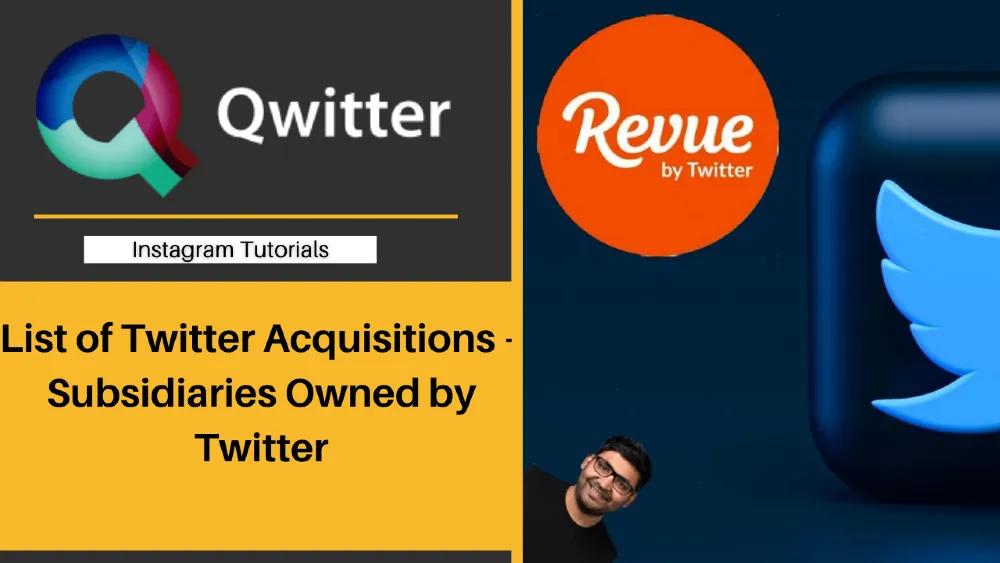 List of Twitter acquisitions
---
According to Reports, Twitter owns more than 55 organizations. Here we have mentioned the top 22 Twitter acquisitions which have helped it raise its social media game. You will find what valuable services these acquired companies provide to users worldwide.
1. Aiden
Twitter acquired this AI-based digital marketing company in Nov 2019. 
After the acquisition, This firm mentioned in a blog post that its AI analysts would serve Twitter by powering its advertising model in unlocking small businesses' performance. Twitter's revenue product general manager considered this an opportunity to enhance their self-serve services for their customers.
2. Fabula AI Limited
To advance its inside and outside platform in machine learning, Twitter acquired this Geometric in-depth understanding and fake-news detection company in June 2019.
For Twitter, this investment will become an essential driver in making Twitter users feel secure and engage with relevant content.
Fabula AI Limited comprises a team of world-level machine learning experts who utilize graph deep understanding to find network manipulation.
3. Highly
Twitter acquired this Highlight sharing application on April 17, 2019. Initially, this company's CEO was unaware of the app's role for Twitter. Twitter confirmed with Techcrunch that it is buying this app for its team.
4. Smyte
Twitter acquired this fraud and spam prevention service company on June 21, 2018, for $65 million. Twitter bought this company with the mission to concentrate on enhancing the soundness of conversation on its platform.
They believed that smyte would assist them in addressing challenges related to spam, safety, and security more effectively and quickly.
5. Yes, Inc
Twitter acquired this mobile application startup on December 1, 2016. After this deal, The CEO of this company Keith Coleman joined Twitter as the new Vice President of Product. Yes, Inc shut down its two mobile apps.
One is related to conveying status updates, and the second is Frenzy, which helps create schedules with buddies.
6. Magic Pony Technology
This company was related to network systems that Twitter acquired in 2016 in a deal worth $150 million. Twitter wanted to enhance its platform's machine learning abilities.
After the acquisition, Twitter obtained technology connected to machine learning and neural network growth to improve video quality, extend a picture's dimensions, and create virtual actuality graphics.
7. Peer
Twitter acquired this manager & employee feedback tool on April 8, 2016. Peer aimed to reinvent performance assessments and help build an atmosphere where workers could observe their performance constantly.
After the acquisition, Twitter didn't mention how it would combine peer technology with its platform. Peer announced they would dedicate their support to developing honest discussions on Twitter.
8. ZeroPush
Twitter acquired this Push notification services company on October 21, 2015, where they didn't disclose the deal amount.
Developing Zeropush aimed to reduce the complexity of transmitting push notifications on apps and to ease the challenge for developers with powerful tools.
Lots of companies use this API service to send lots of push notifications. Twitter wanted to take advantage of zeropush services for its platform.
9. Fastlane
Twitter acquired this tool for building iphone apps on October 21, 2015. with the undisclosed amount. This contains the tools set popular among iphone developers as a simple way to update and test their apps.
During the Twitter annual conference for its developers, They presented Fastlane as an integration with the Twitter Fabric platform developed especially for app developers.
10. Whetlab
Twitter acquired this Machine learning company on June 17, 2015. Twitter bought this artificial intelligence startup to improve its platform's machine learning measures.
Whetlab technology fastens the procedure of tackling the most challenging advanced problems in machine learning. One of this deal's goals was to involve more additional AI tools in advertising.
11.TellApart
Twitter acquired this digital advertising medium in 2015 by purchasing stocks worth $479 million. Tellapart increases Twitter's advertisement earnings collected through ads by encouraging users to execute a specific activity.
This platform's specialty is targeting users across desktop and mobile devices to observe use. After 2017, Twitter discontinued investing in this platform.
12. TenXer
Twitter acquired this software startup on April 2, 2015, for a deal settled under $50 million. TenXer helps organizations handle their engineering & programming tasks.
Twitter planned to utilize this technology internally versus presenting it to developers as it did in the past with other acquisitions Crashlytics. 
13. Periscope Co
This is a startup company for live-video streaming that Twitter acquired in 2015 for $100 million ( in exchange for money and inventory). Twitter wanted to expand its video abilities jointly with the other real-time broadcasting organizations. This company allows clients to glance at earlier published cellular video streams. 
14. Niche
Twitter acquired this Advertising and software company on February 11, 2015. Niche assists advertisers in working with influencers on platforms like Vine and more. It's like a marketplace of world creators. Twitter was impressed by this platform's ability to connect the creators' community to the world's famous brands. 
15. Zipdial
Zipdial is an analytics and Mobile Marketing Indian company that Twitter acquired on January 20, 2015, for $30M. With the help of Zipdial, Twitter could utilize this to acquire growing market users with scarce data plans & uneven internet connectivity. 
16. Gnip
Gnip is a social media API company that Twitter acquired in 2014 with a deal settled with stocks and cash worth $134 million. Before the acquisition, Gnip supplied data to social media platforms such as Tumblr, Twitter, and Facebook. After the acquisition, Twitter spread its data medium and its current public API.
17. Mitro
Twitter acquired this Password security company on August 1, 2014. Mitro startup is popular among people because it helps them control and shares their passwords from a single account.
18. MADBITS
This is a startup related to dynamic computing & Deep learning, which Twitter acquired on July 17, 2014, with an undisclosed amount. Madbits technology is based on a statistical machine learning approach that helps understand, extract & organize valuable data from the natural media. The owners believed that Twitter would help grow their startup to the best potential.
19.CardSpring
It's a Payment application platform under the commerce category, which Twitter acquired on July 29, 2014. Cardspring assists developers in composing applications that obtain credit card payments. Twitter accepted that the technology of Cardspring would bring real-time commerce experiences to its users.
20.TapCommerce
This is a startup related to mobile ads that Twitter acquired in June 2014 with a reported deal worth approx $100 million. After the acquisition, Twitter improved its platform efficiency in mobile marketing, such as engagement and retargeting advertisements where targeting is based on user's activity.
21.TweetDeck
Twitter acquired this social media management application for its accounts in 2011 in a deal worth $20.4 million. This application delivers digital marketers, brands, and creators an effective medium to track the real-time information of their use. After the acquisition, Twitter removed this app for mobile devices and made it entirely for web applications.
22.MoPub Promoting Options
This is an ad-serving platform that Twitter acquired in 2013 with a price worth $350 million. Twitter attained this world's most significant cellular advertising server with the motive to automate and raise purchases concentrating on consumers mostly based on earlier cellular use recorded history. 
Does Twitter Own Snapchat
---
No, Twitter doesn't own Snapchat. Bobby Murphy & Evan Spiegel founded snapchat with their fellow Reggie from Stanford University.
Later, Brown sued the founders for stealing and taking the credits for the Snapchat app. The feud was settled for an amount of an estimated $157M.
Does Twitter Own Twitch
---
No, Twitter doesn't own Twitch. Emmett Shear is the CEO and founder of this top video platform. In Aug 2014, Amazon acquired Twitch in a cash deal worth US$970 million. Google-backed out from buying Twitch at the last moment allowing Amazon to win the bid. 
Does Twitter Own Instagram
---
No. Twitter doesn't own Instagram. Mike Krieger & Kevin Systrom founded Instagram and launched it for iPhone users in 2010. Later in 2012, Facebook acquired Instagram in a deal worth $1bn. Zuckerberg called this a vital milestone for Facebook.
Also read: Does Facebook Own Twitter
Does Twitter Own Whatsapp
---
No, Twitter doesn't own WhatsApp. Jan Koum & Brian Acton ( former yahoo workers). In 2014, Facebook owner Mark Zuckerberg acquired WhatsApp from them for $19bn. 
Conclusion
---
Some decisions have brought benefits, while some haven't proven that beneficial. All these acquisitions helped Twitter extend its services for users and attracted more people to its platform. Now, Elon musk will take control of all the strategic acquisitions bought by Twitter.