Twitter is a social media platform that allows users to post short, 280-character messages called tweets. Since its creation in 2006, Twitter has grown to be one of the most popular social media platforms with over 330 million active users. But with all its popularity, how much is Twitter worth? Turns out, the company is not only worth billions of dollars, but it's also growing rapidly. Let's take a closer look at Twitter's value and why it's been increasing so much lately.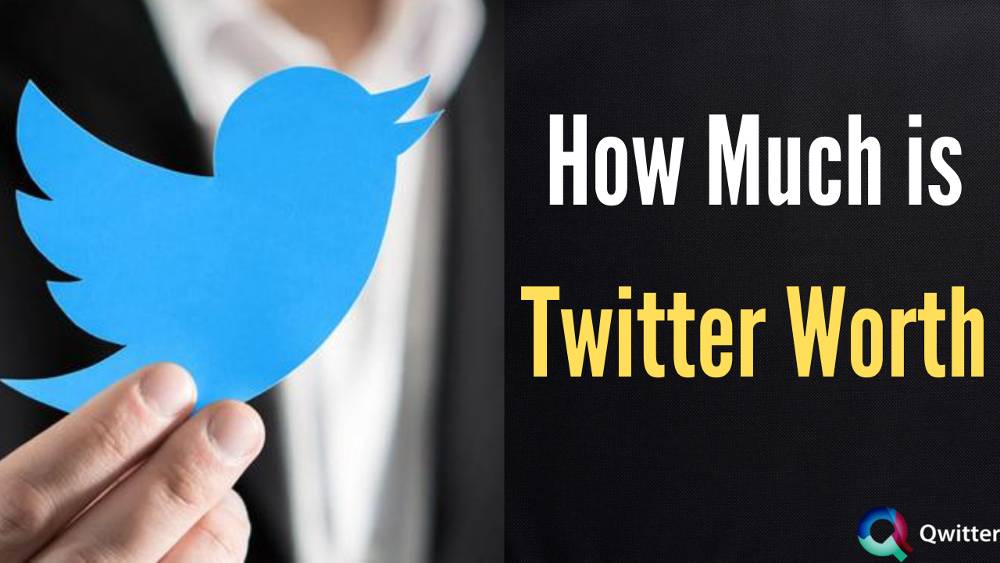 How much is Twitter Worth?
The net worth of TWITTER is $44.454 Billion as on November 22.
Twitter released financial statistics for the fiscal year that concluded on December 31, 2021 in February. The company's net loss shrank from $1.1 billion to $221.4 million. Year-over-year (YOY) revenue increased by 36.6 percent to $5.1 billion.
Twitter's costs and expenses increased at a quicker rate than revenue, including a $765.7 million one-time litigation-related penalty.
Twitter's Market Cap: As of the close of trading on May 2022, Twitter's market capitalization is $28.57 Billion. This made it the 272nd most valuable company in the United States and the world's 603rd most valuable company by market cap.
Looking ahead, Twitter's market capitalization is likely to continue to fluctuate based on a variety of factors, including user growth, advertising revenue, and perceptions of safety and trustworthiness.
Twitter's Net Worth: The company's entire worth was estimated to be around $44.454 Billion as of November 22. But recently there have been up's in Twitter worth, because of interference from Elon Musk in the company. The stock has risen in value after Elon's purchase of a 9.2% stake, and it is now worth $40.1 billion. Elon Musk has also offered to buy the entire firm for $54.20 per share, thus delisting it from the stock exchange. Twitter is valued at $13.316 billion, depending on revenue growth over the last 3 years.
Overview of Twitter
The headquarter of Twitter is in San Fransisco, and Parag Agarawal is the currently operating Ceo. It has a revenue of $5.077 billion (2021). Twitter's biggest problem as a company is that it is a free, ad-supported service with insufficient users to entice advertisers. Although, Twitter has risen in the last few years and currently is the most used platform, here is the overview of the twitter.
About Twitter
Twitter is a microblogging and social networking website based in the United States that allows users to send and receive messages known as "tweets." Twitter, Inc., is a private company that is established in San Francisco, California with more than 25 offices around the world, to provide the service.
It was founded in the year 2006 by Jack Dorsey with Noah Glass, Biz Stone, and Evan Williams. Currently, the CEO of Twitter is Parag Agrawal. The CEO's base salary right now is $ 1million.
Does Twitter still lose money?
Twitter's income for the 3rd quarter increased 37 percent year over year to $1.28 billion.
However, after paying $809.5 million to resolve a 2016 shareholder lawsuit accusing it of making false statements about its user metrics, the social media business lost $537 million in the quarter, compared to a profit of $29 million the year before.
Twitter announced that the sale of MoPub, a marketplace for providing mobile advertising, would be completed during the first quarter of 2022, with some advertising revenue expected to be lost as a result. However, the business stated that it was on track to fulfill its revenue target of $7.5 billion or so in 2023.
Is Twitter making money?
Even though Twitter is still in its infancy in terms of revenues, it does generate revenue. The main contributors to Twitter's revenue are Data licensing and advertising services like promoted accounts, promoted trends, and promoted tweets.
According to Business of Apps, the microblogging platform generated $3.7 billion in revenue in 2020, an increase of 8.8% year over year. 86 percent of this revenue came from advertising services.
Despite a $1.1 billion net loss the previous year 2019, the business expects to treble revenue by 2023.
In 2021 Twitter's annual net loss was $221 million. Although this year the loss has decreased significantly, as it had made huge losses over the years. Finally, it seems Twitter is moving on a trajectory of profit. Recently twitter's stock prices rocketed and closed up 27% when Elon musk revealed that he had bought a 9% stake in Twitter.
Twitter's Trouble Turning a Profit Might Be Turning a Corner
Due to tremendous investor interest, Twitter went public in November 2013 and had a robust share price of $45 per share. Despite its seeming universality or influence — Twitter was losing money until 2018 and was back in the red by 2020.
In January 2020, for example, after Twitter barred former President Donald Trump from the platform, shares fell substantially. Trump's account was the most followed on Twitter. The stock market, on the other hand, swiftly recovered.
The stock has been in freefall since January 2021, following a year-long surge. In comparison to a year earlier, shares were down roughly 50% at the time of closing on Feb. 16.
Overall, 2021 was a challenging year, marked by a $809.5 million class-action settlement, among other pandemic-related issues. However, the company now has a full-time CEO. Parag Agrawal, who took over as CEO from Jack Dorsey in November 2021, is leading the push into 2022.
According to the earnings statement, ad engagement declined by 12% for the year, while the cost of engagement increased by 39%, owing in part to the impact of COVID and a shift toward ad formats with lower engagement despite greater expenditures.
Twitter forecasts revenue of between $1.17 billion and $1.27 billion in 2022, as well as an operating loss of between $225 billion and $175 billion. After the complete acquisition of Twitter by Elon Musk, it might become profitable.
What did Elon Musk pay for Twitter?
Billionaire-entrepreneur Elon Musk on march 14 bought 9.2% of Twitter stock making him the largest shareholder. Musk's stake was worth $2.89 billion. However soon after musk showed his interest in buying Twitter completely, the condition changed.
After a series of events musk finally acquired twitter for approximately $44 billion with a share price of $54.20. Elon Musk has been a proponent of free speech which is the reason for acquiring Twitter, as he looks forward to promoting free speech for all.
Who owns Twitter before & now?
Twitter CEO, Jack Dorsey co-founded Twitter with Noah Glass, Biz Stone, and Evan Williams in 2006 and remained CEO until 2008. In 2008, he was fired for subpar leadership and Evan Williams replaced him as the CEO.
In 2010, dick Costolo became the CEO of Twitter. In 2015 Jack Dorsey again returned as the CEO of Twitter and stepped down as CEO in November 2021 and was replaced by Parag Agrawal as the new CEO of Twitter.
Elon Musk, the Tesla CEO and entrepreneur, now owns Twitter Inc., which he purchased for $44 billion (about £34.5 billion) on April 25.