It took three years, two months, and one day to reach the one billionth tweet on the site.
In November 2013, Twitter went public. Twitter had over 200 million users at the time. Today, Twitter is ranked among the top three social networking applications in the United States. And it has about 400 million users.
This page contains the most up-to-date demographic and data of Twitter users. It should be evident after reading some of these numbers why Twitter's market valuation is above $46 billion.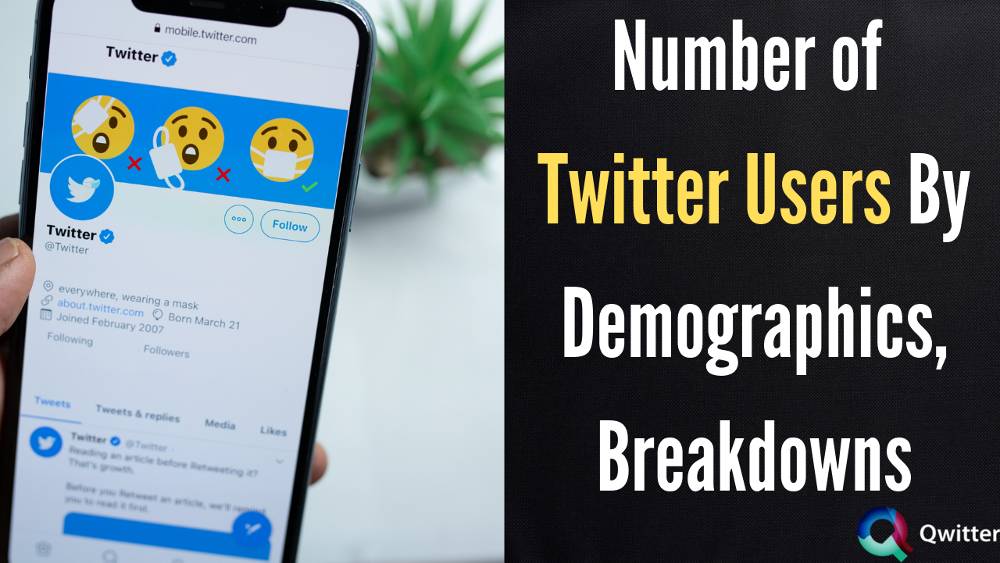 How many Twitter users are in the world?
---
Twitter has 396.5 million active users as of recently. Furthermore, Twitter has 206 million daily users. According to statistics, 8.85 percent of global social media users utilize Twitter.
DAUs (daily active users) are the number of unique visits to Twitter over the course of a 24-hour period. Twitter publishes monetizable daily active usage (mDAU), which is defined as the number of logged accounts that Twitter has recognized and may serve advertising to.
Nevertheless, according to the most recent data released in the first quarter of 2019, Twitter has 330 million monthly active users (MAU). Twitter's monetizable daily active users (mDAU) were expected to reach 166 million by 2020 (currently 206 million), up 24 percent from 2019.
Number of Twitter Users by Country
---
Twitter is extremely popular in the United States, with 69.3 million active users as of January 2021.
Japan and India came in second and third, with 50.9 and 17.5 million users, respectively.
In 2020, Twitter's user base will be a small percentage of all social media users.
Leading countries based on the number of Twitter users as of January 2022 (in millions)
---
According to the latest data, the United States of America has at least 80.9 million active Twitter users, making it the leading country with the most Twitter users, followed by Japan with at least 59.8 million active Twitter users, and India with at least 24.5 million active Twitter users.
How many Twitter users are in the US?
---
Twitter is notably popular in the United States, where the microblogging site has 76.9 million users as of January 2022. In the United States, 96 percent of Twitter users visit the site at least once a month.
Besides, in February 2021, it was discovered that 42% of adults in the United States between the ages of 18 and 29 accessed Twitter. In the United States, this age group had the largest audience for the microblogging site, with 27 percent of 30 to 49-year-olds using it.
What is the number of Twitter users by age?
---
Twitter's global viewership consisted of 38.5 percent of users aged 25 to 34 years old as of April 2021. Users aged 35 to 49 years old made up the second-largest age group demographic on the network, accounting for over 28.4%. It is claimed by Twitter that 80% of its users are millennials.
Users under the age of 24 accounted for over 24% of all users globally, while those aged 50 and up accounted for around 17%.
How many Twitter users are there by gender?
---
Males account for 68.1 percent of Twitter users. Females account for 31.9 percent. Twitter users are mostly men, according to the data.
Other social networking sites, such as Instagram and LinkedIn, have a more balanced female user base, with 51% and 43% of female members, respectively.
Distribution of Twitter users worldwide as of January 2022, by gender
---
Men were more likely to utilize the social networking platform Twitter in January 2022 than women and thus, outnumbered them. Females accounted for 43.6 percent of Twitter users, while men accounted for 56.4 percent.
How many followers does an average Twitter user have?
---
Brandwatch looked at roughly 100 million Twitter accounts and discovered that the average number of followers is 707 as of 2016. In comparison to 2012, this implies a 340% increase in average followers.
If we opt to omit accounts with more than 100,000 followers in order to avoid celebrity bias in Twitter statistics, the typical user has 453 followers.
How many tweets are sent per day?
---
Every day, about 500 million Tweets are sent. That translates to 6,000 Tweets each second, 350,000 Tweets per minute and almost 200 billion Tweets per year.
How much time do users spend on Twitter?
---
Twitter is the site on which US social media users spend the second highest amount of time each day, at 35 minutes per day. It's a new high for the microblogging social network, despite a loss of 300,000 users in the United States.
Top brands on Twitter, 2022 (millions of followers)
---
Traditional marketing methods are no longer sufficient to retain brand memory among the target demographic. When it comes to advertising items and communicating with clients, social media channels are crucial. The top brands include Playstation with 21 million followers along with SpaceX and Xbox.
PlayStation – 16.9 million followers
Xbox – 13.5 million followers
Chanel – 13.2 million followers
Samsung Mobile – 12.1 million followers
Starbucks – 11.4 million followers
Victoria's Secret – 11.2 million followers
Marc Jacobs – 9 million followers
H&M – 8.4 million followers.
Is Twitter losing popularity?
---
Twitter's popularity has been steadily declining since 2012, according to Forbes (Forbes, 2019). It has lost over 100 million daily users and about 200 million daily tweets, with no new users being added.
Twitter presently has 217 million monetizable daily active users (Twitter, 2022). With the exception of a few decreases in 2015, Twitter's statistics have been steadily increasing since its inception in 2006.