Twitter is expanding every day on a global scale. More people are joining and are getting connected with people across the world through common interests and views. Twitters chats are one of Twitter's greatest tools to do exactly that.
If you are amongst those who do not like crowded gatherings, with loud and noisy chit-chats but wish to socialize with people from similar backgrounds and with similar tastes as yours, Twitter Chat is just the place for you!
In this article, we have tried to sort out everyone's queries on what a Twitter Chat is and how does one participates or hosts it.
What Is a Twitter Chat
Twitter chats are public virtual and recurring conversations hosted by an account on the platform. They are scheduled, weekly or monthly, on a particular date and time and anyone can join the conversation using a certain hashtag.
The host or moderator poses questions and encourages the participants to answer them by expressing their opinions and viewpoints. Just like an in-person conversation, these chats start with an introduction and concludes with some ending notes, while the participants are expected to be respectful and polite while expressing their opinions.
Benefits of Twitter chat
Expand Professional Reach: Twitter Chat is a brilliant way for professionals to network with others from the same background. It can be a great tool to accelerate businesses and increase your brand authority by interacting with your audiences. It is also an incredible place to meet and interact with influential people and industrial leaders and ask for their advice and feedback.
Gather Information: By participating in Twitter chats, you will be able to learn many useful pieces of information and gain knowledge from your peers by just participating in these conversations. For example, a tip from a marketing expert from some distant corner of some country could solve the biggest marketing dilemma you've been struggling with for a long time.
Widen Social Media Followers: Hosting Twitter Chats and successfully conducting them would bring your target audience to you. This would increase your social presence and followers exponentially.
Are Twitter chats still a thing?
Over time, the traffic of Twitter chats has reduced as the major sorts who dived into the trend at first, but failed to carry it out successfully and hence didn't benefit from it, have stopped hosting them anymore. But it is still very much a thing. It has consolidated into a smaller section where only the most valuable and influential group of people have stuck around.
How does a Twitter live chat work?
A Twitter chat is always scheduled for a pre-determined date and time for participants to be to join in at the exact time it starts. It usually begins with the host introducing themselves or any other chief participant and then tweeting the question or prompt labeling them with a "Q(question number)" and would promote engagement and discussion amongst the participants.
An example would be:
Q1: How does the math work in PBL or Problem based learning (PrBL)? #pblchat #mathchat
(Tweeted by @LeahRossHenry on 4th March 2020)
Participants would then prepend their answers with "A(number matching the question number)" and tweet their responses under the hashtag mentioned by the host at the beginning of the chat which would look something like this:
A1: I teach stats and decision making math and we use PBL all the time! We connect the concepts to real-world scenarios and students have PBL to connect their understanding. #pblchat #mathchat
(Tweeted by @scantrellmath on 4th March 2020)
To this, the host can further reply and continue the conversation, or share the responses they like.
After a certain time, the host moves on to the next question. All these prompts are centred around one particular topic and this process continues till the last question is covered. Such chats usually last for an hour or so.
To conclude, the host sends their thanks, shares info about their next scheduled chat and shares more resources and links for more information related to the conversation.
How to Participate in a Twitter chat
Twitter chats are efficient ways to expand your network, but you could be unaware of how to join a twitter chat. Worry not, because we will explain it to you in a few simple steps:
Step 1: Choose a chat of your interest to attend.
Do some research to find the chat hashtags most relevant to you and that your colleagues join in. Since these chats happen regularly, there's always a page with a schedule with upcoming dates, times, and topics on it for you to select.
Step 2: Prepare yourself for the upcoming chat.
Read up on the topic of the upcoming chat beforehand and be ready with your own opinions, viewpoints, questions, and challenge to share with the rest of the participants through the conversation.
Reach on to people who have attended these chats previously to break the ice. This would help your responses get better engagement amongst the rest of the participants.
Step 3: Find the hashtag on Twitter and dive into the chat.
Before diving into the conversation, give a simple and polite heads up to your followers about the high amount of tweets flowing from your account. As soon as the chat begins, jump into the conversation.
You can give a short introduction if you feel like it. Keep checking the tweets from other users on the "Latest" tab and always share your own thoughts and answer the questions prompted.
Step 4: Be a resourceful person.
Tweet unique solutions, advice, and insights that would be beneficial to your peers in the conversation. This would make you stand out from the crowd too. If people like your tweets, they would be further interested in your own Twitter chats too, when you host them.
Also, be prepared with reference images, videos, gifs, links and find your ways to shine. And of course, do not forget to add hashtags to all your tweets. In the end, just have fun!
How to Find the Most Relevant Twitter chats
There are several resources available for you to find your most relevant Twitter chats like Chat Salad, Tweet Reports, and Twubs that list all the Twitter chats that are going on or are scheduled on the platform based on different interests.
Apart from these, you can also search up for various Twitter chat related hashtags and other hashtags may pop up from there. You can also look at your favorite industry influencers to dig up the hashtags they follow.
Hosting your own Twitter chat
Done participating in Twitter chats and feeling hyped up to host your own one now? Make sure to follow these steps to conduct a successful Twitter Chat.
Prepare your Twitter chat
While hosting a Twitter chat, you would have to be more prepared than you had been participating in one.
1. Come up with engaging subjects that your chat would be based on and make a layout of the questions to be prompted, all keeping in mind the interests of your target audience.
2. Create a recurring twitter chat schedule in such a way that it does not overlap with other chats from your industry. Mentions the dates, timings and sketch up a loose calendar. Do consider the time zones of your target audiences while doing this.
3. Claim a self-explanatory hashtag that goes with your chat theme. Also, consider bringing special guest hosts who can attract more participants and provide better insight into the subject of your chats.
4. Promote your Twitter chat ahead of time. Tweet about it, put it in your bio, let your followers know to receive the maximum engagement.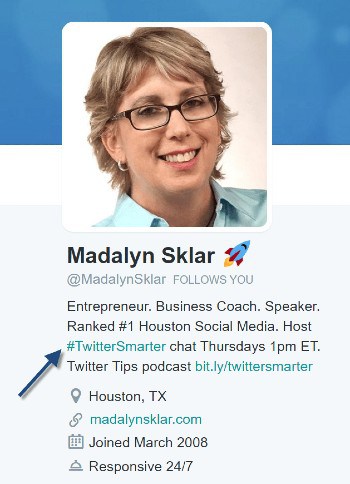 Executing the chat
Once you have everything prepped up, it's time to finally execute the chat.
1. Schedule your tweets ahead of time to make it a bit easier for you in the order: introduction, rules, questions, and conclusions. If possible get an extra pair of hands to assist you to conduct the chats.
This way one person can share the tweets, engage with the participants, and makes sure everything is on schedule while the other analyses interactions and engagements in your chats.
2. Be a good host and try your best to guide the conversation to keep it from getting off-track. However, several times, the chats can take a surprising new turn which can be highly informative and beneficial.
3. Keep on engaging with the participants to keep a flow to the conversations going on. Like, retweet, quote retweet and reply to the best responses. Also, ask your community to keep a welcoming and friendly atmosphere so that no one hesitates to join in. Use lots of graphics, encourage the use of your hashtag and promote your special guest (if any).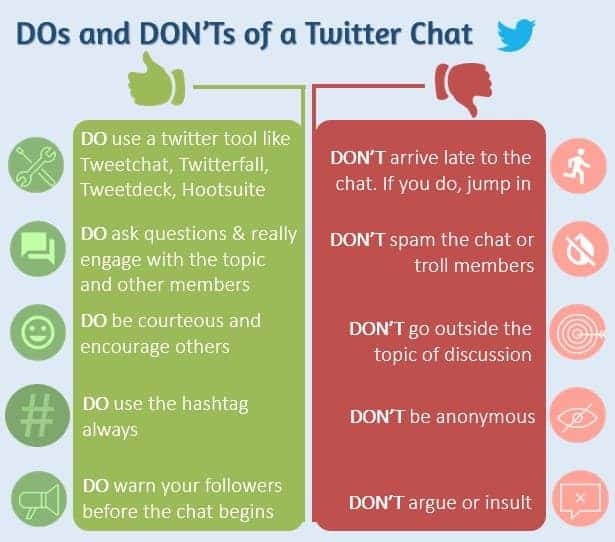 Wrap it up
As things come to an end, share your word of thanks to all the participants and the guest host to show your appreciation for them. If you have your next chat scheduled, use this opportunity to promote it or encourage participants to check out a relevant resource.
After the chat concludes, make a Twitter list of all your participants and actively engage with them outside the chat. Make a detailed analysis and track the hashtag impressions, hashtag mentions, and follower growth to come up with a proper improvement plan for your next chat.
Finally, don't waste all the information shared on the chat. Reuse them for your blogs, articles or videos to keep up the momentum with your audience.
Conclusion
Twitter chat can be your ultimate weapon if you know how to use it. They will help your audience and followers grow, help you establish brand authority and spread awareness about your agenda in the best ways possible. Twitter chat is the way for your brand to taste success.