With millions of active users, Twitter is an excellent advertising social media platform to boost the growth of brands.
Many brands not using Twitter in their social media marketing strategy are seriously missing a chance to reach a diverse audience. If People follow our Twitter SEO tips, it can help boost their search engine rankings.
Our Twitter SEO Tips: How To Use Twitter to Boost Your Brand shares tested tips for any brand looking to expand their growth on Twitter. Keep reading to get deep insight.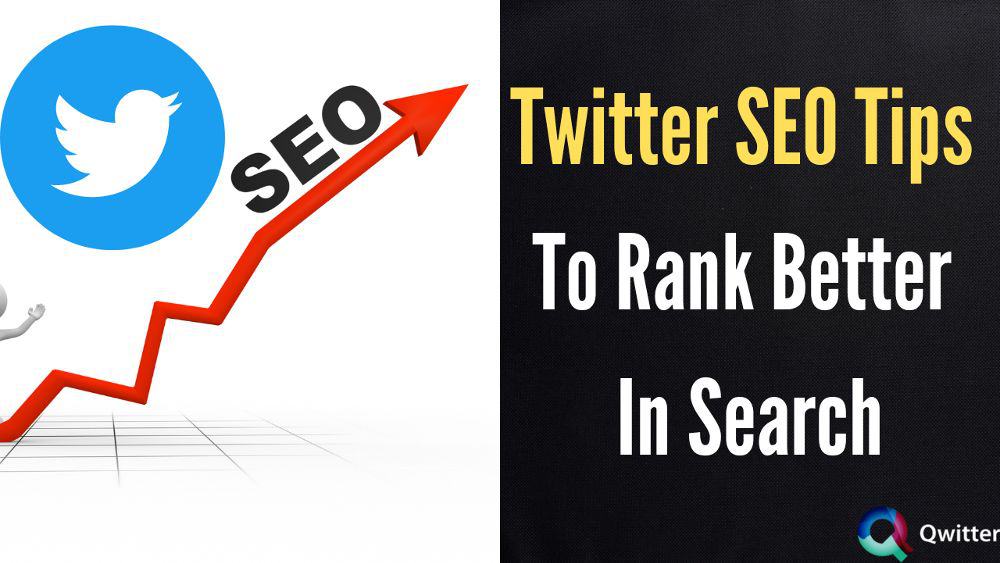 Twitter SEO Tip #1: Promote, Promote, Promote
---
Search engines like Google use social signs such as an average number of comments, shares, and likes to contribute to getting top positions in google search results.
Due to a partnership with Twitter in 2015, Google got access to its streams and indexes the tweets in google search results. Start by promoting your account and every important content for your brand growth.
Paid ads are the fastest way to connect with a broad target audience in a short time. Using Twitter ads, promote your tweets and accounts to increase your brand visibility.
Promote Twitter Trends
Promoted Twitter drives a terrific amount of traffic for brands. Promoted Trends appear either at the top or next to the top slot in the "Trends for You" section in the Explore tabs and home Timeline. You can capture people who are unaware of your brand.
Promote Tweets
Promoted tweets appear before the people you target in your ads. The only difference between regular and promoted tweets is the label added on top. You must pay a reasonable amount to make your promoted tweets appear before the target audience.
You can drive massive traffic to your Twitter account and website at low costs. More engagements boost the rankings on google search results.
Promote Accounts
According to statistics, 85% of Twitter users discover a Twitter account through promoted accounts ads. The same "promoted" label appears on top of your account, and your accounts appear in suggested accounts and search results sections. You can quickly increase your audience reach.
Twitter SEO Tip #2: Use Targeted Keywords
---
Doing SEO on Twitter is almost the same as doing SEO for a Website and blog post. Digital marketers use keywords in the content.
Here, Twitter content is tweets and your Twitter profile page. Adding the keywords, your audience searches increases the chances of tweets getting more exposure in search results and should be a priority in your SEO strategy.
Here are some places which you can optimize with targeted keywords.
Twitter profile name
The SEO tips start by trying to keep a keyword-rich Twitter profile name that describes what your brand is about. When Twitter users make a query using the same keyword, your account can appear on their Twitter and search engine result pages.
For example, if your brand is related to a real-estate business, If you include the relevant keywords like "real estate agents" or more. You can follow Best Twitter Accounts for Real Estate to learn from them.
Twitter Description
Optimize your Twitter description with the relevant keyword that describes your brand service. People can more likely find your Twitter account while searching for the same terms. You can include the targeted keywords you have added to your website.
Twitter Bio: Add keywords to your Twitter bio.
Tweets: Use the keywords in your tweets either with texts or as captions with images & videos. Insert keywords related to content. To improve your SEO value, you can add keywords you use on your web pages to gain more visibility in the searches on Google and Twitter.
For example- a Twitter handle @seochatterblog adds keywords like backlinks, on-page SEO, etc., related to its service.
Hashtags: Hashtags serve the same purpose as keywords in describing a brand. You can Insert # before keywords and use them as hashtags in your tweets and profile information.
Add at the end of posts explaining what content is all about. You can use multiple keywords in different posts.
Twitter SEO Tip #3: Select Your Twitter Audience
---
For making Twitter ads and organic strategies, it's essential to figure out your ideal audience persona. You will know to whom to exactly market your content. Select the audience in the ads so they appear in their timelines and search results.
You can create your audience or upload your lists of audiences collected from websites. When users take action proves that you have targeted the right audience. The overall success of your campaign depends very much on this step.
Twitter SEO Tip #4: Use Relevant Hashtags
---
Understand the use and meaning of hashtags before using them. With a limited no. of words, include 1-2 hashtags only. Divide hashtags into branded and trending hashtags. Explore trending hashtags from trending topics.
Create your branded hashtags that reflect your brand value or USP. Popular brands use branded tags in their Bio and posts. People can add these same tags when they write content about your brand.
Some benefits of adding Hashtags include-
Tweets containing the relevant hashtags get almost TWICE views and engagement compared to ones using none.
Your content can appear on top of Twitter search results.
Users may land on your profiles once they find your content through hashtags they search.
Categorize your content into a niche type.
For example: consider your brand is an eCommerce clothing brand. Search for keywords related to your brand like #ecommercestore, #onlinestore, #clothingbrand, etc. If you use #pizzastore, then this is irrelevant to your content and can affect your content quality. 
Some tools to help with hashtags Research.
Hashtagify– It's a valuable tool that finds the top 10 hashtags associated with the keyword users enter in its search bar. For example- if you want to see popular tags in your niche, type them. This site shows the related trend information and popularity. You will find more hashtags to add to your content.
Twitonomy- This tool helps you find the top ten hashtags used by influencers from your niche.
Twitter SEO Tip #5: Check Out Twitter Trending Topics
---
Twitter trending topics help you to increase and update your knowledge base with recent tweets based on trending topics. Twitter shows you trending topics based on your location and activity.
Click on the #Explore option in your dashboard to find trending topics. Explore these tabs to find trending topics and conversations you can use in your Twitter content marketing and SEO strategy.
Once you know what's trending, you can observe how other users are reacting to these trends in your niche. You can check which hashtags and keywords are used.
You can create content for your posts using these trends. While creating social media campaigns for paid ads, You can include these relevant keywords to reach the same audience for your niche.
Twitter SEO Tip #6: Add Images and Video
---
Adding images and videos makes Twitter profiles look appealing and engaging enough to bring attention and action. People scroll through posts in their Twitter feed in seconds. You would not want your tweets to get lost among lots of other content.
Texts are not as helpful in capturing attention as visuals. Include high-quality and relevant images & videos.
According to wordstream statistics, Tweets including images get 18% more clicks than the ones without images. Another data by Insivia proves that up to 82% of Twitter users view content, including videos, on its platform.
Again, to bring engagements, include images and videos made with the recommended size and duration.
Twitter for SEO Tip #7: Run Giveaways and Polls
---
Conducting Giveaways and polls is the easiest way to leverage Twitter to boost the search engine rankings. The engagement from giveaways and polls boosts shares, likes, comments, and retweets, improving your Twitter presence.
For participating in giveaways, a user must complete a particular action mentioned in the gifted reward. For example- You can ask to retweet any of your posts where you can add your websites and blog post links to help as an organic ranking factor.
Rewards encourage people to participate. Keep a prize for the winner and mention a time and date to announce the winner.
Running polls increases engagements for your Twitter page. It is pretty easy to run a poll. You can ask questions. People find the polls simple, complete with one click, and entertaining. People can increase their knowledge and share their opinions on a topic.
Along with increasing engagements, You can use polls to receive feedback for your products and services.
Twitter for SEO Tip #8: Share Links
---
Sharing links can broaden the reach of Twitter users' content, web pages, blogs, etc. Tweeting URLs is a fast way to boost the rankings in the eye of Google.
You can redirect your followers to your web pages related to products and services web pages through these links.
A Useful URL shortener tool is Bitly. This tool optimizes your links and decreases their word counts.
Share links to your new blog posts on Twitter to help your followers stay updated with your latest information. This can give your URL a backlink to help with SEO. If google bots discover your shared URL, this can fasten up the indexing stage, making a way in google's ranking.
Add your site's link in the website field.
Another way to share links is by adding them to other users' tweets which helps you direct more traffic to your web pages or blogs. Make sure to add relevant links that are informative for your audience.

This strategy gives you more backlinks and exposes your pages for influencers to add to their blog posts. Maintain your brand's value, don't write too many comments, and add many links. Twitter may penalize your profile for doing spam activity on its platform.
Twitter for SEO Tip #9: Tweet Consistently
---
Some users think that posting more tweets gets more exposure on Twitter. In reality, over-posting counts as over-spamming. Spamming is against Twitter rules.
Too many posts in a day can be irritating for other users. Creating a schedule for whole days that sets the timings for posting when the followers are most active.
For scheduling, use TweetDeck, where you have to write the content and select a date and time to post the tweets.
Second, Twitter has introduced a schedule option on their platform. Other benefits of TweetDeck include multiple feeds with side-by-side views.
Use the Twitter analytics tool to find the most active times for your followers. Other useful third-party tools are Tweriod and Buffer. These tools help find the best time to post on Twitter when most of the followers are active.
Twitter for SEO Tip #10: Interact with Followers
---
Many brands ignore this beneficial practice of interacting with followers. If you want your tweets to get more traffic and attention, Don't limit yourself to just posting.
You can gain more shares, retweets, likes, and mentions which are some social signals that help with google rankings.
Here are some practices to apply for interacting with followers.
Stick to the 70/30 rule. Don't post only promotional content. Experiment with other content your followers find interesting and end up interacting with.
Always reply to mentions.
Mention other users in your posts.
Reply to comments on tweets.
Be quick and responsive to queries, positive feedback, complaints, etc., that can engage your followers to buy your products and services.
Retweet, reply and share tweets that are talking about your brand.
Retweeting posts with a reasonable engagement rate can help you reach your target audience with fewer efforts. When you share content that has already got famous among users, You increase engagement. You can get new followers as your tweets appear in the Twitter feeds. This is commonly practiced in digital marketing by experts.
Twitter for SEO Tip #11: Do Influencer Outreach
---
Search for influencers who can promote and expose your Twitter account to their massive audience.
Already famous influencers post about your brand on their Twitter story, timeline, website, or other social media accounts; this step can boost your brand's credibility and increase engagement rates.
They have already made a trusted base of the audience for themselves. 
If your brand is new and doesn't have much budget to reach influencers with more followers, try approaching some smaller brands.
You both can decide and give exposure to one another. You can follow these practices while approaching influencers.
Create meaningful and good value content related to your niche that is engaging and shareable.
Try to build long-term, meaningful relations with influencers. You can collaborate with them in the future also. Don't view them as just a one-time exposure-giving account.
Give more Retweets from influencers whom you have chosen to engage with.
Collaborate and write guest posts for their sites and vice-versa.
You can use online tools like BuzzSumo and Klear to search for influencers from the same niche. Just enter your keyword, and you will find influencers from your industry.
The BuzzSumo shows the domain authority, page authority, total followers, reply ratio, retweet ratio, etc., within the search results.
Conclusion
---
We are recommending these Twitter SEO tips to boost engagements. An active Twitter account increases its chances of getting indexed in the search results. Implement these SEO tips to balance posting and engaging with sticking to a schedule.
Measure the effectiveness of your implemented strategies. Twitter works in partnership with Google. Never consider them as separate platforms.