Many online advertising platforms are drawing the attention of marketers by helping the brand grow its business revenue and reach. Twitter is no longer behind in this competition.
Twitter has emerged as a great advertising platform that offers unique targeting options. Many brands and marketers have this doubt in mind "Do Twitter Ads Work?"
Why should they invest their ad spend on this platform? We will solve this doubt and guide you on 6 Reasons Why You Should Try Twitter ads now.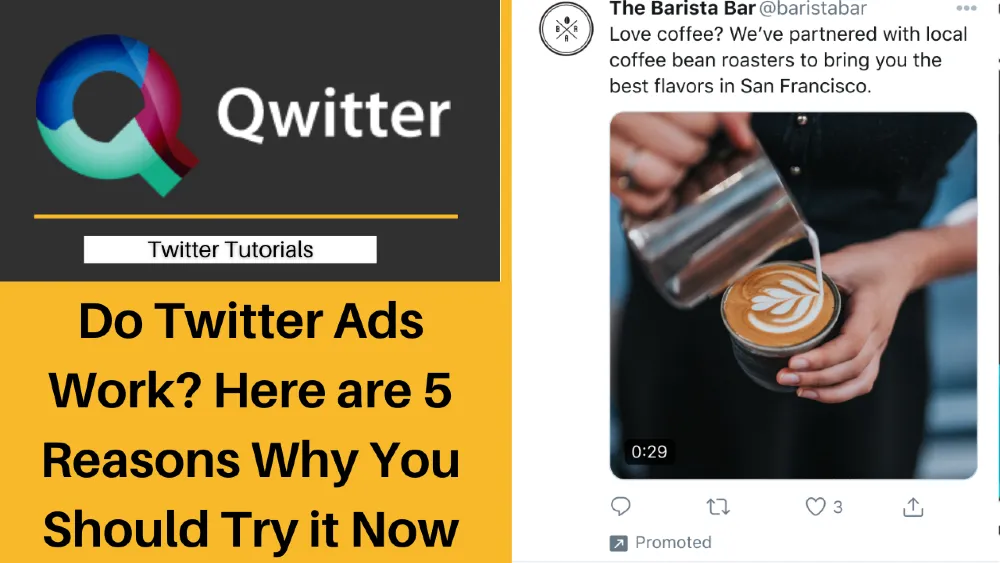 Do Twitter Ads Work? Are they effective?
---
Twitter ads are effectively helping brands spread their message among their community of millions of people worldwide. In 2022, Twitter generated $3.7 billion (86% of total revenue) worldwide ad revenue only from advertising.
According to a study by Twitter, advertisers have gained an average 40% higher ROI from Twitter ads than other channels.
Out of various Twitter ad format offerings, Promoted Video ads are 20% more effective to drive sales. Recently, Product-based advertisements have driven the highest return on investment.
In the Twitter versus Facebook comparison, Twitter provides a broad reach & detailed targeting options using visual media that successfully receive the audience's attention.
Twitter's audience is mature and passionate about acquiring more knowledge about topics and products they are interested in. Twitter ads consist of different ad formats that fit the needs of almost all businesses and brands.
A Twitter advertising campaign has features and solutions that marketers effectively use to design and implement the stages of a sales funnel.
6 Reasons To Use Twitter Ads:
---
We will focus on describing the best 6 reasons to use Twitter ads.
An effective way to reach out to potential customers and followers.
Imagine connecting with people who previously had no idea about the existence of your Twitter account. You create ads that build your brand awareness with Follower ads, promoted tweets, and trend takeovers.
Followers campaign allows advertisers to target accounts who are not their followers but may become after viewing this ad.
Follower ads work by targeting accounts that may find your account worthy of following. That's how a brand can find its right audience and potential customers. Once followers, they can share more information about their products through tweets, spaces, moments, etc.
Through promoted tweets, you can insert twitter cards and add links to them to direct the audience to any landing page describing an ongoing sale and discount offers. Popular brands successfully use this method to land people on their website pages.
Allow you to target a specific audience based on interests, demographics, or location.
You can specify more relevant information about your target audiences, such as their interests ( what kind of content they prefer to view and interact with) and the location they reside in. You can add demographic info such as age, gender, etc.
Plus, the best advantage of using Twitter over other digital marketing channels is that it provides unique targeting ways to expand a brand's reach.
By conversation – You can choose from more than 10,000 conversation topics for targeting audiences.
By followers – Reach to the high-converting audience with the same interests as an account's followers
By events – In this, you can create buzz around an upcoming essential event weeks before and after.
Keyword targeting is a precise way to target people who have shown interest in particular topics on Twitter.
You can create your ads for people who have interacted or added particular keywords and hashtags on Twitter in the past seven days. Facebook doesn't provide this unique kind of targeting option.
Can be customized to match the look and feel of your brand.
Twitter offers multiple ways to promote a brand using different ad formats, which can be customized to match what they want to present in front of their audience.
Facebook's ad formats are not this diverse.
Carousel ads – You can add a total of six images or videos in one tweet, which you can link with any landing page. It's on brand and what kind of message or information they showcase.
Video ads – These ads ensure that your right audience sees them at the right time. They appear alongside other regular sponsored tweets. Brands can add videos sharing who their brand is and what value they provide. These ads receive the most engagement.
Amplify Pre-roll ads– You can feature your ads and favorite videos on this platform.
Image Ads- You can showcase your products or services through single images.
Are a cost-effective way to promote your products or services.
Twitter offers a pay-for-performance model where you pay only for promoted tweets that brings the desired action from the audience. It applies to different promotions on Twitter, such as tweet promotions, apps, follower campaigns, etc. LinkedIn doesn't offer this kind of model.
Many advertisers get clicks in fewer pennies. The click price depends on the bidding and auction. The prices differ based on what your competitors are bidding.
You can benefit due to a lack of competition. Twitter's average Cost Per Million is approximately $3.50.
Can help you increase website traffic and followers.
All types of Twitter ads increase website traffic and followers. Twitter has takeover ads displaying your ads alongside trending topics and hot conversations.
Your brand can become another hot topic for discussion. Trend Takeovers are best for announcing the launch of new products and services.
You will drive followers in large numbers. Twitter ads receive 20% more click-through rates for different campaigns.
Its unique way of content marketing encourages people to click on added links and reach a website. Takeover ads gain 3X more CTRs opening a perfect way for brands to bring traffic.
Can be used to generate leads and sales.
According to a report by Twitter, "advertisements combined with the premium videos appearing in the feeds assist in increasing a user's purchase intent by 1.7times."
Tailored audiences are a helpful way to target existing customers & users to assist in creating relevant campaigns. Adding a tailored audience provides additional benefits, such as saving money and bringing a significant ROI.
If any user leaves your ad without taking any action, Tweet engagement targeting is an impactful way to reconnect with them. This kind of targeting allows you to remarket your products to people who previously viewed or engaged with your ads.
Probable chances are of converting them in these following interactions. All these help to generate leads which convert into sales eventually.
You are can re-target the audience who have:
Already saw your tweets.
Engaged with your tweets
Saw 95% of your added video
Saw 3 seconds of your video
watched 50% of your video
How Much Does Twitter Charge to Promote a Tweet
---
Whether a small or large brand, Twitter allows advertisers to create customizable ad campaigns according to their budget. Twitter users can plan their budgets by learning in detail about auctions, bids, and billable actions.
The same applies to promoted tweets. Users can control the chargeable amount by setting a budget during campaign setup.
How much an advertiser pays for a campaign depends on different factors.
How engaging their ad is.
Target audience size selected.
How many advertisers target that same audience as yours.
Bidding amount.
Twitter charges for Promoted tweets based on an auction system where advertisers place bids. A Twitter ad charges each engagement received, including favorites, replies, clicks, and retweets. When another user takes any of these actions in an ad, amounts get deducted from the budget.
What happens when you promote a tweet?
---
After you publish the promoted tweets, they will appear before your target audience in the specified sections on Twitter. You will reach people who may not know of your account or brand existence.
Open your Twitter ads account and see how your ad performs in the analytics dashboard.
You will find how your audience engages with your ad through analytics. If they take any specific engagement activities, you will see those along with the cost cut for them from your budget.
If you have attached any landing page with the tweet, you will know if people have opened it or not. You will only pay when your ad achieves the desired target.
For example- if you have made an app promotion ad, Twitter will cut the amount only when the audience installs the app.
Where Do Twitter ads commonly appear?
---
All three types of Twitter ads appear in different sections on Twitter.
Promoted ads
These appear in many places such as-
Promoted tweets appear on top of the search results pages when a user searches for any query on Twitter.
In the search results of Trend takeover.
These appear in the user's timelines when an advertiser targets them.
They appear on selected User profiles that suit the targeting credentials created for the ads campaign.
Promoted ad displays on iPhone and Android devices through Twitter's mobile clients and official desktop.
Promoted trends
"Trends for you" section inside the Explore tab
What's Happening section
Promoted Accounts
Inside the "who to follow" section of the user's timelines.
Search results query made by the user while searching for specific accounts.
Conclusion
---
The best part is that the different unique features provided by Twitter ads are just the beginning of what's more effective in the future. Twitter's team is continuously working to enhance their ad's look and feel to serve people & advertisers in a better way in the future.
They are planning to add more unique ad formats and targeting methods to adapt to developments in device technology. It's the best time to start using Twitter ads now.