Twitter is becoming a popular paid advertising network, with 217 million monetizable daily active users worldwide. Marketers from various brands successfully utilize the Promoted tweets form of advertising to drive profit.
Many brands are still confused about Promoted Tweets: Are They Right for their Brand?
This article will help clear all doubts by providing useful information regarding Promoted tweets, from their definition, benefits, and costs to how brands use them.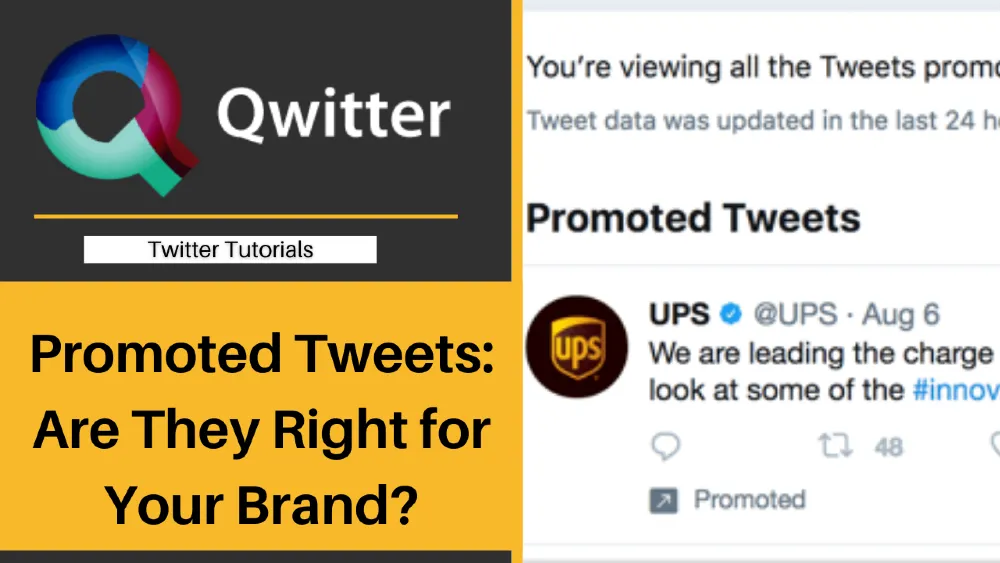 What are Promoted Tweets?
---
Promoted tweets (also known as sponsored tweets) are different formats of tweets purchased by advertisers with the motive to connect and engage with their target audience.
These tweets have a label above them as "promoted," which makes them distinguishable from ordinary tweets on a Twitter feed. Users can interact with them similarly by commenting, retweeting, liking, and more.
The promoted tweets appear in the following spaces on Twitter.
In the relevant search results pages.
Trend takeover search results.
user's timeline
User profiles
Official Twitter clients
Is Promoting a Tweet Worth It?
---
Yes, Promoted tweets increase the visibility of an account before the people who regularly interact with the content of the same interests.
They help you reach an audience different from the existing followers by targeting them based on their interests, gender, geography, device, and people with similar interests as your followers.
Advertisers only pay when people complete a particular action on their promoted tweets, such as following their account, retweeting, liking, clicking, replying, etc.
What Does Promoting a Tweet Do
---
Twitter accounts with fewer followers can reach a wider group of users. Promoting tweets helps advertisers gain website traffic, boost their brand awareness, help in lead generation, generate revenue for their promoted products/services, and encourage people to take more actions, such as installing an app, etc.
What Does It Mean to Promote a Tweet
---
For regular tweets, users don't have to pay anything to Twitter to show to its community. To promote a tweet, people have to pay Twitter for advertising in front of users who may or may not be their followers. They are a form of paid advertising technique on Twitter.
The Pros and Cons of Promoted Tweets
---
Pros
Promoted tweets display even on mobile timelines, increasing a Twitter account's reach wider.
Advertisers only have to pay when any user engages with their promoted tweet.
Twitter provides different format options for promoted tweets, making them appealing, interactive, and worth engaging with.
These are relatively cheaper than other ads like PPC by other advertising platforms.
Cons
If Twitter campaigns are not appropriately targeted, tweets can appear before non-interested users. It can affect their experience on Twitter.
Promoted tweets often receive negative comments, which many users can see due to broad targeting, building a negative image for advertisers.
What is the Difference Between Twitter Ads and Promoted Tweets?
---
The promoted tweets appear in limited placements than Twitter ads. Twitter ads are further classified into "follower ads" and "trend takeover." The promoted tweets timelines, users profiles, Official Twitter clients ( through mobile clients & twitter's official desktop ), search results of Twitter pages & trend takeover.
Twitter ads appear in all these above areas, including the "Who to follow" section, search results, and alongside the "what's trending" tab.
How to Set up Promoted Tweets
---
Twitter allows users different ways, such as profiles, tweet activity tabs, and android & iOS devices. We will discuss the "quick promotion" method.
Steps to set up promoted tweets.
Set up your ads account if you have not created one.
If not, Log in to the Twitter account you want to use to promote tweets.
After login, visit ads.twitter.com.
Select your country & Time zone. Choose wisely as you won't be able to change them.
Enter the billing information.
Navigate to the tweets tab.
Choose the Tweet that you want to promote.
Click on the "Promote this Tweet" option.
Select the location and interests for your right audience.
Enter your budget.
Review once and publish the ad.
How Promoted Tweets have evolved
---
Promoted tweets were introduced in 2010 with the motive to offer more wide targeting options to promote the brand's engaging content. Initially, tracking metrics options were not included.
In 2013, advertisers accessed conversion tracking metrics to analyze which Promoted Tweets brought more specific actions and received the most ROI.
In 2014, Twitter provided multiple campaigns based on brand goals making paid tweets more effective. Twitter introduced a quick Promote way to advertise tweets in fewer steps. Users can now choose "interests" or "location" as their targeting method.
Based on users' selection, they can choose up to five interests and locations for their target audience.
Sponsored Tweets vs. Other forms of Twitter ads
---
Three different ways of advertising on Twitter are Promoted trends, promoted accounts, and promoted tweets. Let's take a quick look at all three.
Promoted Trends
These ads help advertisers become the trending discussion topic by placing their sponsored content inside the "what's happening" and "explore tab." Trend Takeovers are effective for complementing new product launches and big events promotion.
All Trend Takeover ads include three main components: Trend description (max 70 characters), #Hashtag (of max 20 characters), and Companion Tweets. People have to set a bidding amount to feature on the list of promoted trends.
Promoted Accounts
Also called follower ads, these suggest users with new Twitter accounts that they don't follow currently and find attractive according to their interests. The main aim is to increase the reach and audience of a Twitter user.
Twitter displays them at multiple locations, such as timelines, search results, and "who to follow." Users choose how much amount they can pay for a new follower.
Promoted Tweets
These are ordinary tweets purchased by Twitter advertisers to display in front of a broad audience. Promoted tweets functions on an auction method where people place bids and get charged on engagements.
People use them for multiple purposes to create successful marketing campaigns, such as to announce new events, a new blog post, etc.
How do brands use Promoted Tweets?
---
Brands primarily use promoted tweets to increase traffic on landing pages, sales, lead generation, and awareness by attaching Twitter cards. People attach videos, rich photos & media experiences with Twitter cards to bring traffic to their websites and pages. They can add links inside the tweets.
For example- Hulu creates a Twitter Card, including an embedded video ad and link that offers its audience a free one-month subscription.
Promoted Tweet Example?
---
Different examples of promoted tweets are-
Text ads– These are simple text ads including the engagement factors, same as a standard Tweet, such as likes, favorites, replies, and Retweets.
Image ads– These ads spark engagement on your tweets with a single image. You can drive traffic to your websites, apps, etc.
Video ads– You can Capture the attention of the Twitter audience and get more link clicks through these visually engaging video ads.
Carousel ads– Carousels allow marketers to display up to 6 horizontally swipeable videos/images to promote multiple products.
Moment ads– These Ads allow users to curate, create, and promote a Tweets collection to share an engaging story.
Promoted Tweets Cost?
---
For every action taken, the cost for a promoted tweet ranges between $0.50 to $2.00. The average cost is around $1.35 every time anyone replies, clicks, or retweets. The standard cost for running a follower ads campaign costs between $2-4/follower. Promoted trend ads cost around $200,000/day.
FAQ's
---
It's time to answer some most commonly discussed questions about Promoted tweets.
How Long Does a Promoted Tweet Last?
Usually, a Tweet promotion lasts for some hours, but still, the overall duration differs based on factors such as your followers, the budget, follower count, etc. Users can pause and stop the promoted tweet anytime.
Do You Get Paid for Promoted Tweets?
People don't get paid for promoted tweets as they pay for publishing them on Twitter. Users earn money through promoted tweets when people purchase through the landing page links added within them. Twitter influencers are paid when they sponsor brands' tweets.
What Happens if You Promote a Tweet?
They will start appearing at the locations specified by Twitter. The targeted audience will view the ads and can interact with them. They are visible to any advertiser's followers only when specifically targeted.
Can You Tell if a Tweet is Promoted?
It's easy to distinguish regular tweets from promoted ones using the "Promoted" tag. All the other two types of ads also have this label.
Why Do Some Twitter Accounts Have Promoted Tweets?
These accounts have paid twitter to create promoted tweets. After creating an ad account, users can start promoting their profiles' tweets or set up a new campaign. They are using them to reach people they wouldn't generally get through organic strategies.
Why Are There So Many Promoted Tweets?
Once users view any ad related to their interest, Twitter starts targeting them with more relevant ads. Twitter shows ads to people based on their activities and the information provided. When anyone searches a particular term, twitter shows them promoted tweets based on that.
What Does Promote Your Tweet on Twitter Mean?
It means Twitter is providing its users a way to promote engaging content with its community in exchange for paying a sum to Twitter. People can choose the quick promotion method or create a marketing campaign.
Can You Remove Promoted Tweets?
There's no way to remove promoted tweets. Users can stop seeing any particular Promoted tweet from their feeds by clicking on the down arrow next to it & select "I don't like this ad." Users cannot opt out from viewing ads in their feeds entirely.
Can You Edit a Promoted Tweet?
Twitter provides a tool called Ads editor to edit a campaign. Visit this link to get more information-https://business.twitter.com/en/help/campaign-editing-and-optimization/ads-editor.html.
How Do You Pause a Promoted Tweet?
Follow these steps to pause a promoted tweet.
Navigate to this link – ads.twitter.com
Move to the "Creatives" option and select the "Tweets" tab.
Select the Tweet date you want to pause.
Open the Tweet.
On the top right side. Click on the three dots and hit "pause."
It's time to set up your Promoted Tweets
---
Promoted ways are easy to generate sales, leads, and traffic for every small to large-scale brand. Make sure you target the audience more relevant and interested in your offerings. Regularly monitor and optimize the campaign to increase the conversion rates. It's time to set up your first one now.