In this article we have explained How to Read Comments on Twitter on Desktop or on mobile app. We will also help you fix if twitter comments not showing.
Twitter is one of the top social networking platforms out there, doesn't have an easy to use interface when it comes to reading comments.
When you access your twitter home feed, you will see four options under any tweet made by the people you follow. These four options under a tweet are reply/comment, retweet, like, and share.
So basically there is no straightforward way to view the comments made by others users on that tweet.
That's why any users are confused while finding replies to tweets.
Why Can't I See Comments/Replies on Twitter Posts?
It is not like that you can not see them. You just need know the right way as the twitter doesn't show the comments directly under tweets.
When you click that "Comment" icon to look at the comments,, instead of showing you all the replied by other users, twitter opens a dialog box for you to reply to that tweet.
If you can't see replies on twitter which means either the tweets are protected by the users, you are not following the user, or they are being hidden by the tweet author.
4 Reasons Why You Can't See Replies on Twitter
Blocked User
Private Account
Deleted Replies
Hidden Reply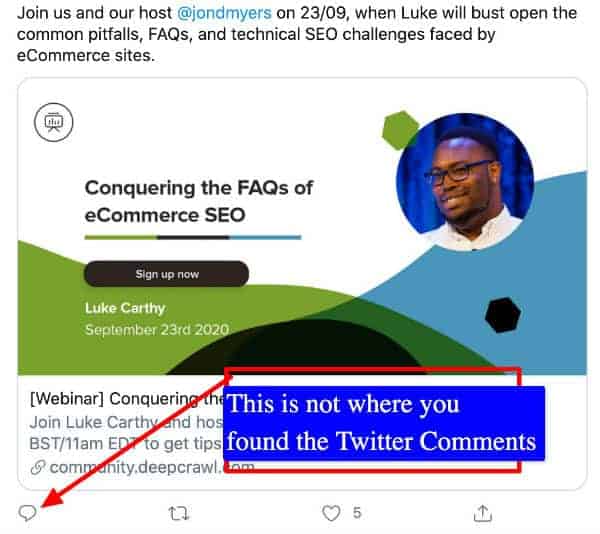 How to Read Comments on Twitter on Computer
Let's find out how to see other peoples comments on twitter post.
---
Step 1. You need to click on the Timestamp of the tweets published time. On your Twitter timeline, when you see 100's of tweets, there is a timestamp in parallel to the username of the profile.

Step 2. Now it will open that full tweet with its URL in the same tab, where once you scroll down you can see the comments.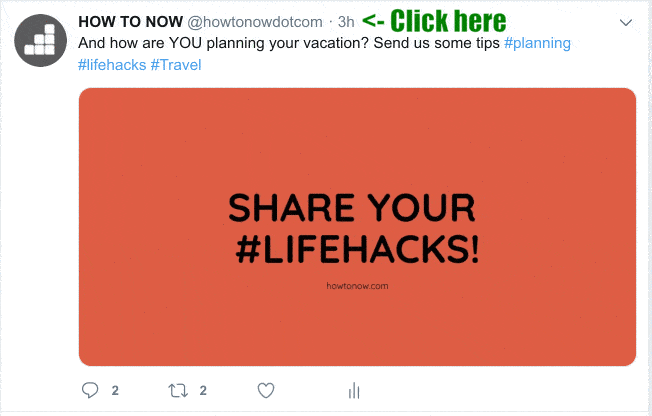 You can also open the complete tweet in new tab rather than in overlay. Make sure you don't click anywhere else lie profile name or hashtag.
You can also use above tips to see other peoples comments on any desktop browser or twitter mobile app (ios, Android).
And if you are using any 3rd party social media management tools like hootsuite or tweetdeck, these tips works there too.
How to Read Comments on Twitter on Mobile Devices
To read comments on Twitter on mobile devices, instead of clicking on the comment option, you can click anywhere else on the tweet.
The comments section will open automatically once you click on the area of the tweet itself. It does not matter whether you are accessing Twitter from its app or Google; this technique works in both cases.
If this twitter comments not showing, it means the user has a private account, or he might have protected the tweet comments, or they have been limited by the person who tweeted it.
How to view Retweets with Comments?
Viewing Retweets with comments is quite simple on Twitter.
Click on the Retweet option below the post.
You will see a pop-up showing two options, Retweet and Quote Tweet
To see Retweets with comments, select the option of Quote Tweet, and it will allow you to add replies while retweeting it or show you the people who have Retweeted your post with comments when you post something.
Can you read Twitter comments without an account?
Yes, you can read comments on Twitter without having an account. For this, you just simply have to open Twitter on a browser and search the person's profile whose posts and comments you want to visit. The only limitation is that the person's account should be public. You can not read comments on someone's post without having an account if the user has a private account. You can also view twitter comments without account.
How do you view all replies to a quoted tweet?
Follow the below-mentioned steps to see the replies to a quotes tweet:
Open the Twitter app on your phone or a desktop.
Go to the tweet of which you want to see the quoted answers.
Open the full tweet by clicking on it, where it shows the comment section.
You will then see the option of 'Quote Tweet' under the tweet.
Click on that, and you will see all the replies to a quoted tweet.
How to see top comments on Twitter
You don't have to do anything special to see top comments on Twitter. Twitter sorts its comments under a post to see the most popular reply with the most number of likes and retweets first. So, it becomes easy for you to access all the top comments.
How to see other hidden replies on Twitter
If you want to see the hidden replies on a tweet, you have to follow a few straightforward steps.
Go to the Twitter post of which you wish to see the hidden replies.
Please open the full tweet by clicking on it.
You will see the horizontal three-dot symbol on the top right corner of your screen.
Click on that symbol and click on the last option in the list, 'View hidden replies.'
See also: How to see who viewed your twitter
Are Twitter comments public?
Twitter comments are public and they can be found in the search engine. These comments can also accessed through a browser by going to https://twitter.com and clicking on "show all replies".
The tweets and the replies depend on one's account settings, which can be toggled at any time. For example, if an individual has their account set to "private" then their tweets will not show up in a browser when one goes to twitter.com and clicks on "show all replies".
Final thoughts about reading comments on twitter
So, we hope that this article How to Read Comments on Twitter might have been helpful to you to learn some essential tips about Twitter comments.
While all other social media apps try their best to be all in one, none can match Twitter. Twitter is the place you go to if you are looking for news updates, life hacks, sports information, or anything and everything that's happening around you. While it is one of the best apps, it is not the easiest amongst them to get used to.
Whenever you see a relatable post on Twitter, you wish to read the comments under it to know about other people's opinions on the same topic as well. Well, it is the most natural thing to do.