Twitter sets the language of the country you live in as your default Twitter language. If you live in Canada, the US, or the UK, then possibly Twitter will set English as the default language. That is why Twitter is in another language. But, you can always change the language on Twitter whenever you feel like doing so. You may either be learning a new language or you are bilingual. There may be several other reasons why you want to reset your Twitter language to English or any different preferred language. Here you can find out how to change the Twitter language without logging in.
You need to understand that the tweets posted before will not change. And you will see it exactly as you tweeted. It is because Twitter never auto translates them as per the recent language change. You must know about the language you are setting your Twitter language to. Once you change it, all the buttons and everything will be in that selected language. Anyway, let's not talk more and directly jump into the methods.
Steps to Change Twitter Language
---
1. On Mobile Android/iPhone
Why my Twitter is showing a different language is a question in every user's mind. But people want to change it to their desired language. If so, then you only need a mobile phone to do that. Here is how you can change your Twitter language using an Android or iPhone.
The first step you should do is log in to your Twitter account with your user ID and password. Go to your settings page after you complete login to your Twitter account. Simply tap on the profile image, and you will see a drop-down list. Select the "Settings and Privacy" option. This page gives you access to edit all your necessary information.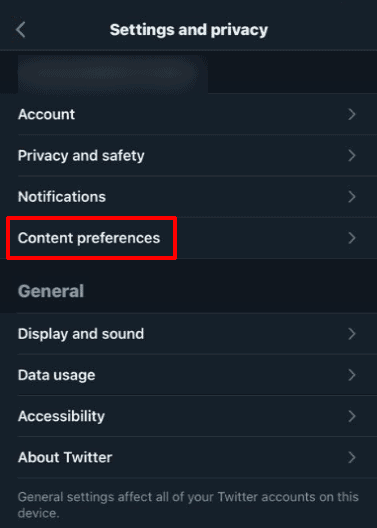 Look for the Content Preferences and then Language option, the third option from the "Account" tab. Click on the language button to see a whole list of options.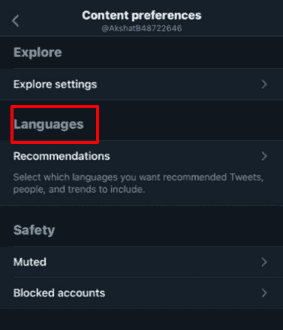 You can scroll down to the list of all languages given. Choose your preferred language. You may find a few languages not available as they are in the testing mode.
After you select the Twitter language, scroll down below to see the "Save Changes" option. Click on the "Save" option to set your preferred language. A screen will pop up, which will ask you to "Enter Password." You need to enter your correct Twitter password to verify your account. Once done, you can click on the saving option. It will then set the Twitter language to your preferred language.
Note: In case you would like to change any specific tweet from a set language to another language or English, tap the "Translate Tweets" option. It is available right below the tweet. You can use this option for both your PC and smartphone.
2. On Desktop
If you wish to change the language on your Twitter account using your PC, here are the steps to follow.
Open the official website of Twitter.com in any web browser such as Firefox, Safari, or Chrome. Once you have opened your Twitter account, search for the profile image. You will see it at the screen's top-right corner. Now tap on the profile image.
There you can see a dropdown menu. Choose the option "Settings and Privacy." Now, it will redirect you to the Twitter settings page. There you can edit your details.
Find the Twitter "Language" setting option, and there you will see your default pick in current language setting. Click on the language of your choice to set it for future use.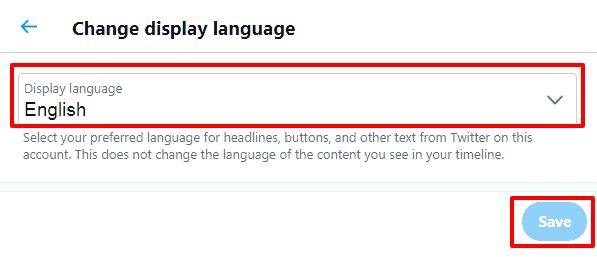 Once the process is over, scroll down, and you will see a "Save" button. Click on that to save.
You will see a popup window appearing and asking you to enter your password for your Twitter account. Enter the correct password to verify your Twitter account for security reasons.
Save the changes, and you will see Twitter displaying your new set language.
Why is my Twitter in Arabic/Spanish/Russian?
If you woke up and see that your Twitter was stuck in the Arabic, Spanish, or Russian language, then it might confuse you. Well! It may happen due to zonal change. Check whether you recently went to the area where Arabic or Spanish is the spoken language. If so, then due to that, Twitter has set that as your default language. It may also happen if you have used a VPN with Arab, Russia, or Spanish location.
But, there is nothing to worry about. You can follow the steps mentioned above. All the methods are workable and effective. You can change your Twitter language to your choice of language at any time. All you would need is a PC or smartphone. Log into your account and follow the steps. And you will be sorted. If you see the problem is still there, you need to contact the Twitter team using the official mail ID. They will help you out in changing your Twitter language to the language you want.
Conclusion
If your Twitter is set in a different language, and want to change it to your preferred one, follow the steps mentioned above. All the methods are tried and tested by us. People worldwide are using these methods to change the language on their Twitter account.