Increasing your engagement on social media platforms is essential in order to send the right message to your followers or customers. While there are several ways in which you can strengthen your presence on Twitter, there are some ways in which you can make the best use of Twitter analytics.
In this article, we will take a look at the best time to post on Twitter, and how you can determine the exact time to initiate your growth on Twitter. While you can always access Twitter analytics, this is often not enough to get enough insights on how and when to post on the platform.
Why Posting Time Matter?
---
According to the Twitter algorithm, it is important to post at a specific time in order to have the highest visibility for your post. The posts on this platform usually appear with the latest ones at the top.
Tweets can get lost in case you constantly post new ones on Twitter. The older tweets often get overshadowed by the newer tweets and thus have lower visibility. Unlike other platforms, Twitter is primarily targeted at the discussion of the latest news and events. This is the reason why making sure that your tweets appear before your competitors is important.
What is the Average Best time to post on Twitter?
---
According to much-reputed analytics, the best time for Twitter is on either Wednesdays or the weekends. While some users agree that there is no right time to tweet, the best time to post on Twitter can vary worldwide, depending on the time zones and Twitter usage peaks.
The average best and the most popular time to post on Twitter worldwide is between 11 AM to 1 PM, regardless of the time zone. But it can always be helpful to refer to the exact time zone tweet plans depending upon where you're tweeting from. Now that this question has been answered, let's dive into why you should post at these exact dates and times for enhanced post visibility.
Twitter sees the most activity regarding posts and user engagement at these times, for the various time zones:
Pacific time: 8 PM to 9 PM
Mountain time: 12 PM to 1 PM
Central time: 12 PM to 1 PM
Eastern time: 12 PM – 1 PM
Eastern European time: 8 PM to 9 PM
Central European time: 4 PM to 5 PM
Hong Kong time: 8 AM – 9 AM
Australia time: 10 AM – 11 AM
The aforementioned time intervals have been compiled from a variety of popular sources. Also, this time sees the most competition amongst various accounts on the platform that targets the same audience at that specific time. Now that you have a good idea of the best times to post, let's take a look at the days on which Twitter is most active according to Twitter analytics.
When is the Best time to post on Twitter?
---
Although these timings have been compiled after thorough research, you can still increase your engagement on this platform faster by tweaking the timings according to your audience and the type of your content. For this purpose, you need to know a few things about when to post depending on the type of content that you post.
It is also necessary to have a clear idea of how users on the platform engage with posts of different kinds. We have collected data from various sources and have listed them below, so you can find the perfect time to post on Twitter, according to the content and the audience you're targeting.
Technology Related Content: Mondays, Tuesdays, and Wednesdays from 9 AM to 11 AM.
Education Related Content: Mondays (Between 6 PM to 9 PM), Thursdays (10 AM)
Tourism and Travel Related Content: Mondays and Wednesdays between 10 AM to 2 PM
Media Related Content: Mondays, Tuesdays (6 AM to 9 AM)
Health-Related Content: Mondays and Tuesdays (9 AM to 1 PM)
Non-Profit Content: Wednesdays (10 AM to 4 PM)
You may have noticed that the data differs a bit in each case regarding the best time on Twitter. The reason behind this is the fact that these studies have been conducted in different parts of the world and through various time zones.
The times listed above are average indicators as to when you should post on different days of the week, and can be fine-tuned further based on your audience and content type.
When is Twitter most active?
---
Another important factor that you need to keep in mind for maximum visibility is the peak hours of Twitter. In these periods of time, most users are active on Twitter, and hence the chances of someone viewing your post increases.
Here are the best and the worst days of the week to post on Twitter according to different analytics. Note that these are also the times when Twitter is most active.
Best Day of the Week to Post on Twitter: Wednesdays/Fridays
Best Time to Post According to CST: 9 AM
The Worst day for Post Visibility on Twitter: Saturday
When does Twitter see the most engagement?
---
The maximum number of Tweets on the platforms and the highest clickthrough rates are around 11 AM to 1 PM CST.
As discussed earlier, these are just averages from around the world and can differ quite a bit depending upon the situation. Additionally, the lowest activity on Twitter is normally between 3 AM and 4 AM.
The Pandemic Factor
The pandemic is a factor that may affect social media statistics worldwide. But, if you're wondering whether the best time to post on Twitter has changed due to this, it is not so. The newer Twitter analytics and statistics have shown that active times on Twitter have remained the same more or less.
Also, another interesting development that has occurred due to the pandemic would be the overall increase in the volume of users during active engagement times listed above. Because of the pandemic, many people have avoided going outside, and thus there has been a gradual increase in social media usage worldwide.
What are the best times for different types of engagement?
---
When you tweet with a specific purpose on Twitter, whether you want likes, high clickthrough rates, or retweets, you need to tailor the content and the posting time to reach out to more followers and users on the platform.
It is important to note the times when certain types of engagement work the best. With the data from various different Twitter analytics and other related tools, we have created this list that provides you insights on the best time to post depending upon the type of engagement that you're targeting.
Average Highest Engagement on Twitter: 2 AM to 3 AM CST
Lower/Lowest Engagement Rates on Twitter: Work Hours (9 AM to 5 PM) and Weekdays (after 8 PM)
Most Retweets and Likes: 6 PM to 12 AM
Best CTR (Click-Through Rates): 1 PM to 3 PM (Mondays/Thursdays)
Snapshot of who should post when [industry wise]
---
Twitter is a great platform for growing small businesses and promoting existing ones. For industry purposes, the timings differ a bit for successful posts on Twitter. For the best social media marketing on Twitter, let's take a look at what time is the best time to post, depending on whether your tweets are B2B (Business to Business) or B2C (Business to Customer).
According to CST, these are the best time figures to follow for successful industrial posts on Twitter:
Best time for B2B Tweets on Twitter: 9 AM – 4 PM (Monday/Thursday)
Best time for B2B CTR on Twitter: 6 PM (Weekends)
Best time for maximum retweets of B2B posts on Twitter: 5 PM (Weekdays)
Best time for B2C Tweets: 12 PM – 1 PM (Tuesdays)
Best B2C engagement on Tweets: Entire Weekends
How to use Twitter analytics to find your best days
---
Twitter analytics is a great tool to find out the best days to post on Twitter. Using Twitter analytics can be a great benefit in case you're using social media marketing to target customers from around the world.
Let's take a look at how you can go through your personal Twitter statistics, and fine-tune your posts according to them.
Anyone can use native analytics to check their performance on the platform over a period of time. It is also completely free to use and doesn't need any form of subscription or prerequisites. Also note that this tool can be a bit complicated to use, but it can provide some great insights on your activity over time.
Here's how you can easily check your Twitter analytics on the platform from the homepage:
STEP 1: Open the Twitter webpage or the app and log in to your account.
STEP 3: Tap on "More" and then navigate to "Analytics". If you have logged in through the app tap on your profile picture to bring up the various options.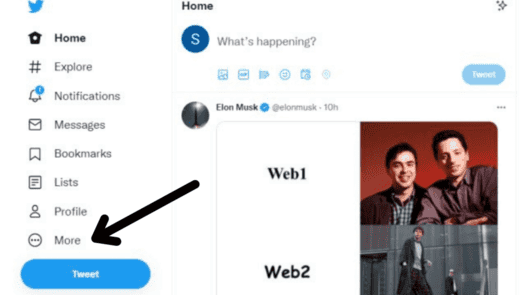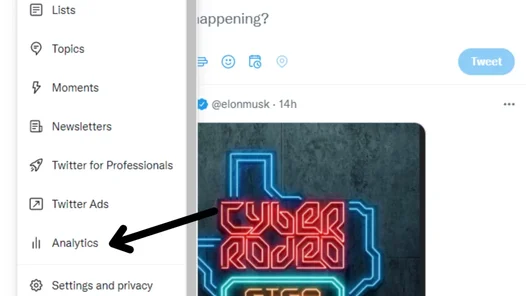 STEP 4: On the analytics page, navigate to the "Tweets" and select the time period that you want to view the stats.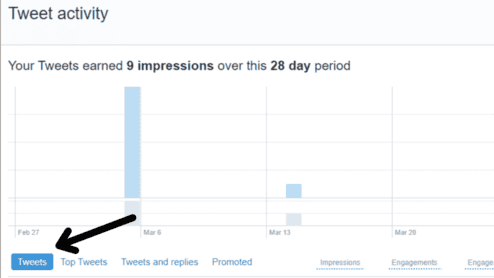 Here, you should be able to view the tweets that you have made and the levels of engagement on them. You can also view the tweets that have performed the best and determine the right time to post on the platform.
Using tools to find the best time to post
---
Along with the native Twitter analytics, there are also some great tools that can provide you with insights on the best time to post on Twitter.
Twitter analytics from Tweriod
Tweriod is an analytic tool that allows users to view real-time statistics on individuals and their tweets. Also, you can get details on your Twitter community and determine the best time to post, based on your individual statistics.
Twitter stats from Followerwonk
Another great tool to monitor your Twitter usage is Followerwonk. This tool can search for different accounts' bios and filter any overlaps. Also, you get various insights on your followers and the contrast between your account and your competitors.
Twitter analytics from Missinglettr
Missinglettr is a great social media marketing tool that tailors your content into engaging posts depending on your audience. This can also help you to find the perfect distribution for posting on the platform.
Test out different post timings using a Twitter Scheduling Tool
---
There are various automation tools on Twitter that can help you to schedule your posts so that they get maximum visibility.
You can use these to get additional insights on your posts by sending tweets every day at different times of the day. Once you start experimenting with these, you can find the perfect time to post on Twitter based on your audience.
Frequently Asked Questions
---
What is the best time to tweet?
The best time to tweet depends on various factors like the type of content you post, your audience, and the place you're tweeting from. Use the tips listed above to easily find the best personalized time to tweet, so that you can increase your engagement on this platform.
What is the most popular day for tweets?
The most popular day to tweet can be found by following the steps listed above. Also, on average, the best day to post on Twitter is either on Mondays or Thursdays.
Does it matter what time you tweet?
The time you tweet matters a lot when you're targeting your audience for more click-through rates, more retweets, or more overall favorites.
Is Twitter good for marketing?
Just like other social media platforms, Twitter is a great way to capitalize on your businesses, whether small or big.
What are some best Twitter tools?
Alongside the native Twitter analytics, there are several tools like buffer, tweriod, or missinglettr that help you to find the best time to tweet and many other insights on your overall audience.
How often should I be tweeting?
It is a great idea to tweet daily in order to find out the best time to reach your followers. This can be either done manually or by scheduling tweets.
How many tweets per hour can I tweet?
You can tweet up to 100 posts per hour. Tweeting more than this can lead to bans on this platform.
What is the worst time to tweet?
The worst time to tweet is on Fridays after 3 PM and after 8 PM on any day of the week.