Sharing information on Twitter is enjoyable and teaches new helpful stuff. Twitter users should carefully post tweets as Twitter has the authority to suspend accounts that break its rules. Getting a Twitter account suspended can be upsetting for any user, especially if they have been using it for a long time.
Are you having a suspended Twitter account and curious to know How to recover a suspended Twitter account? In this article, learn about the practical and tested ways to get a Twitter account unsuspended, along with all possible reasons that lead to suspension.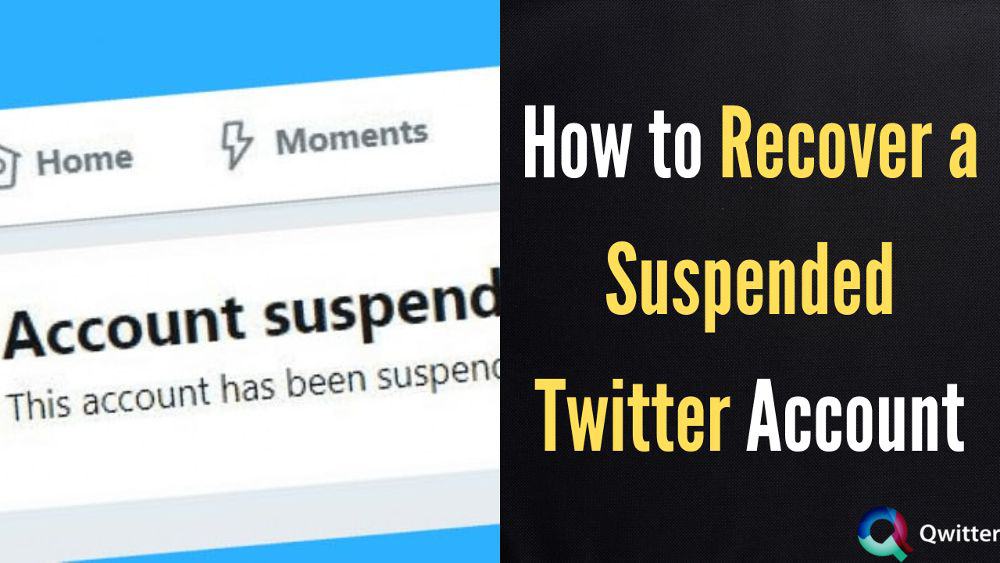 How Do I Know if My Twitter Account is Permanently Suspended
---
When Twitter, after many failed login attempts, sees a message on their screen that the account is suspended along with" Twitter suspends those accounts which violate its platform rules." It's the exact moment when a user gets to know about their Twitter account suspension.
Why Do Twitter Accounts Get Suspended?
---
Permanent suspension is Twitter's most severe violation. A Permanently suspended account becomes invisible from view. Twitter restricts the violator from creating a new account.
Sometimes if an innocent person's account gets suspended by Twitter mistake, in such cases, the affected account owner can file an appeal with Twitter support for lifting the suspension. Twitter briefly describes all the following reasons for suspending Twitter accounts.
1. Spamming
Many suspended accounts are spammy, plain fake, and introduce security risks for Twitter and other accounts. Accounts that engage in such activities go against the Twitter Rules.
To make the platform informative and safe for other users, Twitter does not allow spam and other manipulation activities like any aggressive, bulk, or deceptive activity that can mislead others and affect their experience.
Spamming from Multiple accounts
According to Twitter guidelines, users can't register for many Twitter accounts or use online automation tools to create a Twitter account. This kind of behavior includes:
Overlapping accounts – Operating multiple accounts with overlapping use cases, like identical personas or substantially similar content.
Mutually interacting accounts – operating multiple accounts that interact with one another to manipulate the prominence of specific Tweets and accounts.
coordination – creating multiple accounts to post duplicate content and create fake engagements, including:
Posting identical or similar Tweets and hashtags from multiple accounts.
engaging in the form of likes, retweets, mentions, and Twitter Poll votes) repeatedly with a particular Tweet or account from multiple accounts.
Coordinating with others to engage in an artificial engagement process or amplification, even if the people involved use only one account.
Coordinating with others to engage in and promote violations of the Twitter Rules, including abusive behavior policy violations.
Engagement and metrics
Twitter users can't artificially inflate their own, others' followers, or engagement. This includes:
Selling/purchasing Tweet or account metric inflation – selling, purchasing followers or engagements (Retweets, Likes, mentions, Twitter Poll votes).
Apps – using or promoting any third-party services or apps that make promises to add followers or engagements to Tweets.
Reciprocal inflation – trading or coordinating to exchange Tweet engagements or follows.
Misuse of Twitter product features
Twitter users can't misuse their product features to affect others' experiences. This includes:
Tweets and Direct Messages
sending bulk, high-volume unsolicited replies, mentions, or Direct Messages;
posting or deleting the same content repeatedly on Twitter accounts;
repeatedly posting identical or nearly identical Tweets, or sending repeatedly identical Direct Messages;
Repeatedly posting Tweets and sending Direct Messages containing links shared without commentary indicates the bulk of Tweet/Direct Message activity.
Tweeting existing content in a duplicative manner, whether from an individual or in collaboration with other accounts. Twitter has a copypasta and duplicate content policy.
Following
following and then unfollowing large numbers of inactive Twitter accounts to inflate one's own follower counts.
Following and unfollowing many unrelated accounts in a short period by using automated tools.
Duplicating another account's followers, using any automation feature.
Engagement
Aggressively and automatically engaging with Tweets drives traffic and attention to Twitter accounts, websites, products, services, and more places.
Aggressively adding people to Lists and Moments.
Hashtags
Using a trending and popular hashtag diverts or manipulates a conversation, traffic, or attention to accounts, websites, products, services, and other places.
Tweeting with excessive and unrelated hashtags in a single Tweet or multiple Tweets.
URLs
publishing or linking to any malicious content to damage or disrupt another person's device (malware) or to compromise a person's privacy (phishing).
Posting misleading and deceptive links, e.g., affiliate links.
2. Potential Account Security at Risk
When Twitter suspects an account has been hacked or compromised, it may suspend it until it is secured and restored to the account owner. It's done to reduce the occurrence of any potentially malicious activity caused by the compromise.
3. Abusive Tweets or Behavior
Twitter can suspend an account if it has been reported for violating its Rules regarding abusive behavior.
When Twitter reviews any content used with the motive to harass an individual or a part of any consensual conversation. Twitter teams try to understand the context of the content; They may talk directly to the targeted person before taking any enforcement action.
Violent threats
Twitter prohibits content that makes violent threats against an identifiable target. Violent threats point towards an intent to inflict injuries that can result in serious bodily harm, where a person could die or get injured, e.g., "I will kill you."
Wishing, hoping, and calling for serious harm to a person or group.
Twitter does not tolerate any content on its platform that wishes, promotes, or expresses a desire for serious bodily harm, death, or severe disease against a person or group.
Unwanted sexual advances
Twitter prohibits unwanted sexual advances and content that sexually objectifies an individual without their consent.
Using insults to harass others
How to Recover a Permanently Suspended Twitter Account
---
Violators can appeal for permanent suspensions if they genuinely believe that Twitter has made an error. They can appeal by following the on-screen instructions or by filing a report. We have shared in detail some ways to restore a suspended account.
Restoring if Suspended for Suspicious Activity
In this, Twitter verifies whether you have a real person's account.
Method 1
Log in to your Twitter account.
If Twitter suspects that your account got compromised, you will see a message on the screen informing you that your account is locked. You will have to verify your phone number, email, and other personal information. Click on the Start.
Click on the Verify. Provide your personal information, follow the instructions and answer questions about your account.
Check your email or text messages that should contain a verification code for unlocking your account.
Enter the verification code from your text messages or email into the Twitter account.
Click Submit to unlock your account.
Change your Twitter password if your account got suspended By Twitter due to security reasons.
Restoring if Suspended For Violating Rules
In this method, you appeal to Twitter by filling out a form to lift the permanent ban.
Method 2
Log in to your Twitter account.
Click on Start. This step displays options on your screen to unlock your account. Sometimes, Twitter can ask for information like your phone number or email. In other cases, Twitter may ask you to continue to Twitter in a limited state.
Click on the Continue to Twitter.
If you find the option to verify your account, click on that option.
It's the best opportunity to delete all the prohibited tweets and retweets that violate Twitter rules.
Navigate to https://help.twitter.com/forms/general?subtopic=suspended in your web browser, and use the form on this page to file for an appeal.
If you find the need to log in, click Log In and enter your credentials.
Tap on the drop-down menu appearing next to the text "Where are you experiencing this issue?" to choose a reason that most closely fits your issue.
Type your issue in detail in the space given. State all the reasons why you deserve to remove the ban in a polite tone.
Enter your full name.
Verify your email and Twitter username, as Twitter will use this email address to communicate further with you.
Click on the submit button. The Twitter team will contact you through email notifications when they reach any decision about your account.