People use 280 characters to express their opinions to the Twitter community. Twitter users need different emojis and symbols with text to express thoughts and relevant information, making tweets and messages more exciting and engaging.
This article will describe "How to Put Fun Symbols & Emoticons to Twitter website." After reading this, you will effortlessly find emojis and symbols to insert on any device such as windows, mac, Android, and iPhones.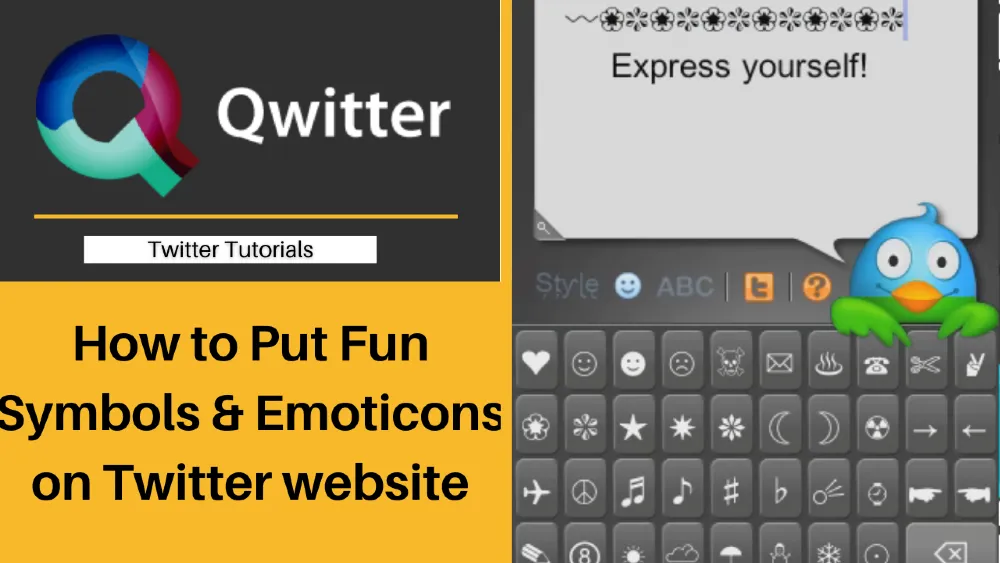 How to Easily Add Fun Emojis & Symbols to Your Tweets
---
Twitter has an in-built tool called "emoji picker," which offers different emojis to insert in tweets and direct messages. Similarly, Mac provides a default emoji picker tool called "Character Viewer app" to insert symbols in tweets.
Using Emojis on a PC
Open https://www.twitter.com in your web browser.
Login to your account. You are inside your home feed.
Move your cursor to the top-right end of the screen.
Click on the "Tweet" button to create a new post.
Another option to create a tweet is the "what's happening" section on the top of your screen.
Move your cursor to the top-right end of the tweet box.
Click on the smiling face emoji.
The emoji panel appears with many options.
Explore the emojis category icons to view different emoticons.
Click on any emoji to insert in your tweet.
You can search for any specific emoji by typing its related keyword into the box "Search for emoji."
Click on the "tweet" button to post the tweet.
Using Emojis on a Mac
Position your cursor over the section inside your tweet where you want to insert the emoji.
Press all three keys together, i.e., "command+spacebar+control."
This opens the character viewer app.
Choose and click on any emoji you want to add.
Emojis are categorized into people, smileys, animals, objects, places, flags, travels, and symbols.
You can also utilize the search box to find any specific emoji.
How do you put a flag on Twitter on a computer or mobile?
---
The steps to put a flag in tweets are the same as above for windows and mac devices. Once the emoji panel appears, find the flag symbol under the category of "flags." Click on it and insert.
The third way to insert a flag using Windows 10 is – Press the keys "Win +;" to open the emoji picker. Type the flag name in the filter and click and insert it in the tweet or any other section on Twitter.
Steps to put a flag in Tweets on mobile.
Open the Twitter app and log in to your account.
Move to the bottom-right end of your screen. Click on the "+" icon.
Choose the white feather "tweet" option from the four.
Now, the tweet box appears, and your keyword.
Tap on the smiling emoji icon from your keyword.
For Android Devices: Tap on the smiley face icon. If not visible, long-press the spacebar, an arrow key, or Enter to access the emoji options.
From the "flags category," insert the flag symbol.
For Phone/iPad devices: Tap on the smiley face icon or globe key to access the emoji panel. Browse the flag symbol and insert it.
Where To Get Emoji & Symbols For Your Tweets
---
Instead of using in-built tools, you can access more options to get emojis and symbols for your tweets.
Click And Tweet Apps
For Android and iOS devices, you can install different custom keyboard applications for adding emojis to the tweets. Head to the apple and google play stores to install the keyboards. There are official apps as default for iPhones that include different emojis categories.
Copy/Paste Tools
Twitter offers an open-source tool called "Twemoji" to copy-paste emojis in tweets. You can access emojis from this tool on Twitter websites, androids, Tweetdeck, etc. Its package contains 3000+ emojis for free. You can update whenever new symbols & emojis are added. Use this link- https://emojipedia.org/twitter/ for copying emojis.
Type Your Own Symbols
Use this link – https://fsymbols.com/keyboard/windows/alt-codes/ to add symbols from keyboard keys.
Why Emojis & Symbols Sometimes Don't Work on Twitter?
---
The look of the emojis appears different on other versions of android devices. Different manufacturers supply a distinct font than the typical Android one. The emoji may not be visible when you change your font type differently than the Android system font.
The Big List Of Text Emoticons (Emojis) For Tweets
---
We are sharing a page link that you can use to access different emojis. Use this link – https://getemoji.com/ to copy emojis of various categories. You can also use these for other social media platforms such as Facebook, snapchat, Instagram, etc. You can access these on Android, iOS, Windows, macOS, and Linux devices.
Amazing ASCII Art In Tweets
---
ASCII art refers to pictures that are made using ASCII text characters. They are similar to emojis when expressing emojis and making tweets attractive. The images from ASCII art are used in tweets to make them visually appealing.
What Do All Those Emojis & Symbols Mean, Anyway?
---
Different emojis and symbols have different symbols. It will not be possible to tell the meaning of it all exactly. Emojis are divided into different categories.
All the face emojis express diverse human emotions of laughing, smiling, grinning, crying, irritation, sleeping, astonished, hugging, shocked, hungry, and sweating.
People use emojis a lot during conversations with friends and colleagues. For formal conversations, people use little emojis.